[The GOLDEN project can be read about HERE. I will be photographing couples married 50+ years, hearing their stories and sharing their wisdom. Have someone you think I should document for this? Drop me a line at: info@edisonphotography.com with the subject "GOLDEN"]
When we sat down at the kitchen table at John and Margaret's home to chat about life and marriage we enjoyed some casual talk until Marg cut to the chase.
"So, what do you want?" she says to me. Love it. I explained how I wanted to hear their story, and any wisdom they learned along the way.
I started by asking what is their wedding anniversary date.
"April 24, 1948." Marg was quick to reply.
John pulled out his "blackberry" as Marg jokingly referred to it – a well worn and used notebook – from his shirt pocket and one of his beloved pens he collects. "What was that date again?" he asked and wrote it down. Marg laughed heartily and the ice was broken.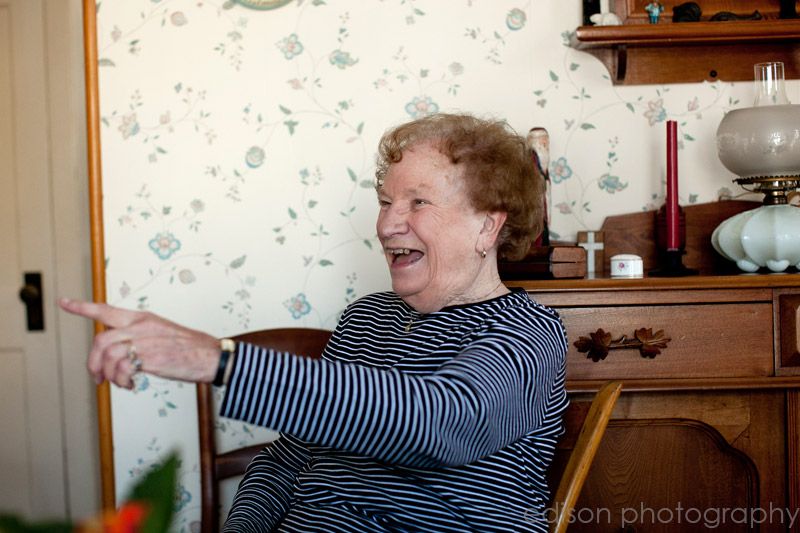 John and Marg have not only been married for 65 years, they've also lived in the same house for over 50 years (since 1960). Their house is filled with stories and memories and I loved being invited in to enjoy them.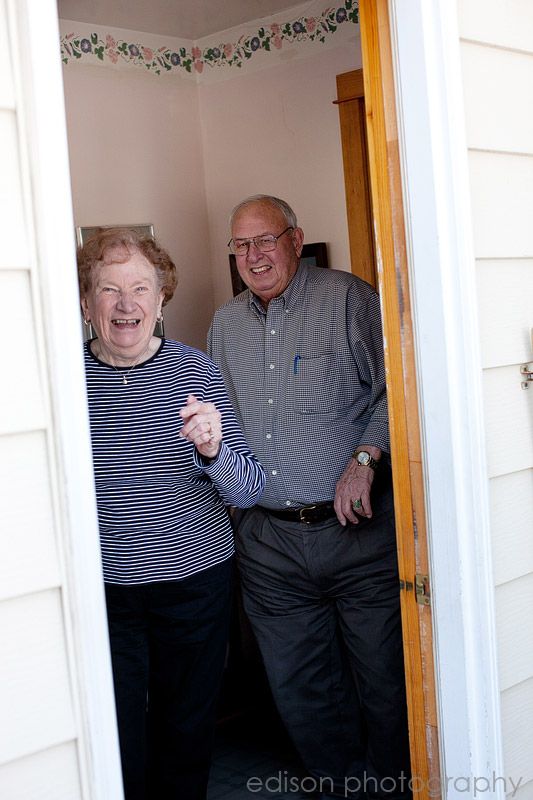 Many years ago, friends of theirs set them up on a date. John said he suggested they go swimming in the river for their first date. Marg was quick to add "That was the most ridiculous thing I'd heard in my life!" Turns out John did in deed swim on that first date, while Marg watched. His spunk must have won her over though because it wasn't long before they were item.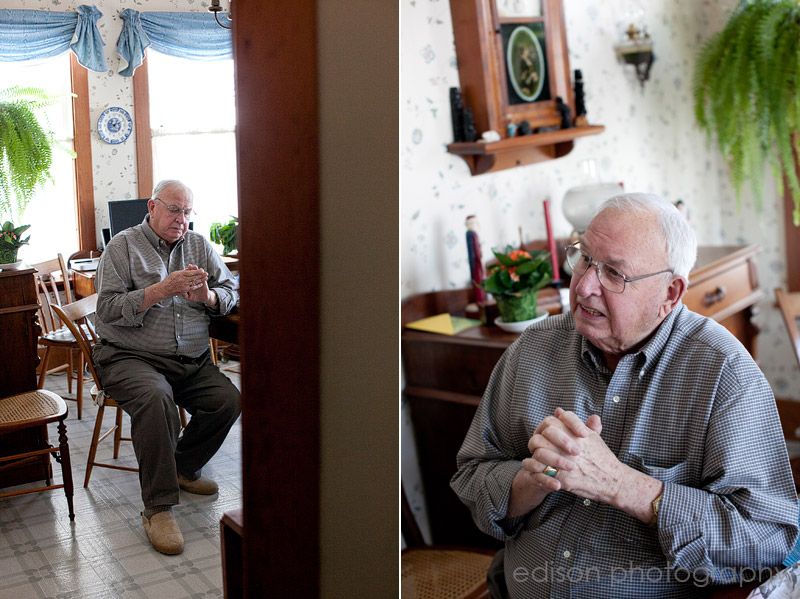 They didn't have much money then and no car, so every where they went was by walking. They would walk down town and go to a show or spend hours window shopping at Simpsons or Eaton's. They might go to a restaurant – a simple lunch counter – for a bite to eat. They said this simple lifestyle was "just normal" and they didn't expect anything more.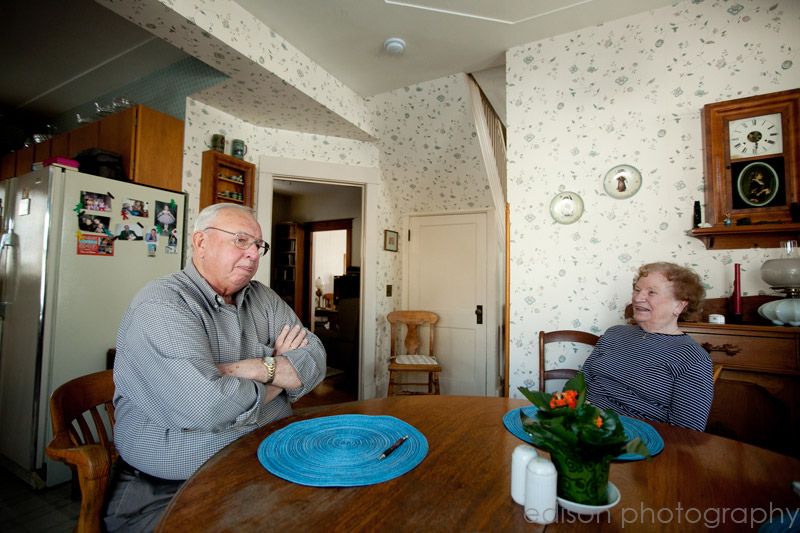 I loved how they spoke of education. Even though John did not have a lot of formal education, and Marg had to take time off of school to help the family – they added that they have "studied all of our lives."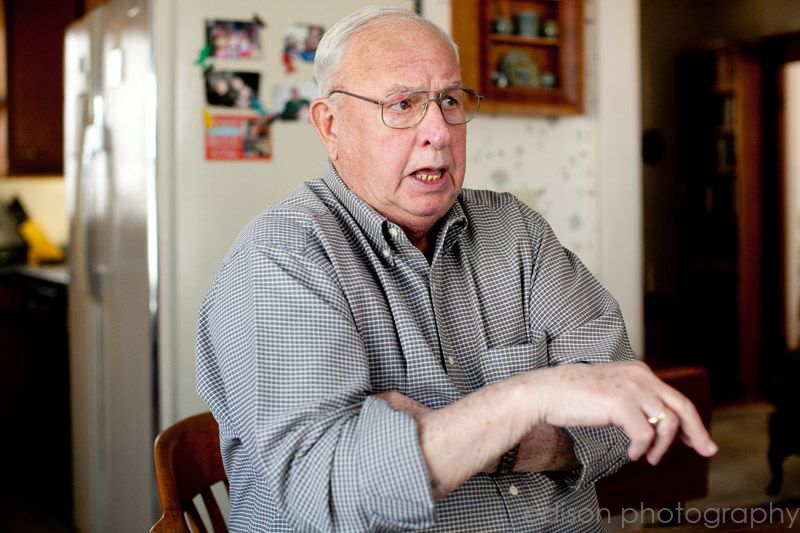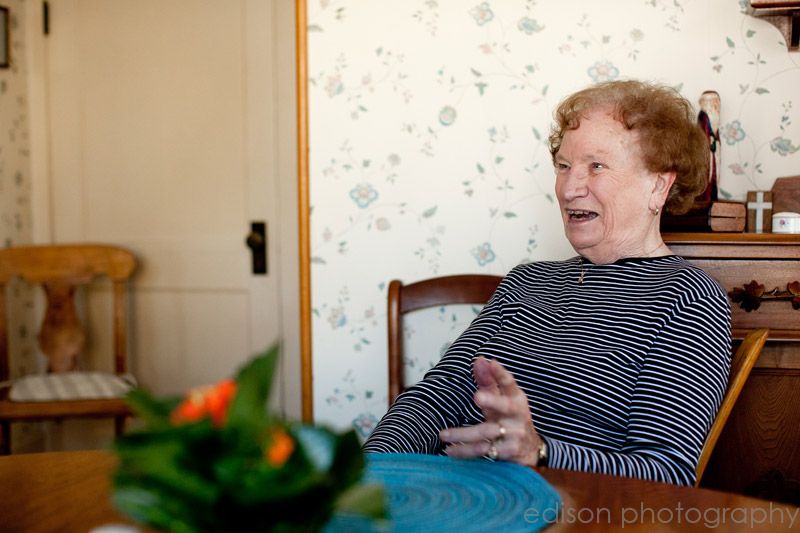 Marg pulled out a wedding photo, and we talked about their wedding. Their wedding was small. Only family – their parents and siblings were in attendance. They married in the church, and then went to a restaurant for dinner.
While talking about their small wedding, Marg adds that was common then. There weren't big weddings. "Having a big wedding doesn't make it last."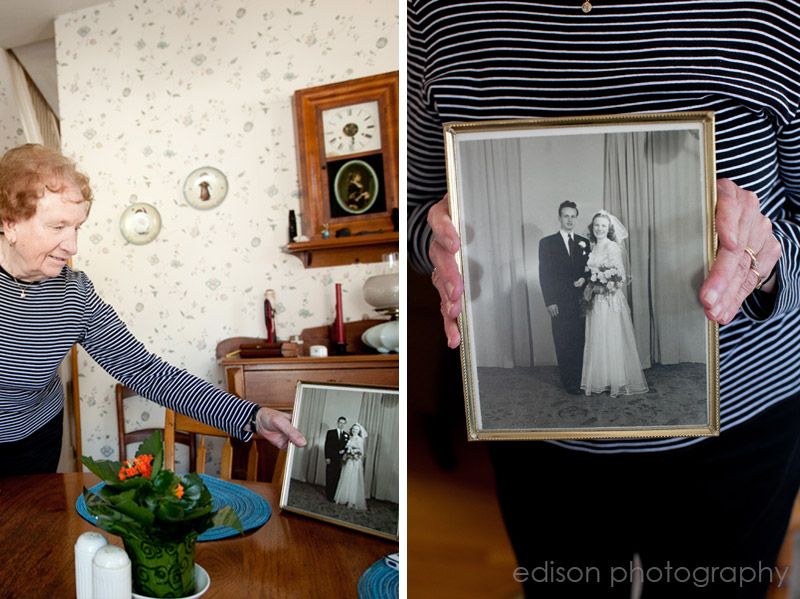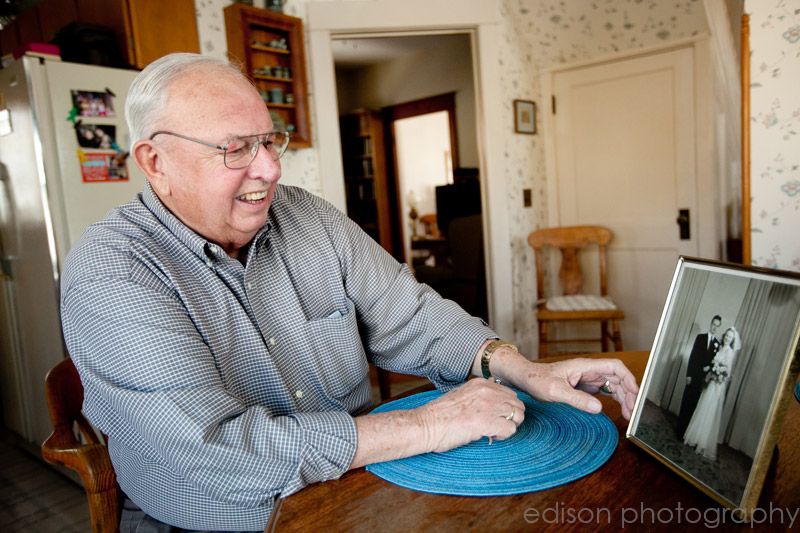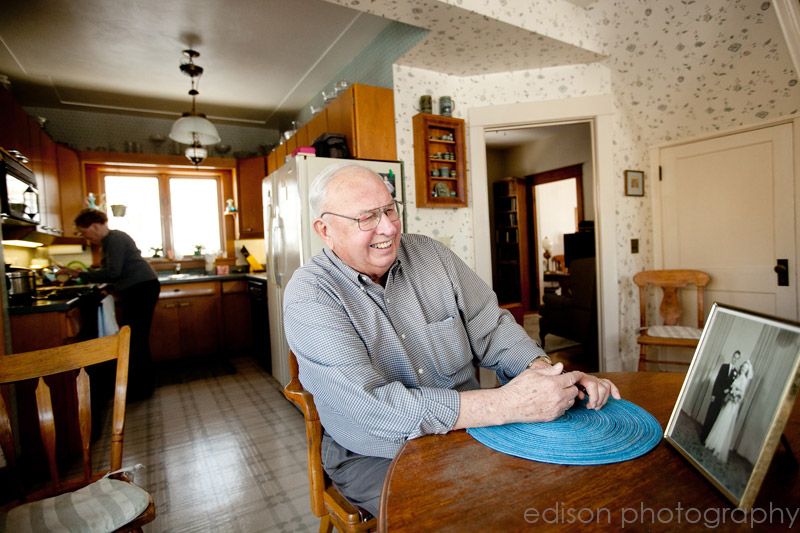 I asked what advice they had for people newlywed – or just earlier in their marriage journey.
Know the other person really well. Don't just jump in. Or in the words of Marg, "you make darn sure that you know that person." They thought people sometimes rush into a marriage – instead they thought you should take your time and really get to know the person you are planning to spend forever with.
They thought the most important thing though was respect. Respecting the other person.
"They have a role. And you have a role. And you need to both be able to do your roles together."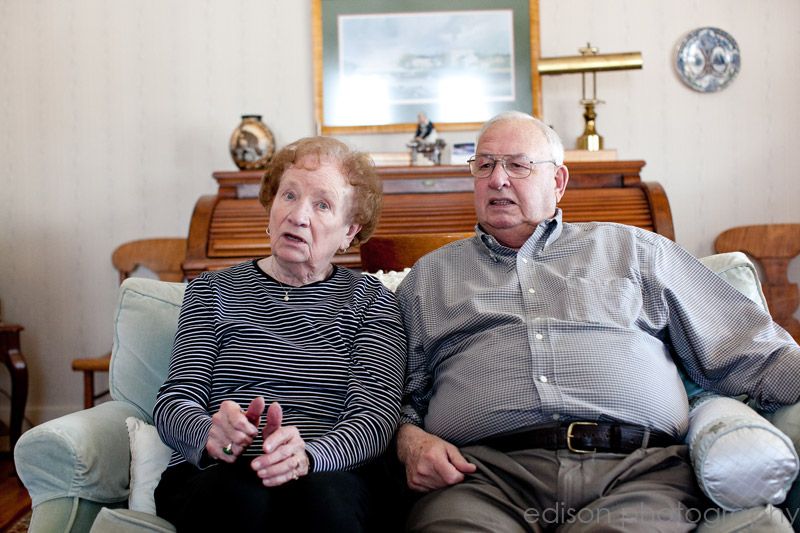 And it's important to have lots of interests. Until recently Marg enjoyed tai chi, yoga and more – enjoying a very active lifestyle. As we spoke it was obvious she knew what each of her children, and grandchildren were doing and involved in. Family is clearly very important to her.
John has a passion for collecting things. He is an extremely talented refinisher and their home is furnished with beautiful antiques he has acquired and refinished. John showed me some of his collections – pens, watches, pins, photographs, artwork – I loved hearing the history and significance of every piece.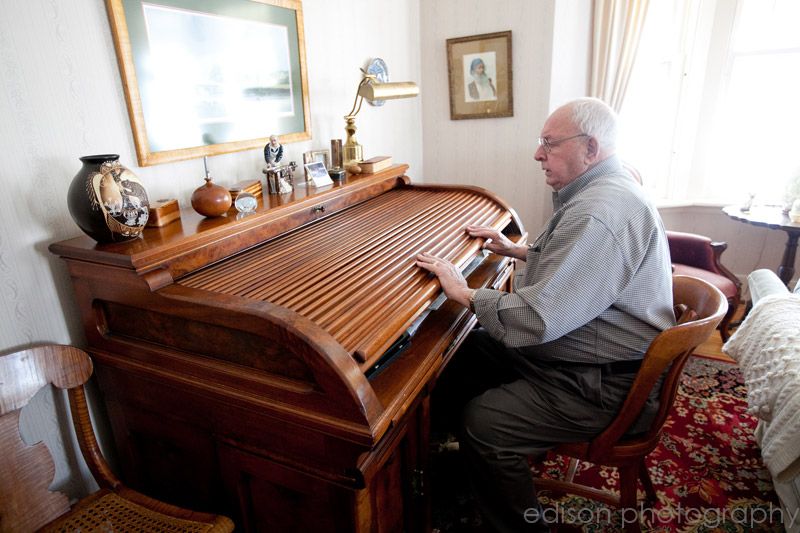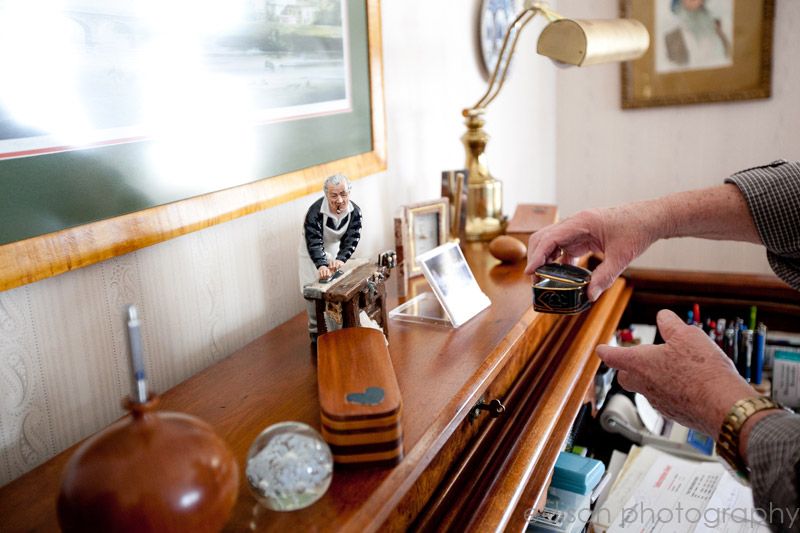 Marg is a tremendous cook – we enjoyed homemade soup, warm biscuits, and apricot bread for dessert! What a treat!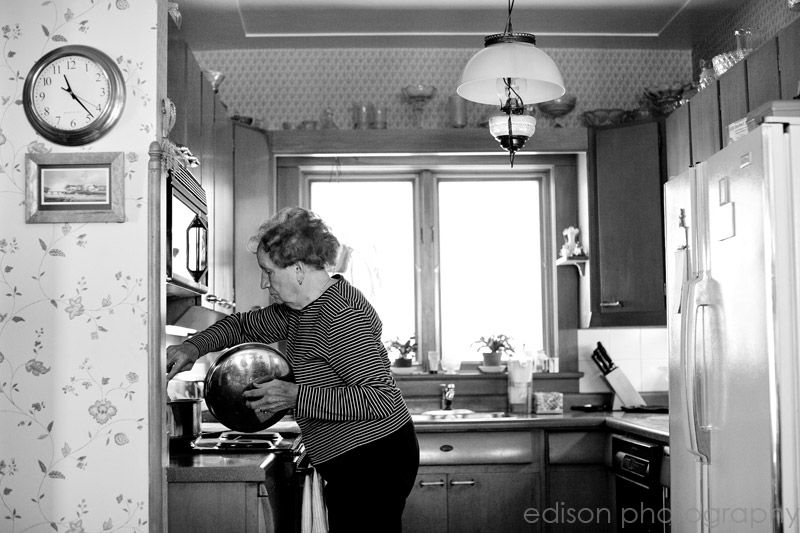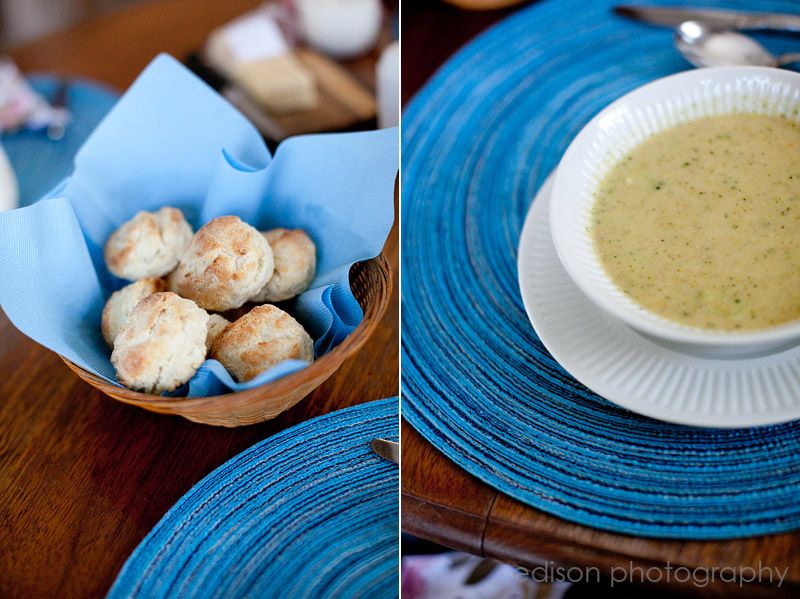 After all these years – one last piece of advice they gave is sometimes, when things get rough, you just need to stick it out.
Watching these two interact so naturally – laughing and being so comfortable together, it's clear we are all glad they "stuck it out" and have enjoyed each other's company so long!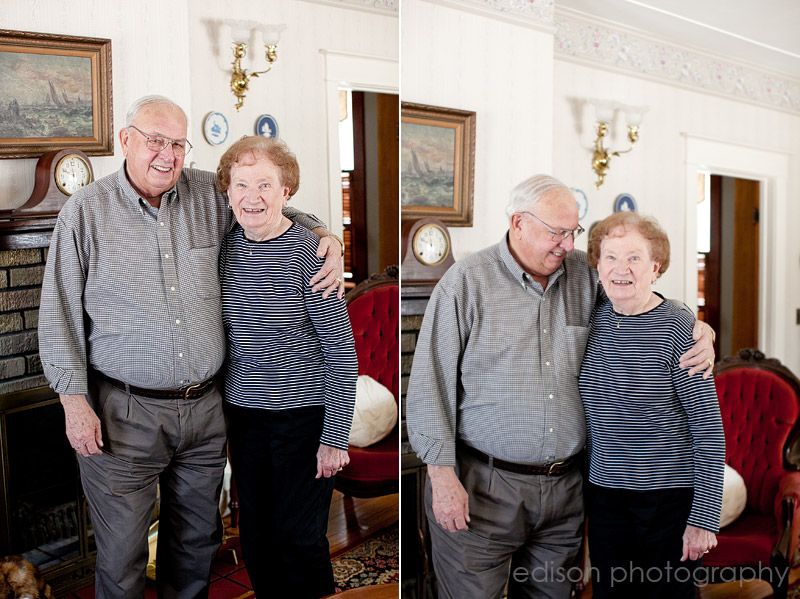 Celebrating life and love,
Krista
1 Comment »