For Christmas over the last few years, we try to give the kids a gift of a memory rather than "stuff". For this year's Christmas, we said we'd do a weekend in New York City. The girls hadn't been in a number of years and were eager to visit again. We went this past weekend – you know, the coldest weekend in the history of humanity. I'm still thawing out! The cold changed some plans – there was no way we'd be walking over the Brooklyn Bridge for example – which had been a favourite spot on the last family trip there. The cold did not stop us from having fun and enjoying NYC though!
We love car trips – audio books, reading, good music, dumb games and the likes! NYC is a short drive from our house – 8 hours – but we decided to split it up and drive halfway after work/school on Friday and get there at a decent time on Saturday then.
Our black car after driving down. Yikes!
As we were getting into Manhattan – we realized we had no plan! So we went to Central Park – we always love it there and see something different each time. There was suppose to be an ice sculpture festival there – but it was cancelled because it was too cold! Too cold for ice!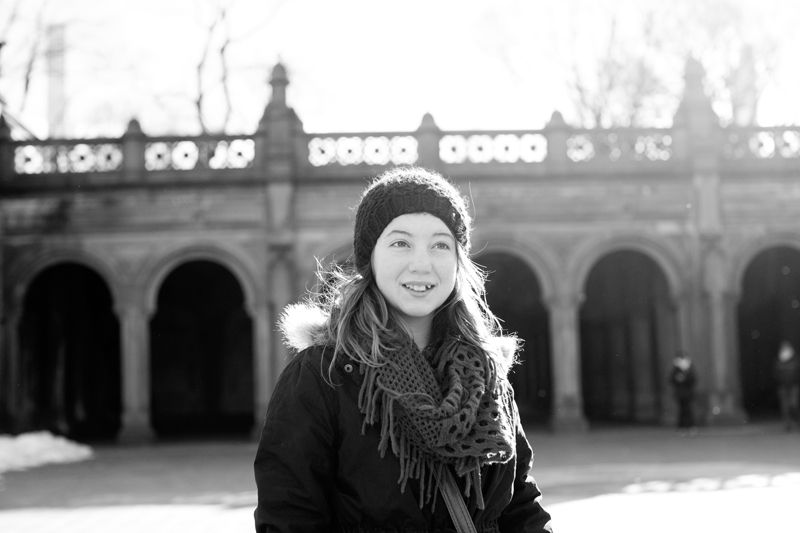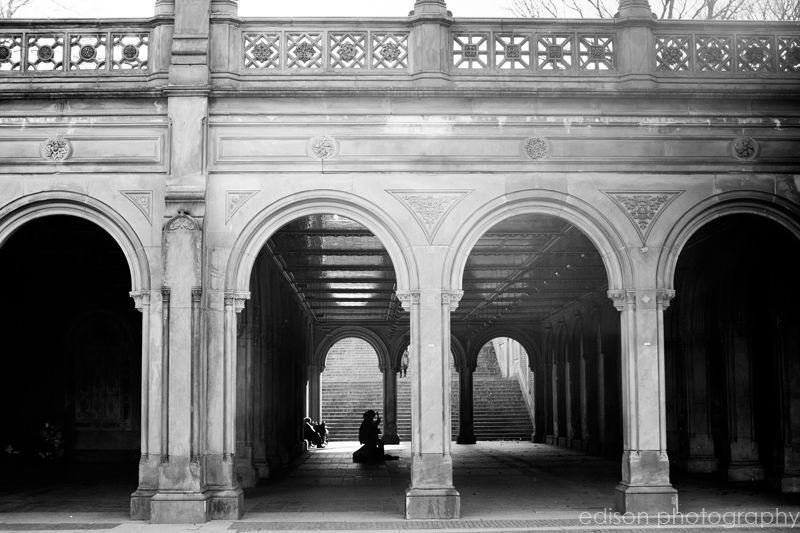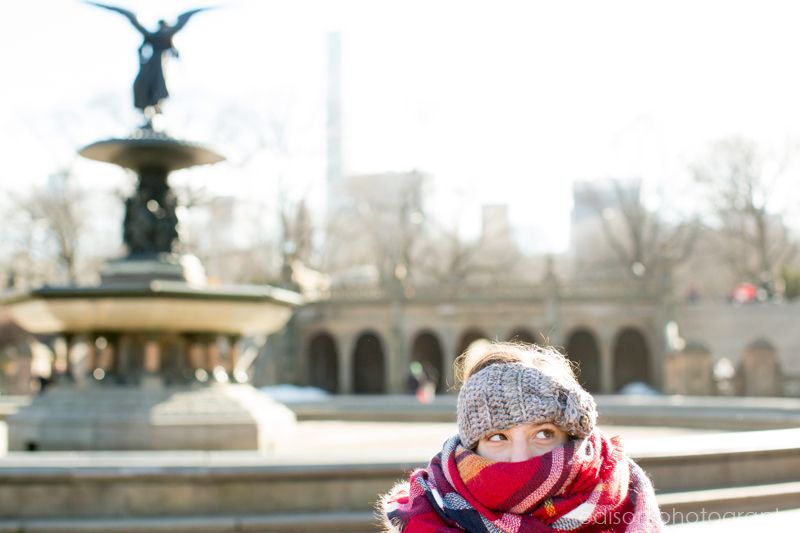 I had read about a granite slide at one of the playgrounds in Central Park – and although busy in summer – we were the only ones crazy enough to be there this time of year! We all enjoyed the slide over and over and the small, quaint playground with it's stone bridge and little oasis in the heart of the city. It also was pretty protected from the bitter wind – another bonus!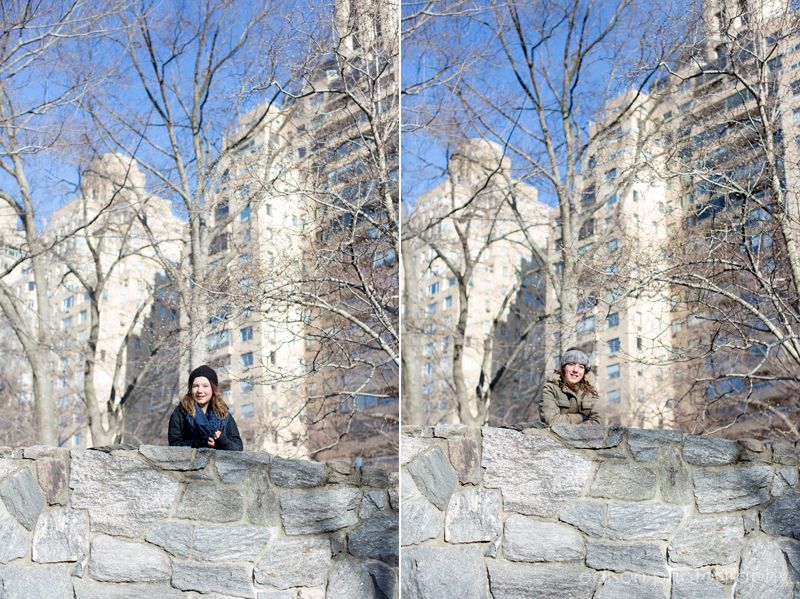 Another favourite was reading the park bench plaques outside the zoo area. Some were funny – others inspiring. We all loved reading them and imagining what we'd have on our own park bench!
A bench for book lovers… girls had to sit and enjoy it!!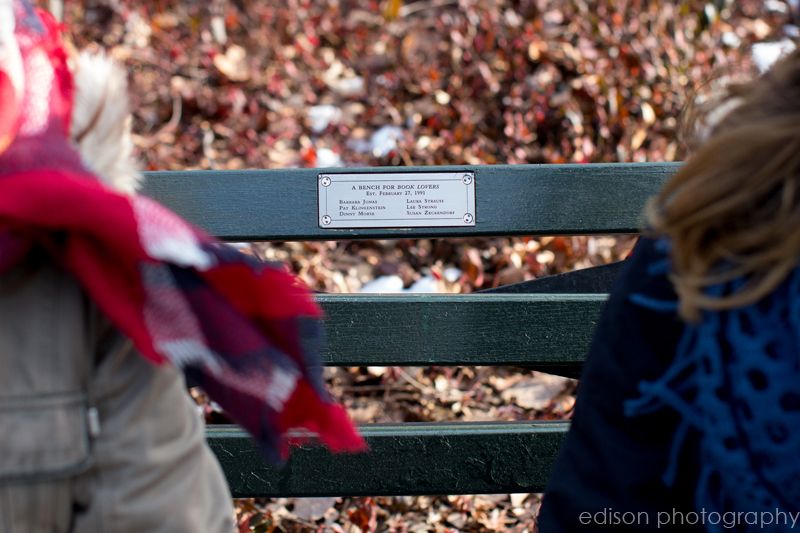 We then wandered down 5th avenue and admired the crazy window displays!
One thing that was so sad – last time we were in NYC with the girls we didn't get around to Fao Schwarz. We said "next time". Well – it's closed!! (and so we said we'd take them the next day to Toys R Us at Times Square as we loved it last time – also closed down! What?!?!). We went in the Apple Store to warm up – I think everyone in Manhattan also came in. It's crowded – but so fun to ride the glass elevator down and see the latest technology!
One thing I love about NYC – every corner has some hidden surprise. We turned the corner and found these trees lit up like this – so beautiful!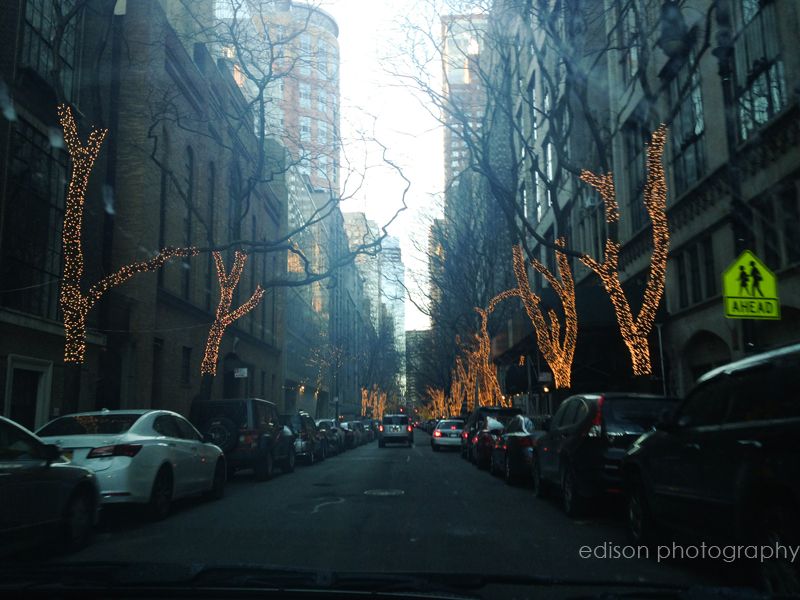 We went out to eat at a hole in the wall place recommended for their burgers (great!) and had a rousing game of x's and o's. One thing I love about traveling with the girls is it doesn't take much to entertain them! We made a board out of napkins and pieces out of sugar packets – all set to play!
We stayed at an AirBnb on Staten Island – but I'll write about that tomorrow! Here's a sneak peek though! It was nice to get to our place at a decent time and have some time to relax and hang out. I'm use to when I travel I go, go, go from dawn until late as I don't want to miss anything! Traveling with the family forces me to slow down and enjoy time "off" too – which was great!
The next morning we took the Staten Island ferry over to Manhattan. If you ever go to NYC – can't recommend this enough. It's totally free – gives you great views of the city and the statue of liberty – and is just fun! We also love the aquariums in the ferry terminal!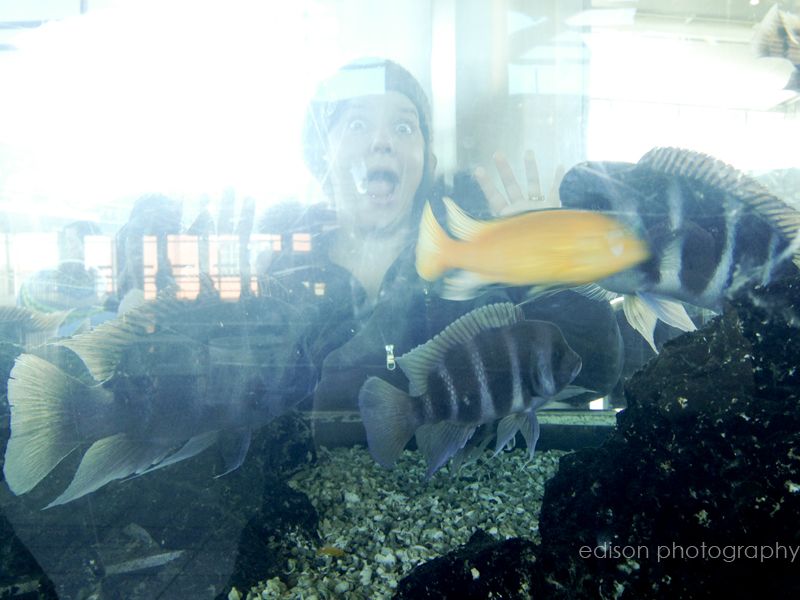 It was a ridiculously cold day – so the river was steaming! Crazy to see!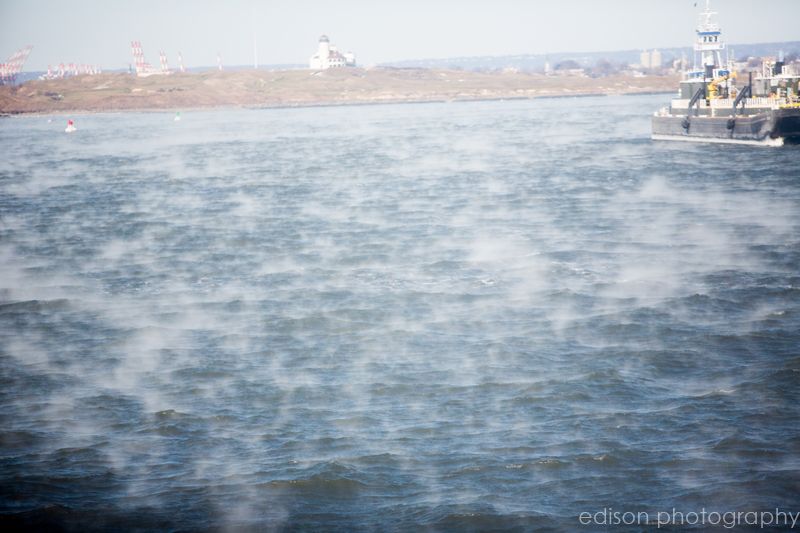 The girls have both learned about 9/11 in school since we last visited – and so we really wanted to take time out to remember those who lost their lives. Eden said it was somber while Madi said it was surreal. Agreed with both sentiments! To see all those names – putting a name to a tragedy makes it so much more real than just statistics and numbers of lives lost.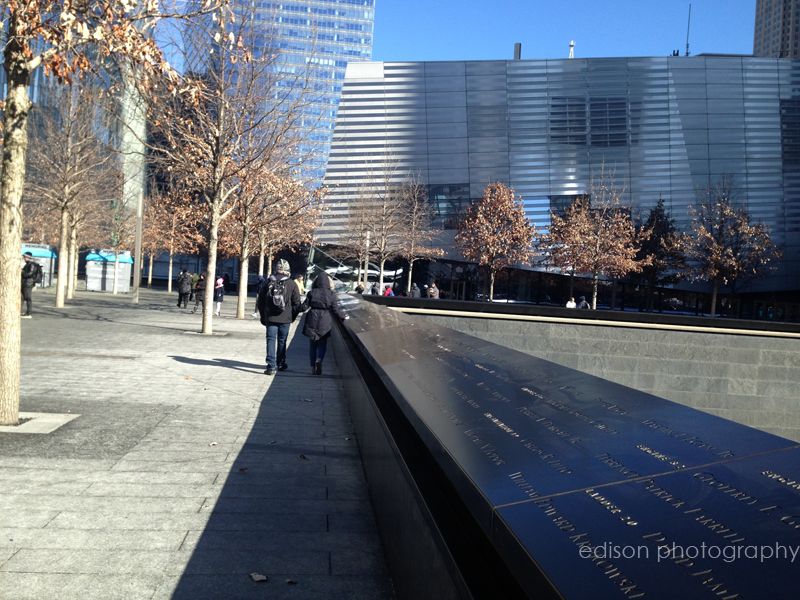 ANother day of lots of walking in the frigid cold!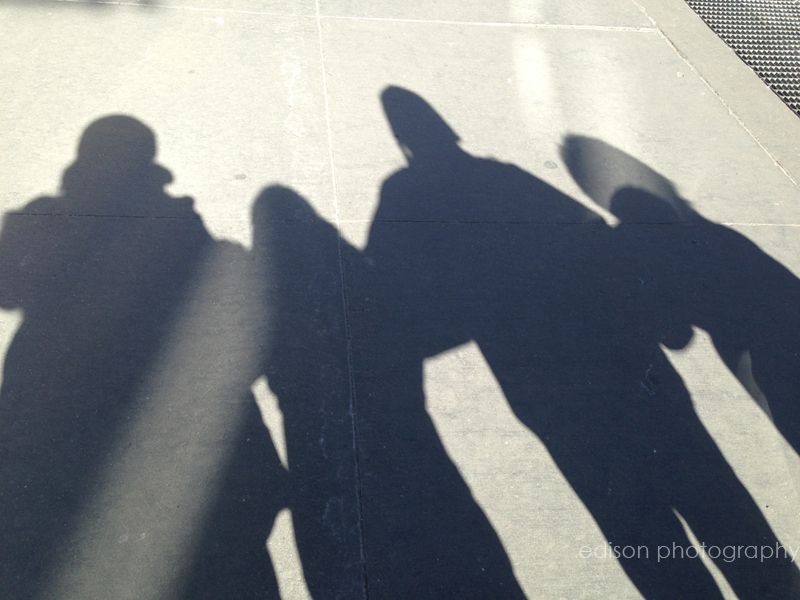 On a side note – it was Fashion Week in NYC while we were there. Which was ironic as it was so cold we could not even think about fashion only how to stay warm! But, one day we came across a building where there were swarms of paparazzi – a model came out and we were able to see first hand the hunt for the photo. It was disturbing and seemed so wrong on so many levels to hunt this poor girl as she exited the building and all down the street. I love People magazine as much as the next – but I think this taste of the paparazzi in real life makes me value photos that an individual has agreed to – rather than the ones they were hunted down for – all the more! Needless to say I have no photos of her even though we walked down the sidewalk with her (and the photographers).
Anyways…
I was excited to hear the Chinese Lunar New Year parade was happening while we were there! So much colour and energy!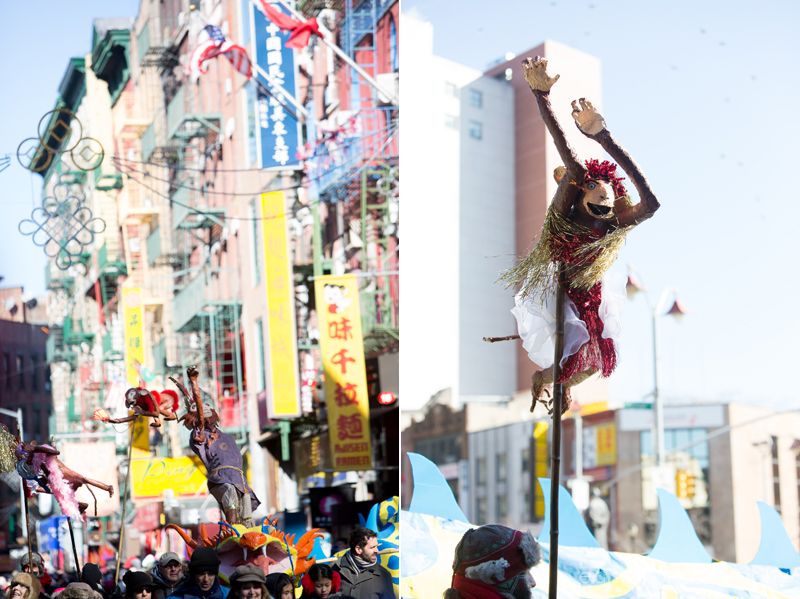 And then it was down to the subway – nice break from the cold! And fun for the kids who rarely get to ride one!
We took some time to enjoy Grand Central Station – including the Whispering Gallery I'd read about. In this noisy bustling corridor – you can speak into one corner – and it comes out clearly as a whisper across on the other side! It was so noisy around us so wasn't sure it would work – but it did! There's no signs – just go outside the Oyster Bar and give it a try!
Eden loves astronomy – and so loved the ceiling. Did you know it's actually backwards? Theirs conflicting theories on if that was intentional or not!
We then took our book lovers to the beautiful New York Public Library. It's gorgeous, amazing – a beautiful (FREE!) place to explore… but we did not see one book! The girls were very confused by that! Lots of places to study and a beautiful art gallery (the exhibit this time was of female print makers) but no books perhaps because the main reading room is closed for repairs.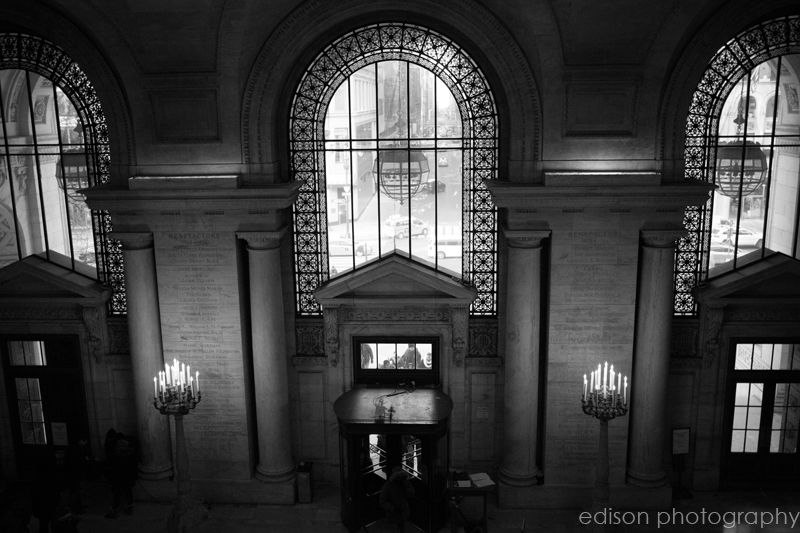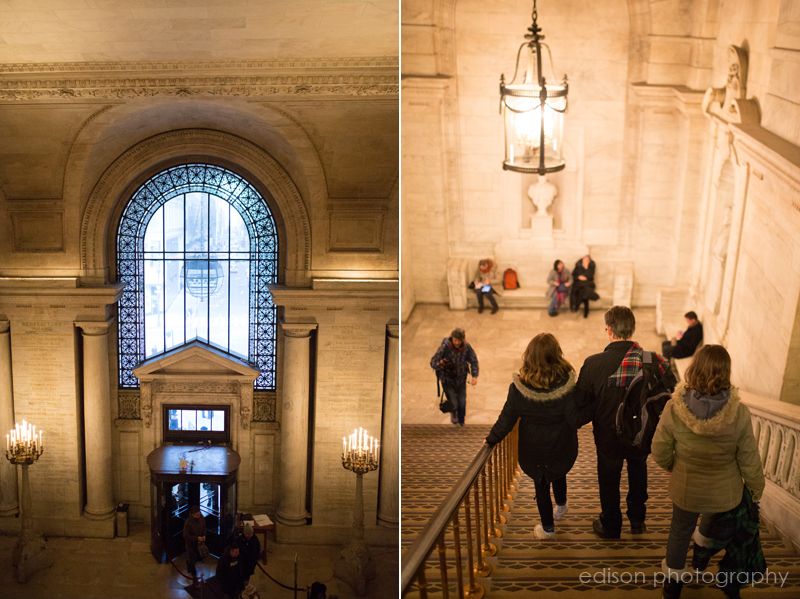 In between all our stops, we popped into stores and quaint shops to warm up. It sure was cold! And we ended the day with freezing at Times Square!
It was then back on the ferry to Staten Island!
Good night Lady Liberty!
And into warm PJ's, cup of hot chocolate and a good book to end the day!
And I'll end with a goofy video of Eden entertaining us while we grocery shopped for supper that night.
A great weekend getaway!
Celebrating life and love
Krista