Apparently I've become one of "those" people.
We all have friends who's birthdays stretch for a week. A month. Or in my case… six months.
Now, since my work in Africa I've come to realize that aging is a luxury many are not granted – so I have lost all embarrassment at telling people my age. This year in December I will turn 40.
I also got over the fact that society tells me I'm suppose to lie about my age when my friends and family threw me a surprise "Half Birthday" party in June! No hiding my age now!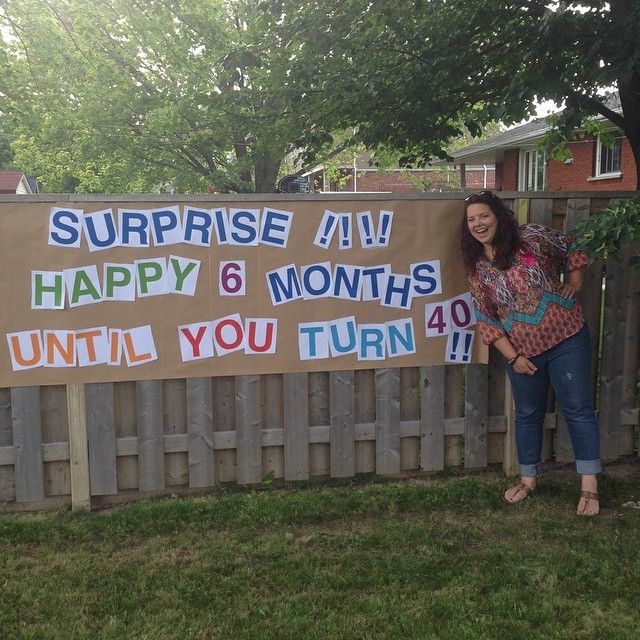 This past weekend, my sister gave me my birthday gift early… tickets to TIFF! TIFF is also celebrating it's 40th year – and everywhere we went at TIFF was "Happy 40th" or "40″ signs… naturally, we assumed they were all for me. So thoughtful. (On a side note – even if I'm not embarrassed about my age… maybe I should be by the fact I seem to have only one outfit looking at this pic below and the one above).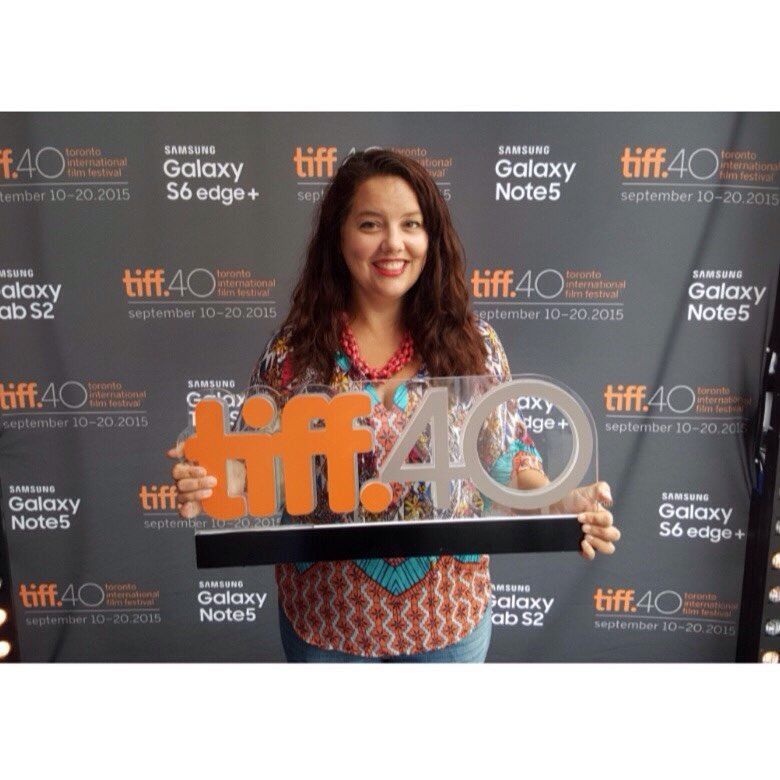 I've had lots of friends asking what exactly TIFF is – so thought I'd try to explain and share a bit about our time there!
TIFF – or Toronto International Film Festival – has close to 400 films shown and debuts many major films for the first time. There are different types of screenings – Premieres (where the film is shown for the first time ever and the director and cast is usually on hand) right on down to small outdoor screens. This article from People Magazine explains TIFF well – LINK
Our first film was Friday night – since we were going in against rush hour, we take the train. The rest of the time we drove. Always fun to go into the city for a change of scenery. The whole area of TIFF has an energy and festival feel to it! The streets are closed and there are vendors and music and free giveaways and pop up shops galore! It rained pretty much the whole weekend – but that didn't dampen our fun! The last photo shows us in the Andy Warhol photo booth – with our rainy frizzy hair and still laughing!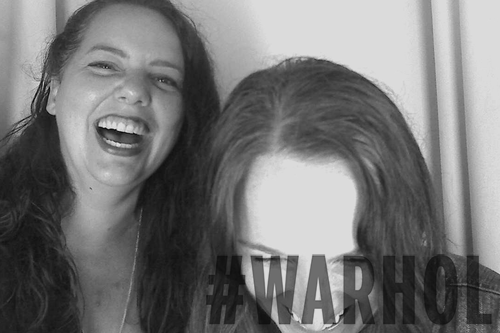 All of our films were at Roy Thompson Hall – amazing venue. Our first film was "Eye in the Sky" with Helen Mirren. We knew the least about this one, and so were a little less excited about it. We knew it was a war movie – which could mean blood and gore (yuck) and that it was set in Nairobi, Kenya. We liked that fact as my sister, Marcie and I had been to Nairobi together just a few months ago. Because it was a Premiere, the director and a couple of the cast came out ahead of time and shared about the film. The director, Gavin Hood, shared how a film of his a few years before had been awarded the "People's Choice" award at TIFF – and how it changed his life. Suddenly people took notice, he gained distributors for the film and was able to go on and make other films. He was really emotional sharing about it – so naturally I got choked up. Dame Helen Mirren is sheer grace and beauty. And Barkhad Abdi had us all laughing with his "let's get going!" as they were anxious to watch the film. Mirren had refused to watch it earlier as "how would she know what parts she likes?" without an audience's reactions.
This film was excellent – a perfect blend of humour along with the harsh reality of modern day war. The real debate was what the value was of one life… it was powerful. I was quick to place my vote for this one for people's choice – amazing film I'd totally recommend!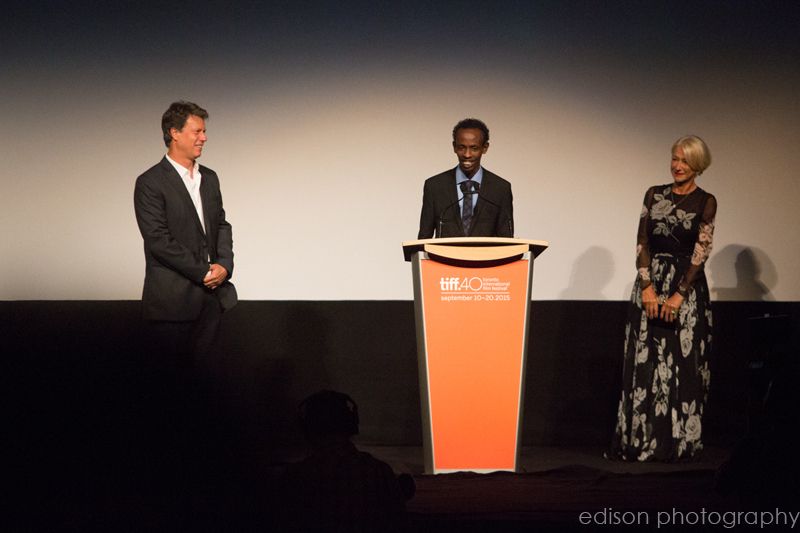 After our film, was the Premiere of the Martian. We had tickets for it the next day – but wanted to see if we could catch a glimpse of the cast. One thing I do want to stress – is Marcie and I both love our celebrities and Hollywood gossip.. .but we do not love the idea of "hunting" celebrities. We both felt when they walk the red carpet – that's part of their job in doing their promotions. But we did not want to stalk them outside of their hotels, restaurants and parties like we saw being done. Many people stood for hours and hours to catch a glimpse of stars – we would simply go and maybe be wayyyy down the line and not a direct view, but our sanity was still in tact! And as you'll see at the bottom of this post – still paid off for a great photo op!
So, after our film Friday we went over o the red carpet and were able to catch Matt Damon, Sebastian Stan ("Bucky" from the Marvel movies) and Jessica Chastain – both excellent in the Martian. Another GREAT movie. Set on Mars, and Matt Damon is left behind presumed dead… but later they find out he's alive. Decisions have to be made to go back for him or not. Again the question of the value of just one life. Could not imagine anyone but Matt Damon in this role. It was nice how they all waved at me directly. They must have known it's my 40th.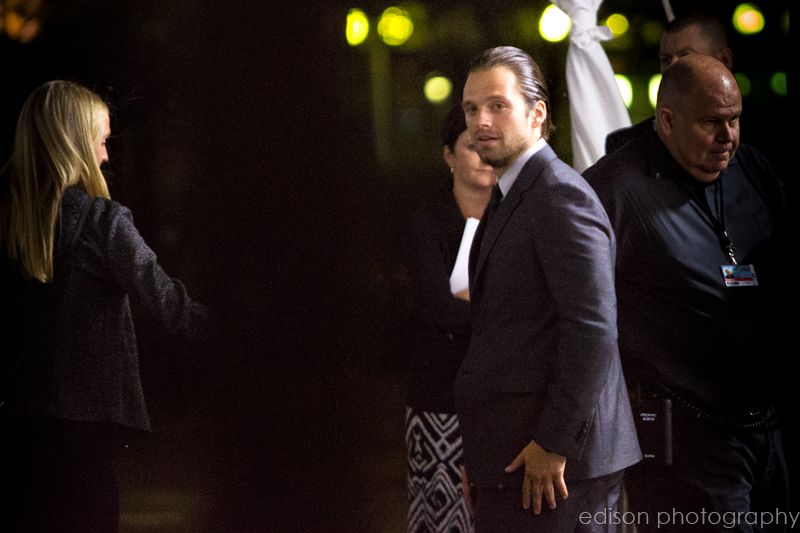 The next morning we went back in, and watched the Martian (which I mentioned above). And then we saw "Miss You Already" with Drew Barrymore and Toni Collette. This was the one I expected to like the most – a chick flick about two besties. Probably my least favourite of all the movies. Still good – but not as powerful as the others. But that's okay – I got to see Drew who I love! I really think we'd be BFF's and I like to pretend in this first photo it's her surprised face when she sees me there. Sort of how she reacted when she saw Toni on the red carpet after her. They went running to each other hugging and squealing like she wanted to do with me. And Toni – incredible actress and so, so stunning. Her hair and her yellow skirt – wow! They were exactly how you'd expect them to be when they spoke about their film. Toni was witty and articulate – Drew gushed and was sugar sweet. Toni explained that this was like giving birth to the film so all of us watching were the film's doulas. ha ha.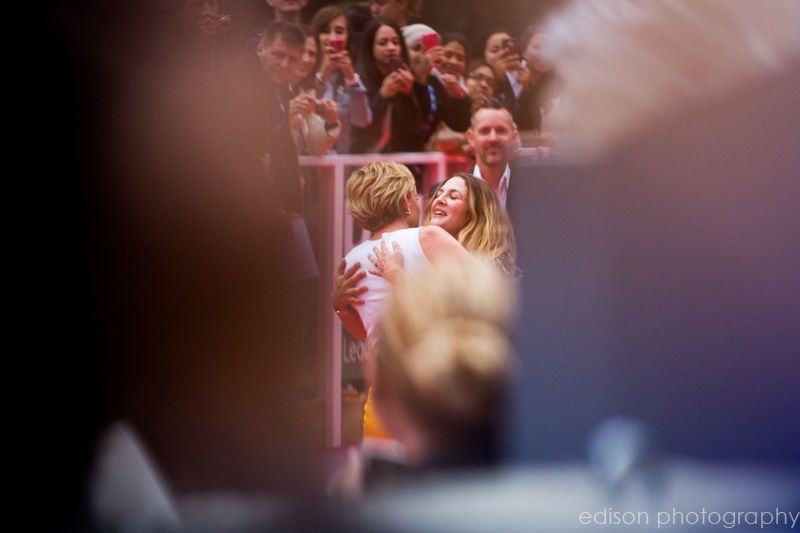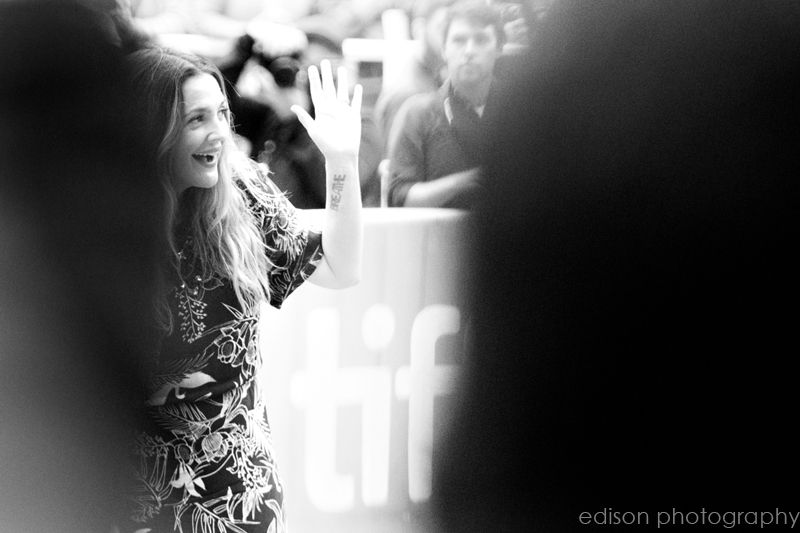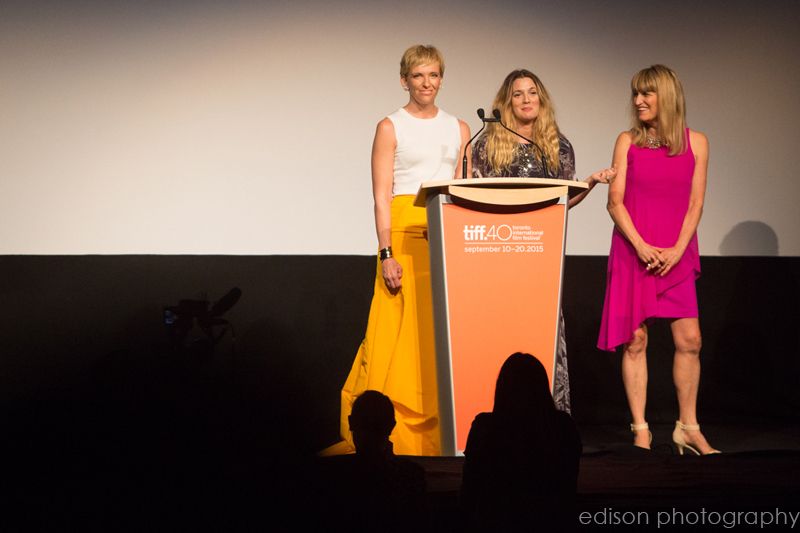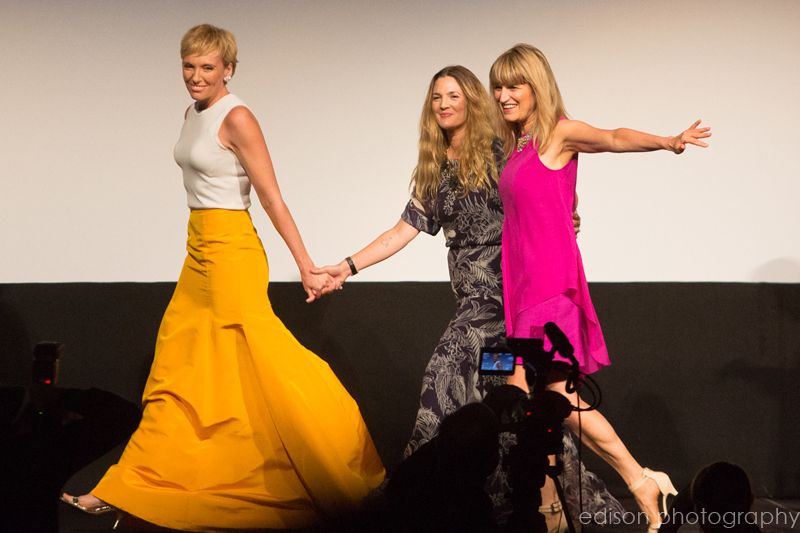 Then that was suppose to be it… but we had entered some contests where you post a selfie and use a certain hashtag. In this case it was for L'Oreal. Well – what a surprise when I got a comment on instagram that I had won tickets and to come pick them up! When we went to pick them up they took us up to their VIP lounge overlooking the red carpet (super cool)… and then let us choose our tickets. We decided to come back the very next day! And the tickets were also for a Premiere. That meant we would have 4 tickets on opening weekend – and 3 of the 4 were world premieres! We kept saying – I think we won the TIFF lottery! Never get such great tickets – it's so tough to get tickets at all! And for all of the premieres we got seats on the main floor centre. Score again!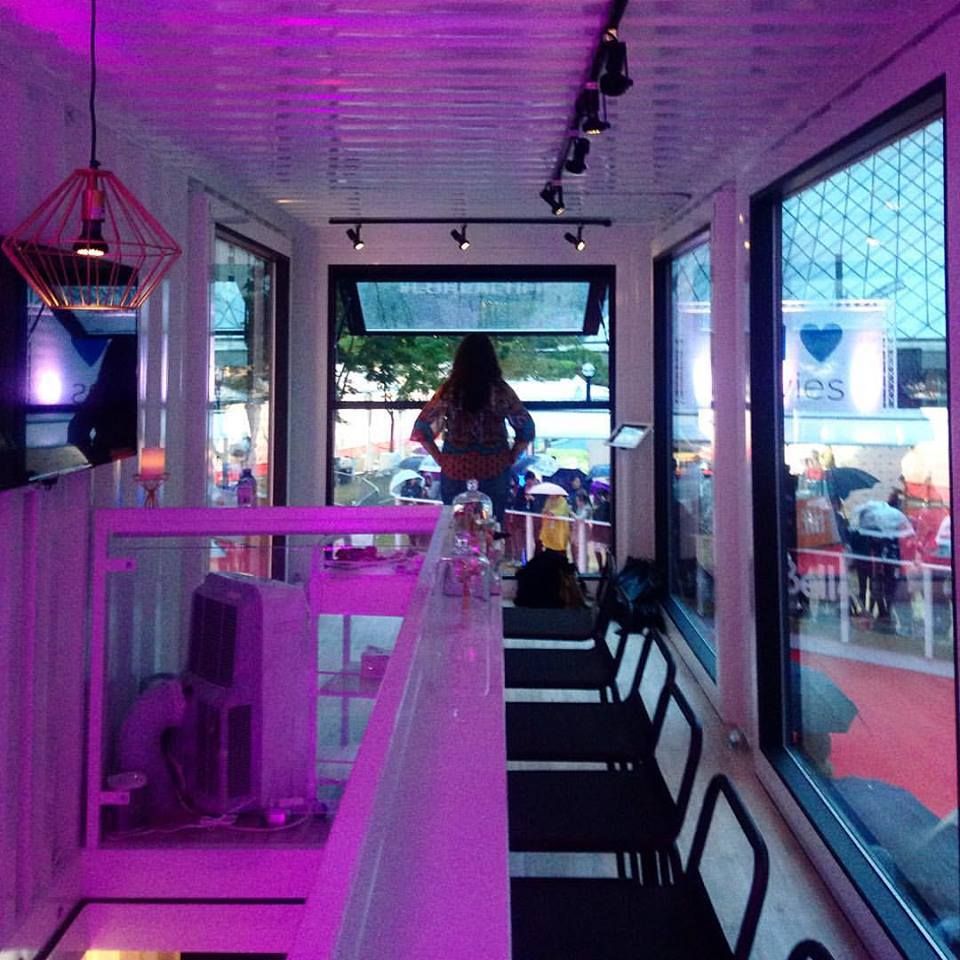 Sunday we went back for one last show – first day that was not raining. Still chilly though!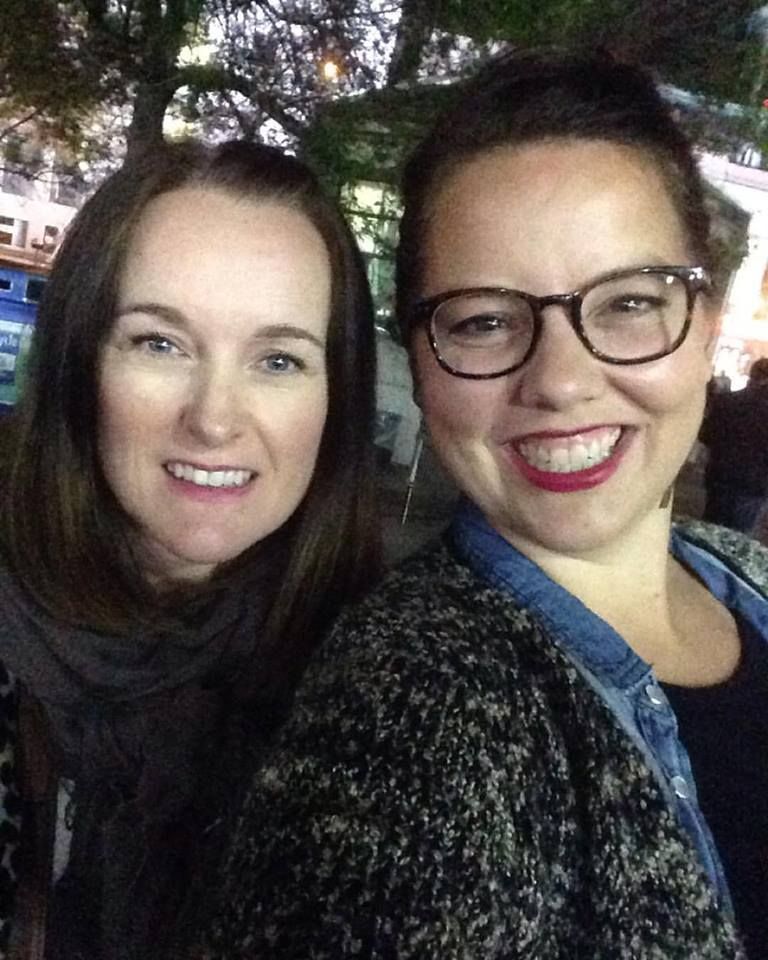 We were watching "Freeheld" with Ellen Page and Julianne Moore. Two actresses I love! It is a true story about a same sex couple, where one partner is a longtime police officer who is dying from cancer and wants to pass her pension on to her partner. It was the legal battle that went along with that struggle. Julianne Moore absolutely deserves an Oscar for her role (has any actress won back to back? She won last year too!). Ellen Page is adorable in it too. It was powerful to have the real people the story is about there also. The cast – especially Julianne Moore – constantly directed all the applause to them. Michael Shannon was a giant compared to Ellen – loved when he pointed down at her as one of the movie's producers. She's soooo tiny! When a Premiere ends, the cast will stand in the front row of the balcony to applause and usually a standing ovation. It was clear that at the end of the movie Ellen and Julianne had been crying and moved by the film as they stood to applause – and again they directed our attention over to the real people the story was about.
Julianne hugging the real life woman the story is about who's partner Julianne played in the movie.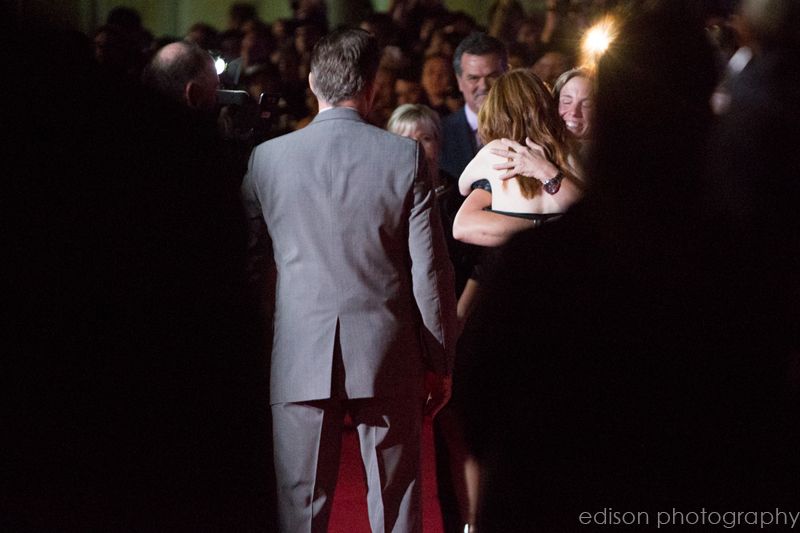 I have decided walking the red carpet would be the wost experience ever. Everyone reaching for you, screaming your name, and photos! photos! photos! Argh!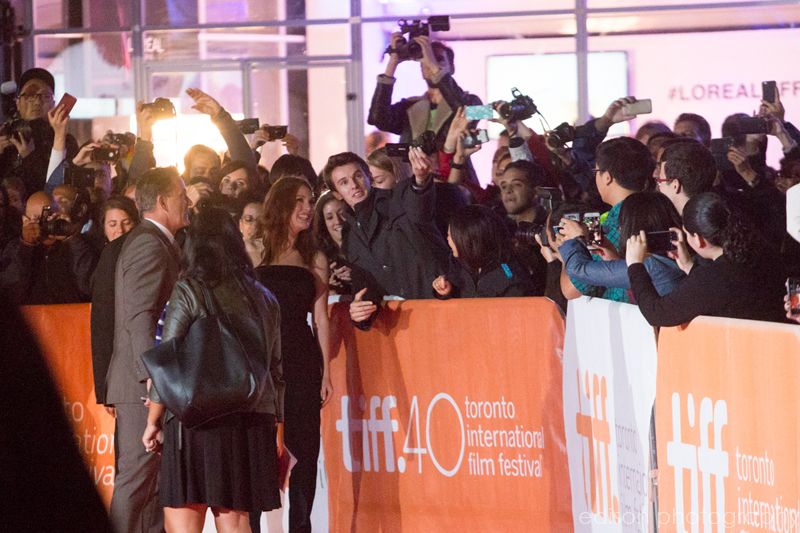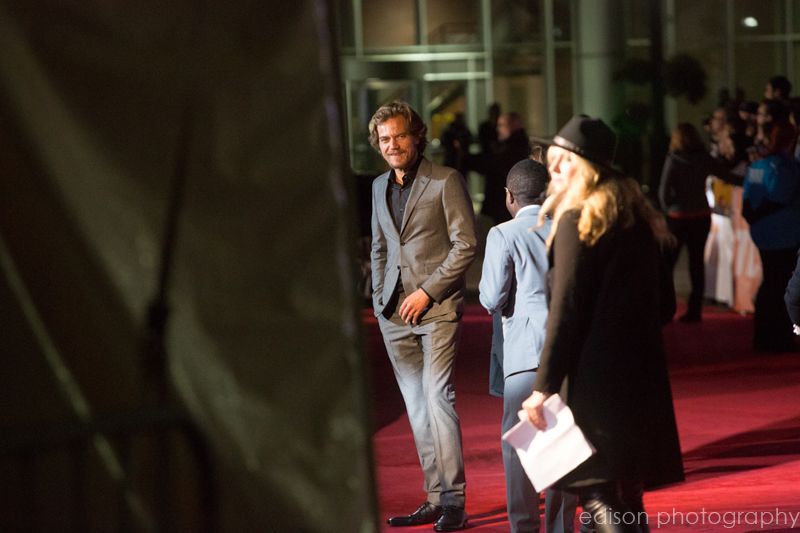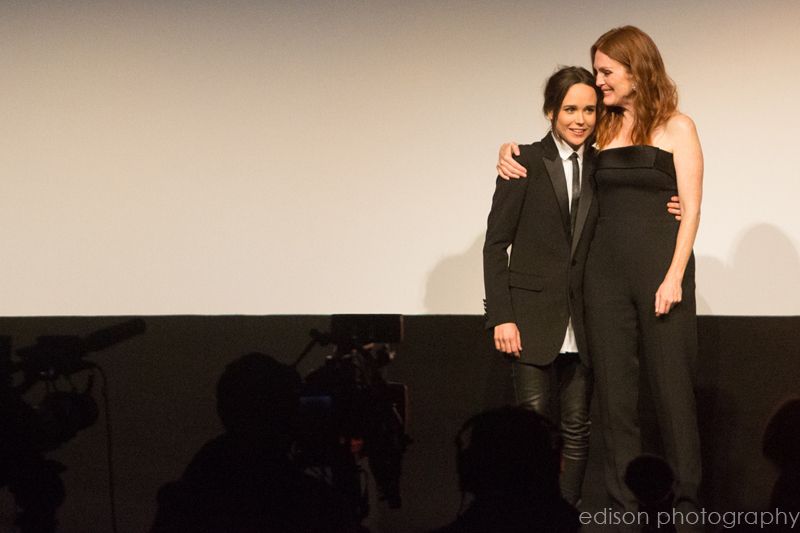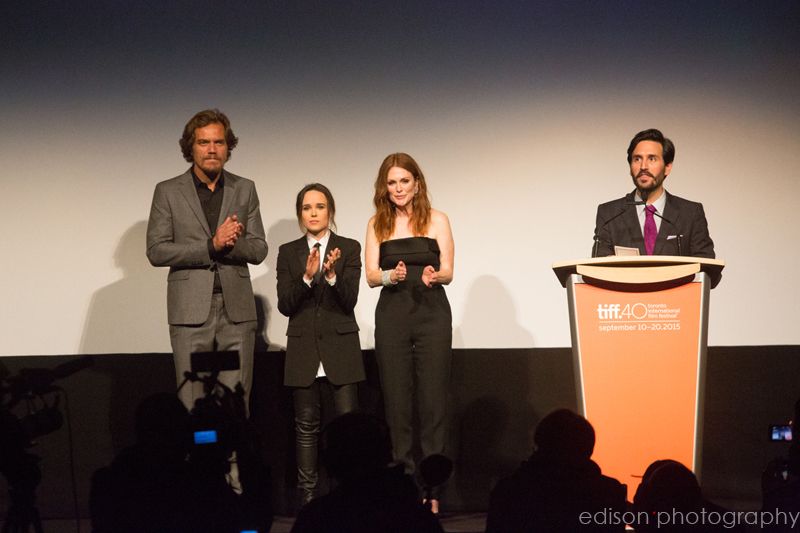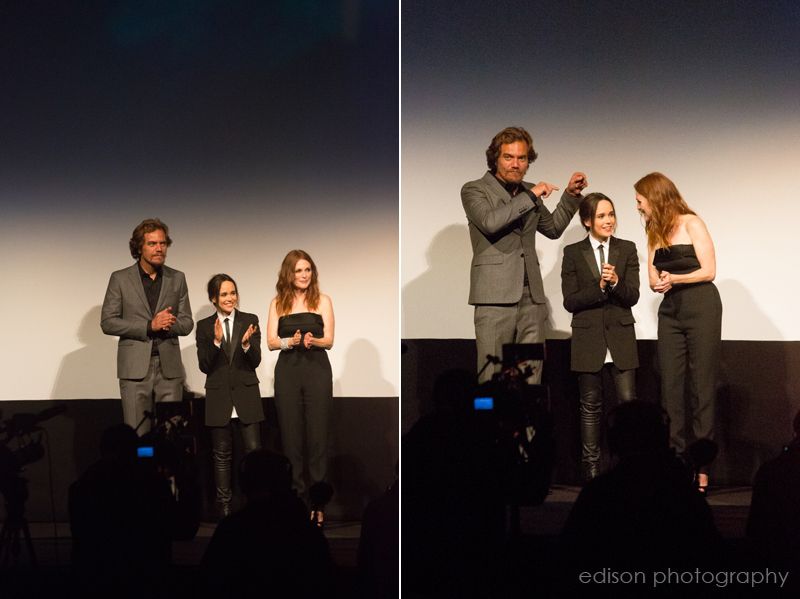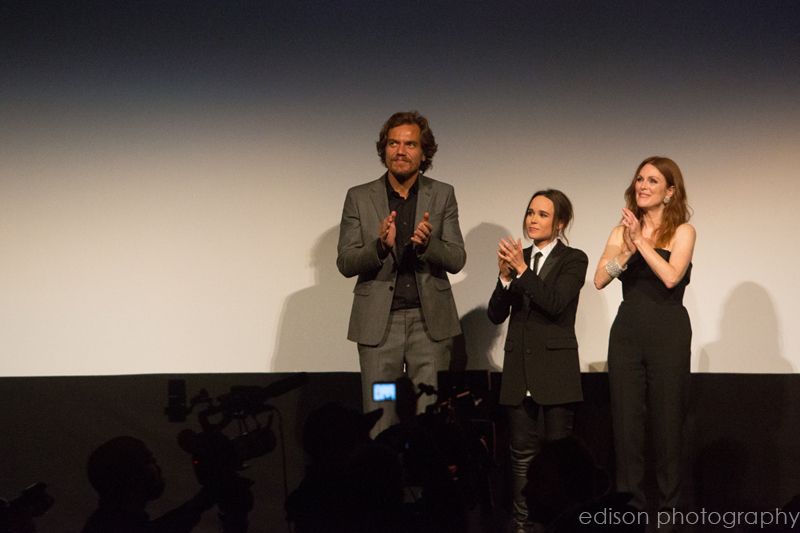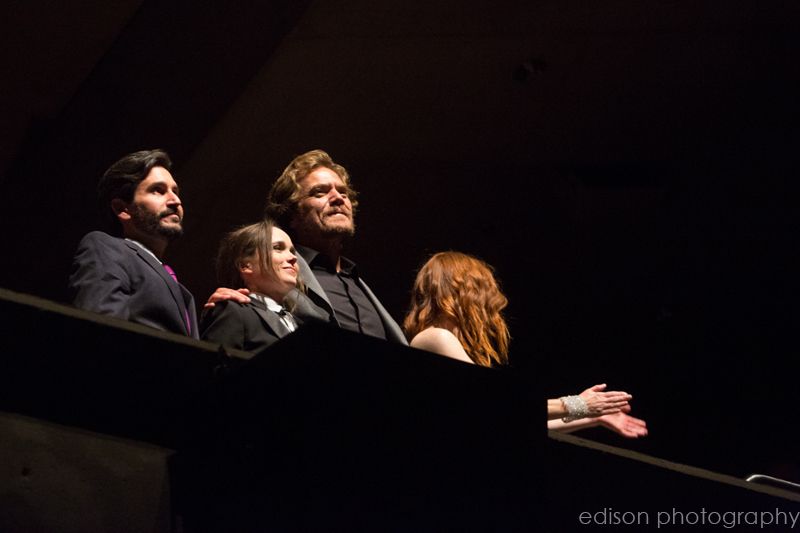 And now for the story everyone has been asking me about!
Friday night as soon as we got there we wandered around – and saw people lining up along a red carpet. We asked who was expected – and everyone said "Sandra Bullock". We thought it'd be fun to see her but had to get to the movie we had tickets for. We let ourselves stay for about ten minutes before we had to leave. We were wayyyy down the line along the red carpet so didn't expect any interaction – but may get a photo of them getting out of their car. The road is closed off – but the police would let through the star's SUV's. Each time an SUV pulled up the crowd would speculate who was in it. The windows are so tinted you have no idea until they open the door! Well no one was expecting George Clooney to get out – he is a producer for Sandra's new movie but no one knew that. He got out and all you could hear was people yelling "it's George!" all through the crowds. And then, he came down the entire line of people waiting alongside the red carpet – right down to where we were way at the end. Talking to everyone and super friendly. These photos were with my 50mm lens – no zoom, he was right there!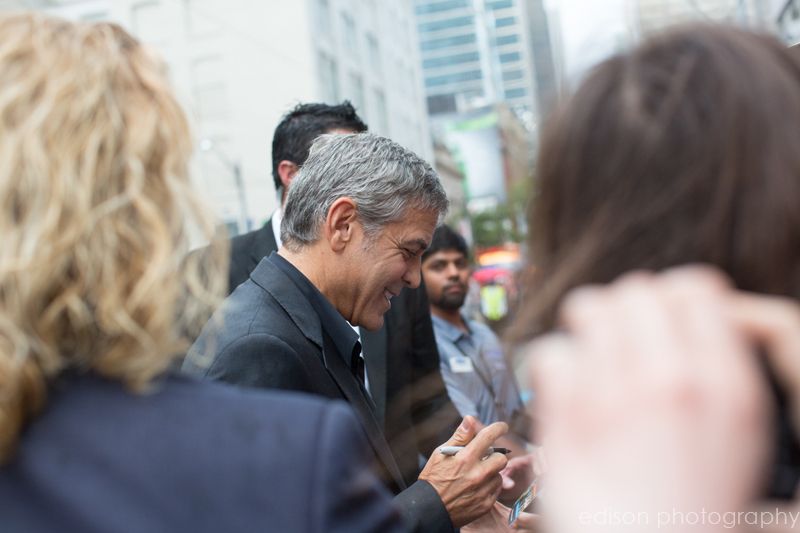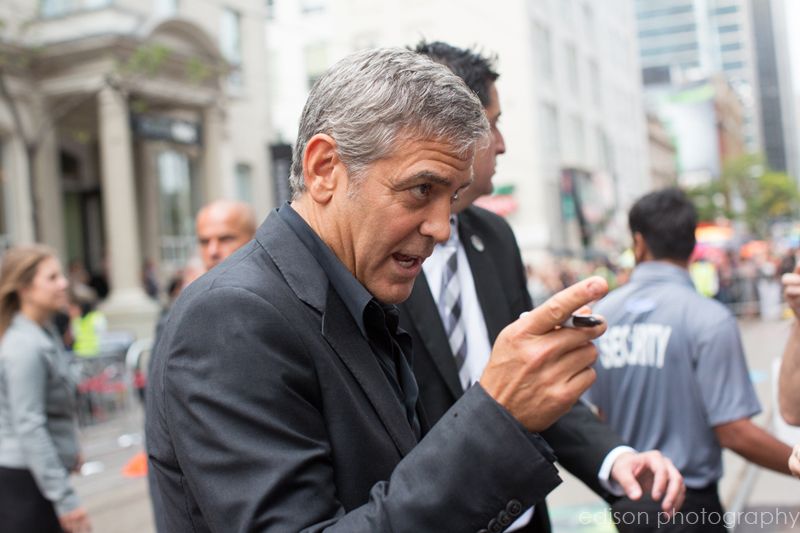 When he got to us, I realized I wouldn't have time to get a good picture with my "real" camera so I put it away and had my iPhone right ready and set for a selfie. He came up and said "how's everyone doing? Is everyone okay?" Just friendly and fun… and that voice! I asked if we could grab a quick photo with him – when he said yes, I had my camera ready to go. He said "Wow! – you know how to take photos! You've got skills!" Little did he know I'm actually a photographer… ha ha! Marcie said I should put that quote on my website. Hilarious.
And here it is…
And that was how we kicked off our weekend at TIFF! Everywhere we went people would talk about who they saw – when we told them we even got a photo with George Clooney – they'd high five us and get excited. One woman in line asked if she could share it on her facebook page! ha ha. Love people's enthusiasm!
Such a fun weekend! Great gift – thanks Marcie!!
Celebrating life and love,
Krista