For the last couple of Christmases, we have started a new tradition with our girls. We realized they don't need more "stuff" and instead wanted to give them a memory. So, the tradition is now that they get one Santa gift and then a memory from mom and dad. This year – we said we'd take them to somewhere I've wanted to go to since I was their age… Quebec Carnival! The girls have loved visiting Quebec in the past – but had not been in the winter. And Eden had been asking to go see the ice hotel…. so it was time! We just went this past weekend – we joked it was our "Valentine's/Family Day/Christmas" weekend. Whatever it was – it was a lot of fun! My girls – Madison (11) and Eden (9) are going to help tell about some favourite parts in the blog below. (Please note these are personal pics – some from our little point and shoot – but wanted to share our little adventure with you all!)
We left on Valentine's day after school and drove to Montreal. And then Saturday morning finished the trip on to Quebec City. We love doing road trips – the girls and Mark love listening to audio books. I can not seem to get in to them – so while they listen, I read.
The snow in Quebec was crazy – I thought we had a lot of snow this winter! There was SO much snow! Huge snowbanks and piles of snow everywhere. This image is of a fence that you barely even knew was there!
And then it was time. We arrived at the Carnival!!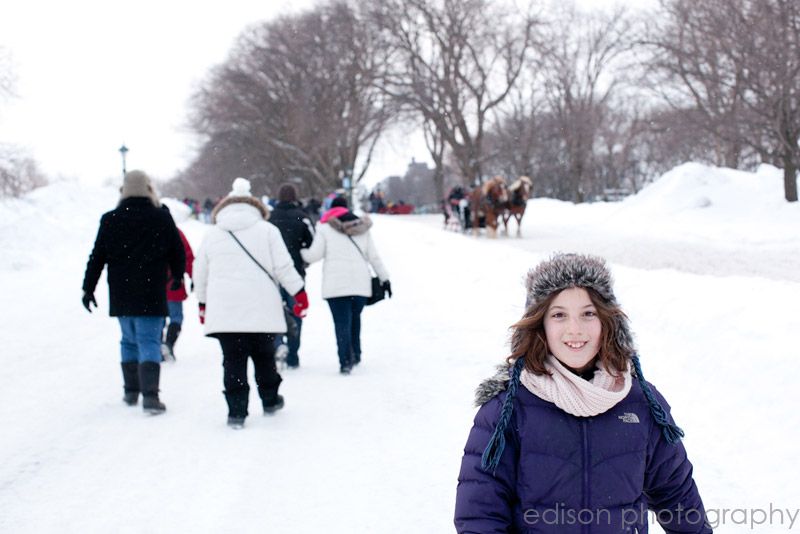 "My favourite part of my Quebec trip was the carnival. I liked going to the carnival because it is a once in a life time opportunity because it is only held in Quebec once a year. They had amazing opportunities and awesome rides. " (Madison)
We tried lots of fun games – one favourite was this one – sort of like curling and lawn darts combined!
We went up on a big ferris wheel – great view of this section of the carnival!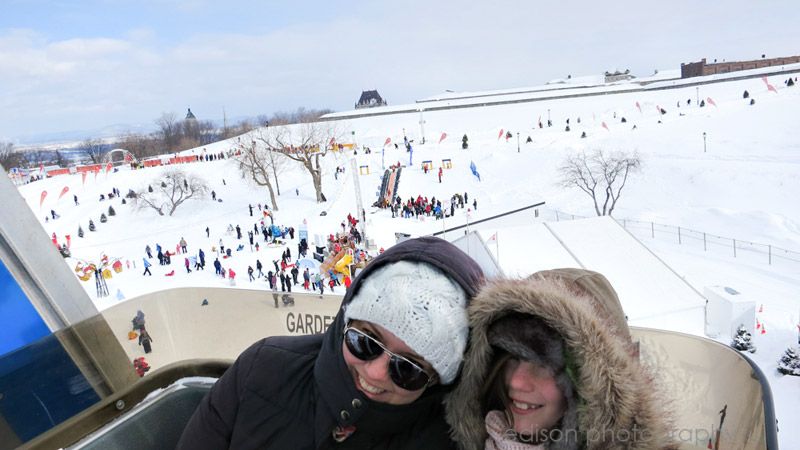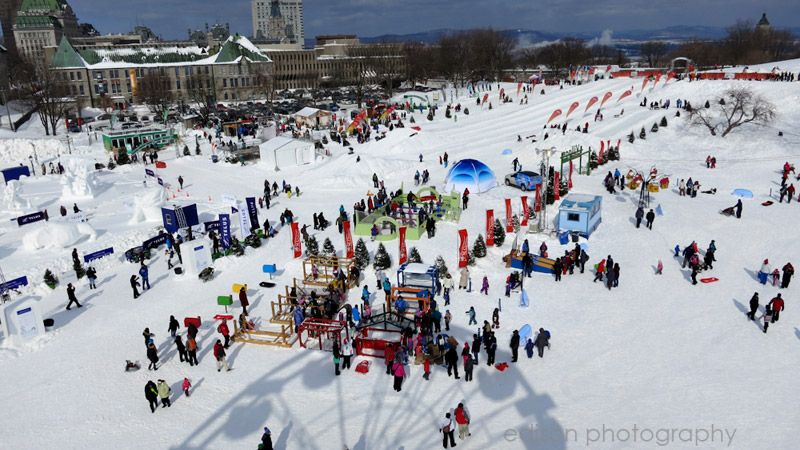 We were so impressed by the ice and snow sculptures – we took advantage of the sculpting station and tried to create our own. I think we all gave up before our creations were done – much harder than it looks!!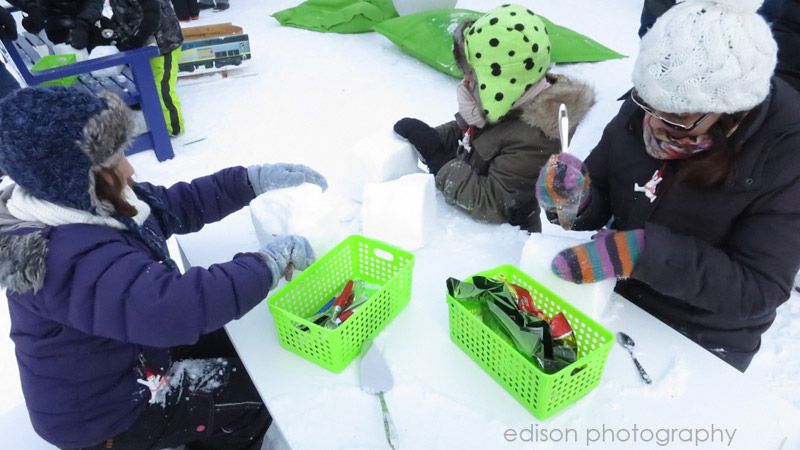 One of our favourite things was this human foos ball (spelling?) game. We were all strapped in so we couldn't move and played a round of human sized table top soccer – so ridiculous and fun! We didn't get a great picture of it because we were all playing – but here's a photo from my iphone of it!
We all loved the tube rides!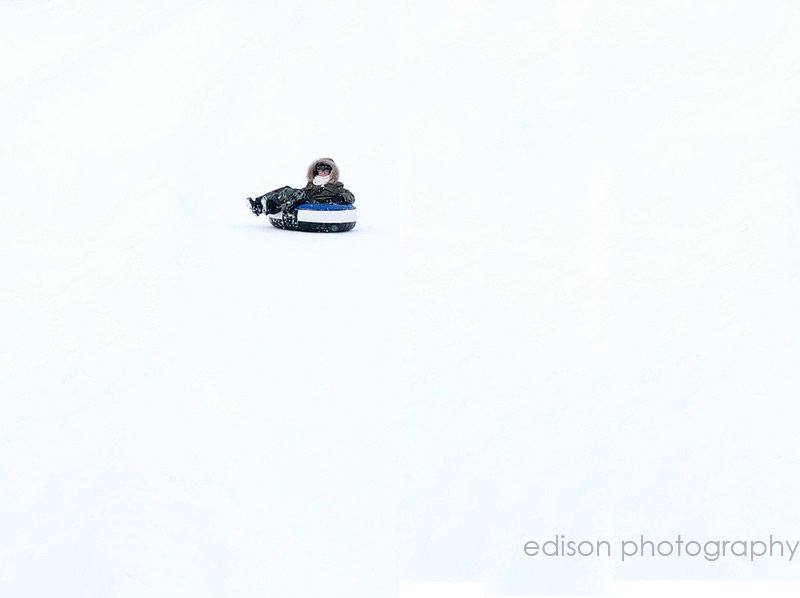 Okay – here's my dorky moment. (Well, one of many). I've always wanted to meet Bonhomme. We saw him – and I literally went running over. And hugged him. There was a big crowd and I'm surprised Mark even got a photo of me. Also surprised that my family did not disown me.
"One of my favourite things at the carnival was the ice slide they had it was entirely made out of ice! It was an experience I'll never forget." (Madison) The ice slide was one of my favourites too! You sat on a sled and whipped down this bumpy course racing against one other person. It just so happened when it was the girls turn to go the marching band had just started up! Fun! And even though it was a long line – no one seemed to notice because they had a couple of heated tents – the first one was handing out chapstick and hand warmers – and the second one was a photo booth! Then you exited the photo booth and it was your turn to go! So fun! You can see the girls on the ice slide in this little instagram video HERE
Then we were waiting for the parade, and saw people ziplining through old Quebec – right over the main street (that was closed off for the carnival). We asked how much – included in the carnival pass!! Sweet! I held our stuff well Mark and the girls zipped over top of me. They were the last ones for the day – hard to get photos as they whip by against the black night sky, in dark colours – but you get the idea!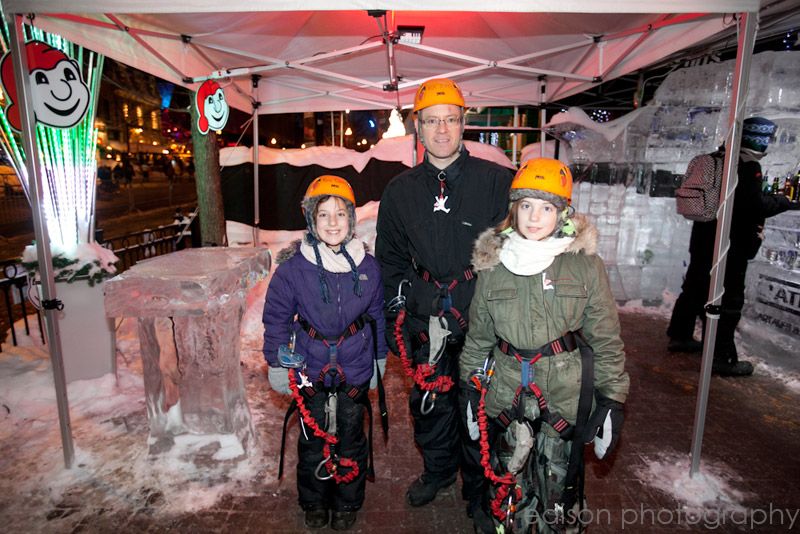 "I enjoyed zip-lining. I enjoyed this because of the thrill, it felt like you would fall any second. Also it was really cool because it was dark and snowy." (Eden)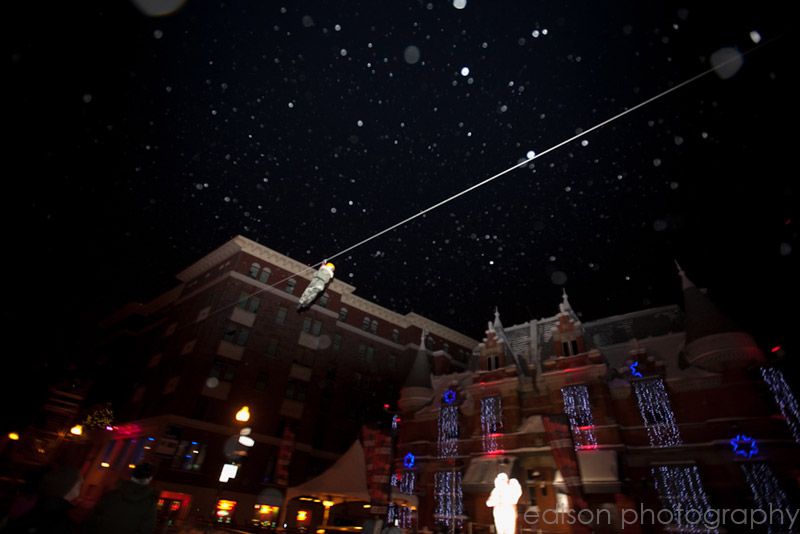 Then it was the parade!! I unfortunately didn't have a wide angle lens on – and it was snowing so hard I wasn't about to change it outside – so there aren't a lot of photos of the parade. Let me just say though – it was spectacular! The best parade I've seen – and the snow just made it extra magical! Every single person in it gave 150%! It was incredible. And also incredibly cold! We all had to give in and admit defeat – after a full day out in the cold, we had to go warm up. It was hard to pull ourselves away!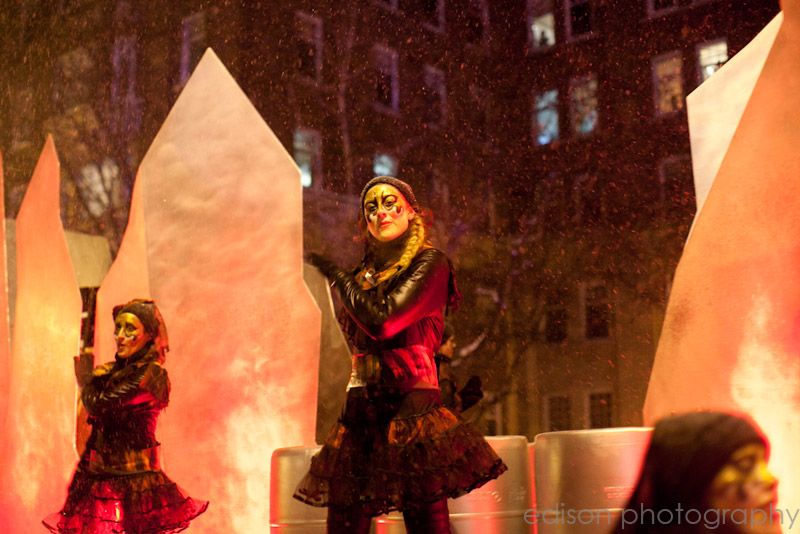 Eden having a hard time leaving – look how snow covered her dark hat is though!
Another thing we did was go to the Ice Hotel (Hotel de Glace) – wow! I wondered what all there would be to see at a hotel we weren't staying at. It was beyond amazing. It's always between -3 and -5 degrees. It is cool but bearable. The sculptures and carvings are breathtaking!
"I also liked the ice hotel with all the cool (ha ha) rooms and the beautiful designs. What surprised me the most was there was a room based on the movie Frozen!" (Eden)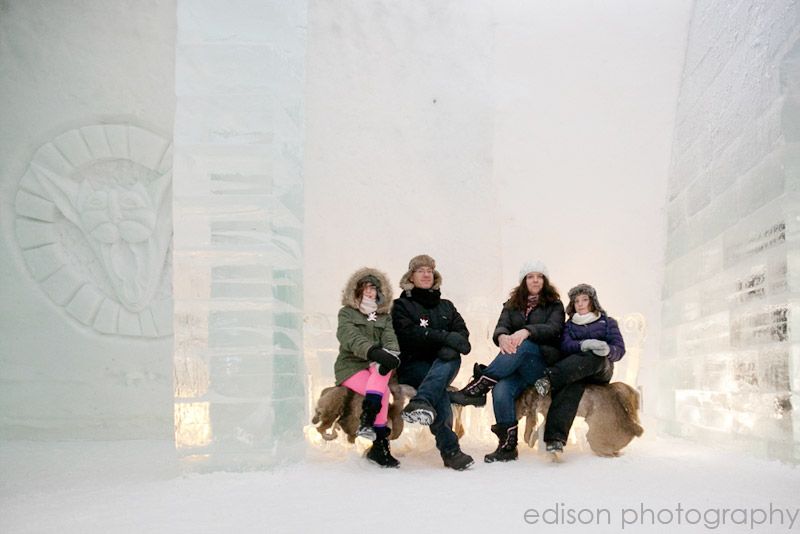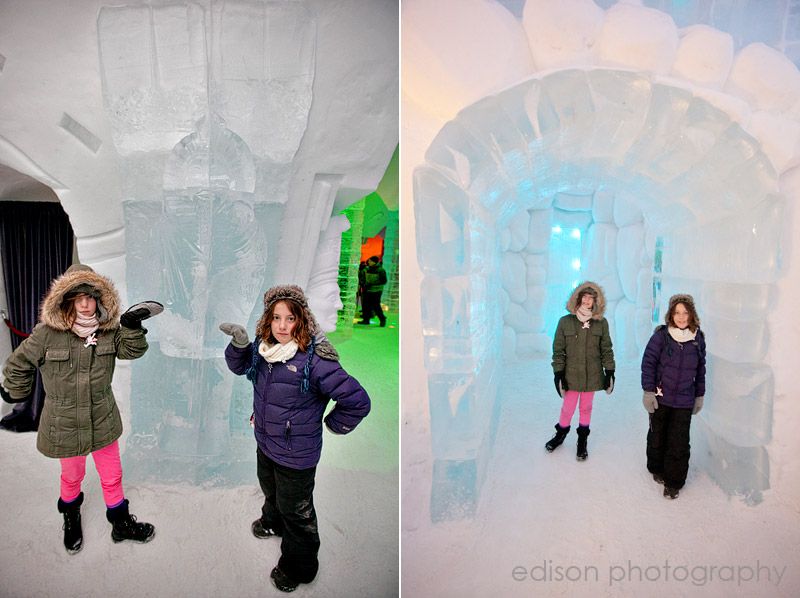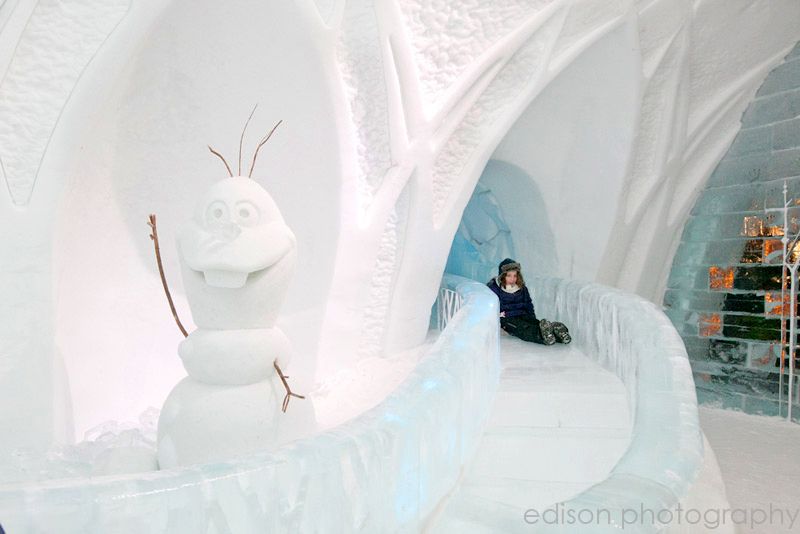 The chapel at the hotel – stunning!
An amazing vacation full of great memories!
Celebrating life and love,
Krista