I have been trying for several weeks to get together with Dick and Nancy as part of this Golden Project – but each time we go to meet one of us are sick or the weather doesn't cooperate. Finally Friday everything was set to meet! I arrived at their condo where I was to meet their granddaughter – and checked my messages. There was a message saying Dick wasn't feeling well and not up to it. Oh no! But then the next message was – if you've already left, let's go ahead anyways! And so we did. I didn't expect Dick to talk much, but right from the string, firm handshake when I arrived he had this twinkle in his eye. He corrected Nancy's story and laughed along with us. And at the end they thanked us for a fun morning down memory lane. I'm so glad we went ahead!
Dick and Nancy's story starts during World War ll. Nancy is from the town of Irvine, Scotland. Dick was a Canadian soldier. Nancy and her girlfriends were crossing over a bridge one day in the fall of 1943, when some soldiers crossed and were making rude comments to the girls. The girls kept walking and saw another group of soldiers – Nancy was dreading passing them also. Then she noticed they were Canadian! One of them was Dick, and he said to his friends "let's stop these girls."
I asked Dick why he wanted to stop the girls. "Just wanted to pick up a girl" came his quick response.
Nancy had a hat with a veil over her face that day. As they went for a drink, she asked him "How come you asked me when you couldn't see my face?"
Dick's honest response was, "I seen your legs."
They saw each other for 6 weeks before Dick had to go back to war.
(Here Nancy is showing me where she and Dick met for the first time)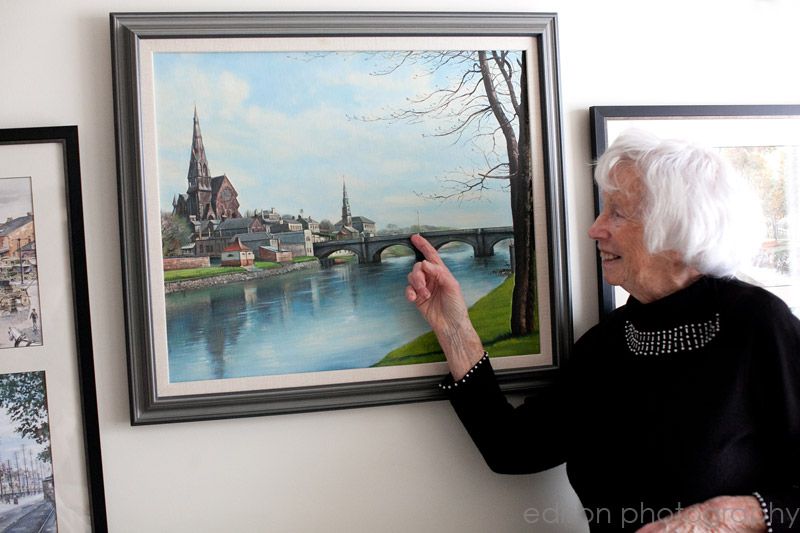 They wrote back and forth for the next year until one day Nancy got the telegram no one ever wants to receive.
Dick had been wounded and was not expected to live.
Nancy's parents would not let her go to him in the hospital. He spent 3 months in the hospital and it was 6 months before Nancy could see him again. His first leave after the hospital, Dick and Nancy got engaged. They inscribed the date of the engagement on her ring – she did not want it to be for the real date of November 13, 1944 as 13 is unlucky… so they chose two days before which was a day of celebrating around the world as it was the day the war ended. November 11, 1944!
They were married in Scotland in 1945. Dick's family had never met Nancy – but he said his mother was "pretty pleased" because he was one of four boys and she always wanted a girl. When I asked them about their wedding they both started to laugh.
Dick says while laughing, "Never a wedding like ours in a million years."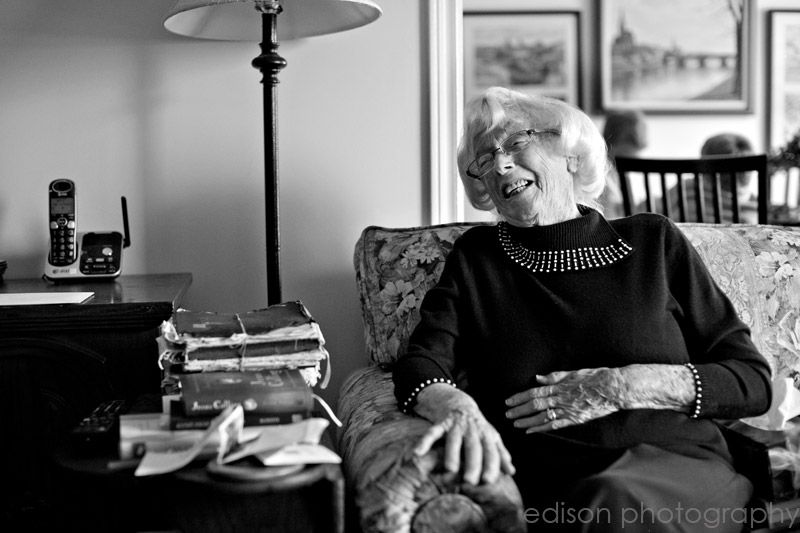 Nancy had to continually keep changing the date of the wedding as she was trying to coordinate it with both Dick and her brother getting a leave from the war to come. Dick jokes that she was more concerned her brother got to the wedding than if he did! Finally the day was set.
Because everything was rationed during the war, it was challenging planning a wedding. Nancy had ordered some steak for the wedding – but then realized without an icebox and not certain that Dick could in fact make it – she had to cancel the order again. When he did in fact come on the wedding day – she went to town in her curlers (on her wedding day!!) to find food for the celebration. She had some coupons for candy. And when she ran into an old acquaintance and he asked her what she was doing – she said "I'm getting married today!". He offered her candy as well. So she had nice fruit and candy at the wedding.
Nancy borrowed her wedding dress – and was actually the third bride to wear it!
They had the wedding in their hime and the neighbours offered baking. There was one taxi and they had to cram everyone into it. The photographer in town was busy so they had the photographer's apprentice and had two photos taken. Two. As a photographer I gasped when I Heard only two photos taken. But then they showed me the most beautiful, timeless photo. Two was all they needed.
They have it hung in their bedroom and Nancy told me she looks at it every single night before she goes to sleep.
Dick had 11 day leave before he had to go back to his troop. Then he had to return to Canada without Nancy as the ships were only allowed so many war brides each trip. It was 10 months before Nancy's turn came to come to Canada.
She talked about the week's passage across the ocean and how excited she was to see the lights in Halifax. From there it was a train ride to Toronto and then on to Hamilton. It was midnight before she got to Hamilton. She was the last one off the train. nancy told us how she had on a black and white tartan and a white blouse. Her mom had told her to tuck the collar in on the blouse until she got there and then turn it out and it would still look fresh.
I said to Dick that she must have looked good to him after all that time. He got this slow grin across his face. "She sure did."
Nancy was quick to say they didn't have a perfect marriage but that they were committed. You "pick each other up and keep going." And if you stick with it, you'll find "a stronger love than you had in the beginning. And a closeness."
Dick piped up. "Love is something that grows."
Nancy added "Deeper and stronger as it grows."
Then the wisdom just started to flow out. They had so much to offer from their 69 years of experience.
"Be open with each other and be there for each other."
"Perservere and be committed to each other."
"Every night we tell each other we love each other. We read our Bibles. And we pray."
Nancy shared part of a favourite verse that has helped in their marriage… "Be kind and compassionate to one another, forgiving each other"
On their 50th and 60th anniversaries Dick and Nancy renewed their vows with friends and family. They had a big celebration – and what a reason to celebrate!
When I asked Nancy her wedding date – she said Ground Hogs Day. With a laugh she adds "he stuck his nose out of the ground, I hit him over the head and said 'you're mine!'"
Nancy has some favourite quotes written out she likes to share with people when writing wedding or anniversary cards – she shared them with me.
"Three kinds of love.
Love that takes
Is the love that breaks.
Love that ties
Is the love that dies.
Love that gives
Is the love that lives."
And when I left – I left not only with a happy heart full of stories and love, but also fresh baked banana bread! Yum!
Throughout the whole time together Nancy kept saying, "We have been so blessed. So blessed." Wishing them many, many more blessings – and thankful for them blessing us with this gift of their experience and knowledge.
Celebrating life and love,
Krista