[The GOLDEN project can be read about HERE. I will be photographing couples married 50+ years, hearing their stories and sharing their wisdom. Have someone you think I should document for this? Drop me a line at: info@edisonphotography.com with the subject "GOLDEN"]
Lee and Norma Jean met each other at a house party around 1947. Their group of friends would regularly all get together at someone's home, push back the living room furniture and have a square dance! Whoever could play an instrument would provide the music for the group. They enjoyed each other's company so much that night, that Lee drove Norma Jean home. He invited her to a show, and they dated for the next five years.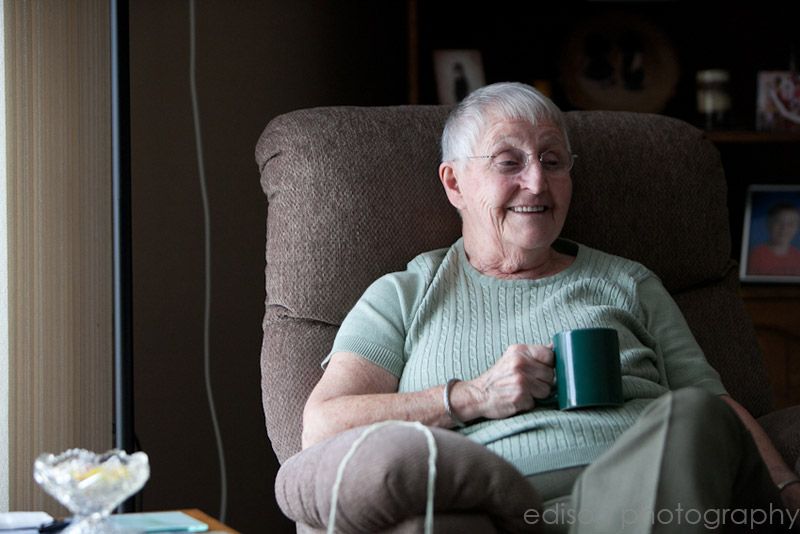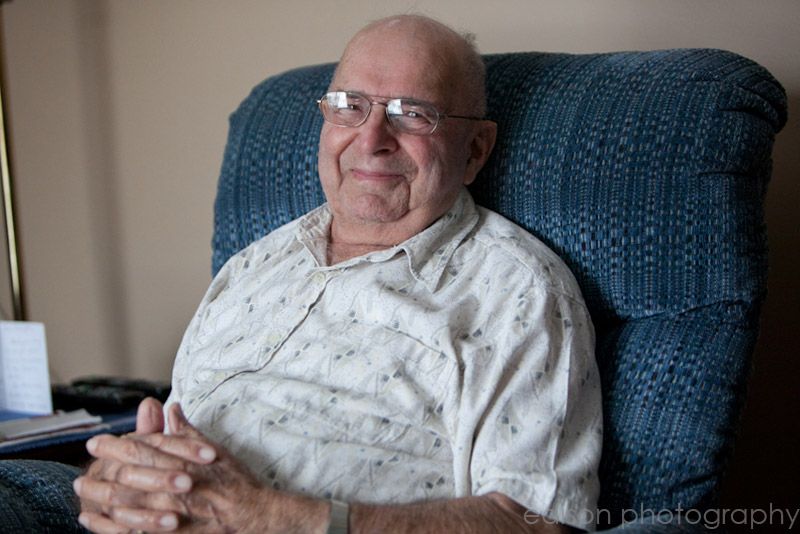 Lee and Norma Jean had a small wedding with about 35 guests in 1952. They got married in the church and then had a reception outside at a family home with food and the wedding cake all made by relatives. I asked if they wished they had a big, fancy wedding to which they replied "It isn't about the wedding". It's the marriage that lasts after all!
They said that they thought all young people should watch the TV show "To Debt Do us Part" as credit cards break a lot of people. People go overboard today and make too much money they think. It makes people selfish. I loved Lee and Norma Jean's simple lifestyle and philosophy.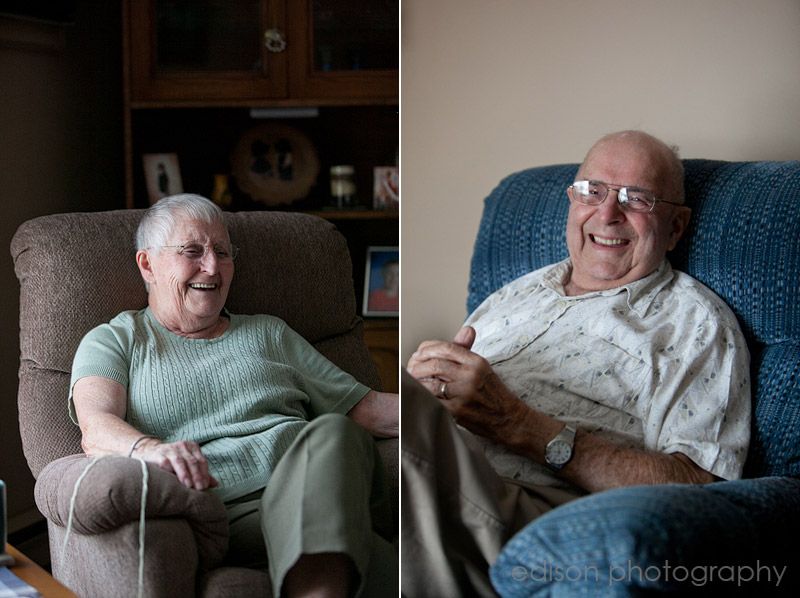 Norma Jean shared how she was so excited about having her own home after they got married. Her father had passed away when she was 14 and she had lived with extended family and not known a home of her own since that time. Lee and her bought a farm that they moved into when they married in 1952. They laughed as they remembered how bare the house was when they bought it. They had to finish the barn before the house renovations as the farm was their income. Then over time each room in the house got redone but it took many, many years to do. They both felt that it's too bad that young people these days start out with everything right from the beginning. "That's where you get life's lessons. It's why you appreciate what you have!"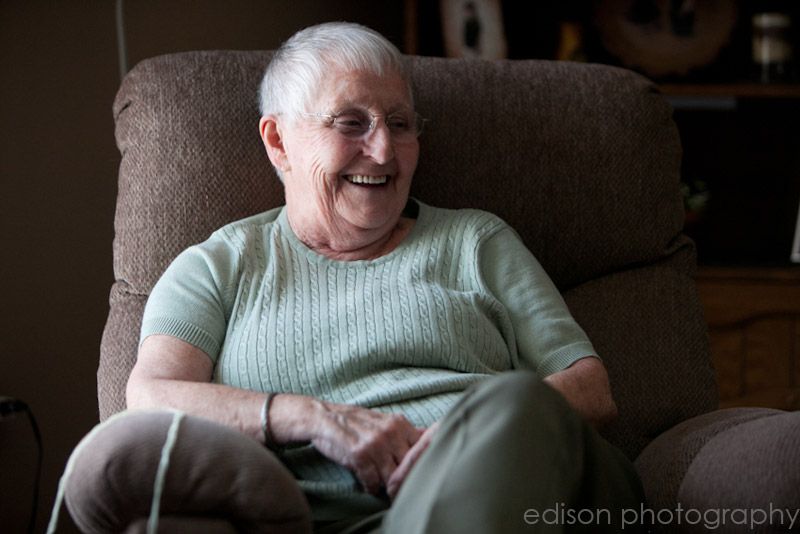 When they were first married Norma Jean had never made a meal before – her granddaughter who was with us was shocked by this as she's known as a great cook now. Norma Jean explained it was a lot of trial and error and she was taught by Lee's mom and aunt also. She also had never milked cows before – and hated chickens! – but as a farmer's wife she had to learn to do it all. And the two of them worked together on chores and around the farm. Even when their children were young – Norma Jean would bring the kids to the barn with her, and she said sometimes they were crying and yelling right along with the cows but she had to finish her work. In those farm days it felt like all they did was sleep and work – and you didn't sleep long as you had to be up at 5am! They sold the farm in 1975 but still wake up at 5am even now!
Even during those long farming days, they always made time for friends and fun. They would get together with friends at one of their homes 2-3 times a week. They would all bring something for dinner, and they'd play cards and have fun. The kids would play until they fell asleep, and then around midnight they'd carry them to the car to head home. They had no TV at this time – "Television is what ruined life!"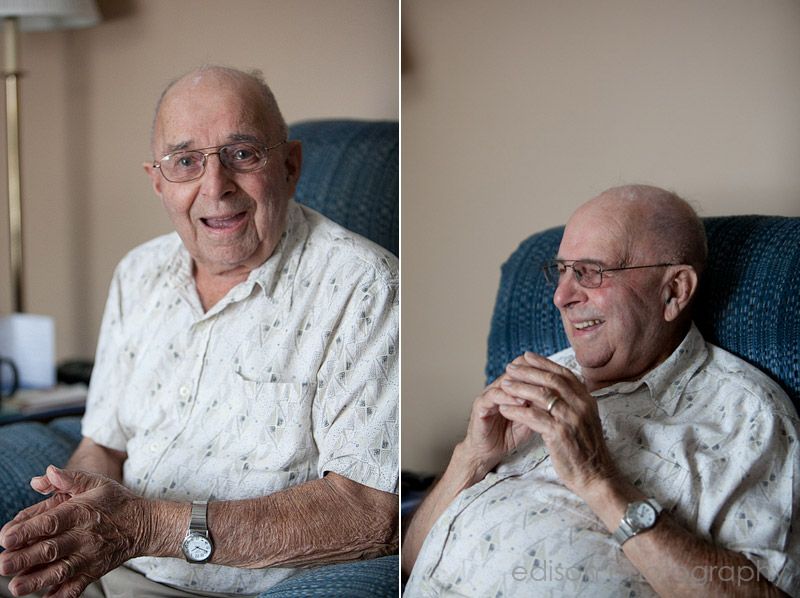 They had some paintings around their apartment that a family member had painted of their property at the farm. Beautiful keepsakes of a happy time in their lives.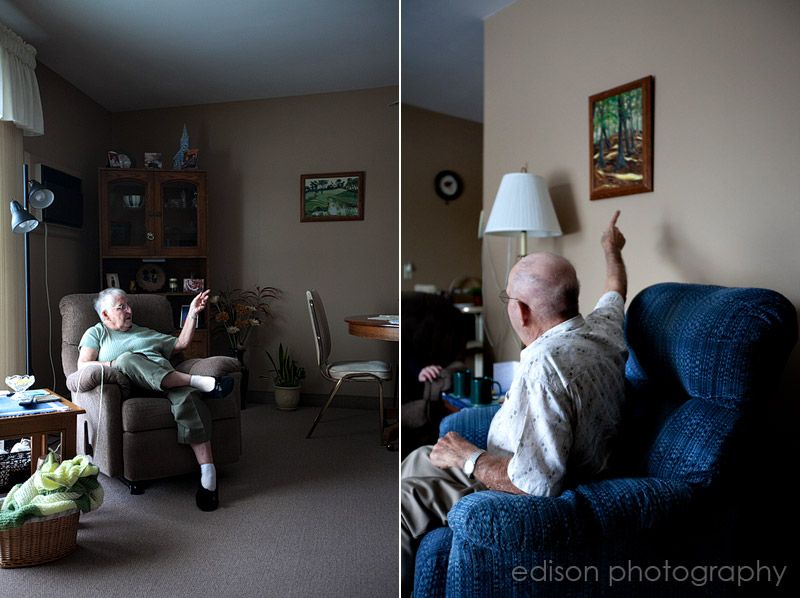 Even though Lee is 89, both he and Norma Jean are still so active. They babysit their great grandchildren occasionally. Lee loves driving – and they shared with me about a great day they had the week before going out for a drive to a town about an hour away. They went out for lunch, shopped and walked around the mall to get some exercise indoors during this bitter, cold winter. A great day out they both agreed. Most of their couple friends have passed on, but they have one friend who is 90 they enjoy playing cards with a couple times a month and try to go out with about once a month. Lee likes to go to the coffee hour at their seniors apartment building and socialize with his friends there. I commented on his great laugh and Norma Jean said that's why they love having him come to the coffee hour!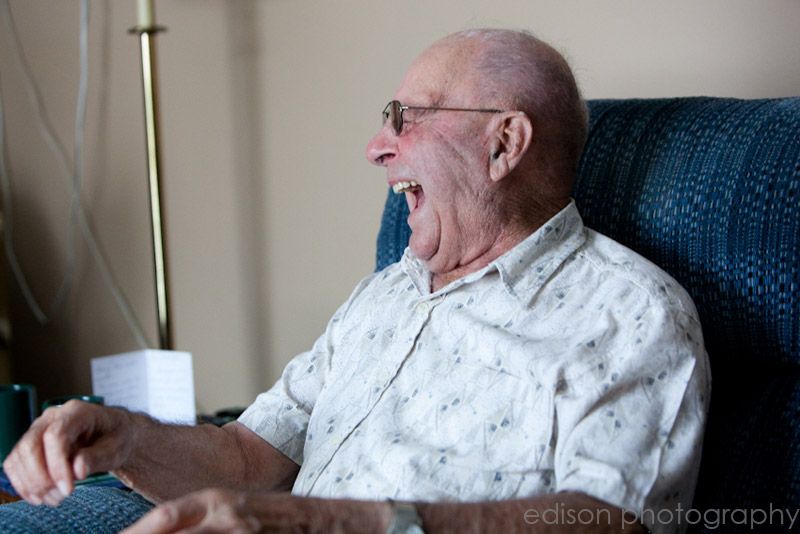 Norma Jean had a big basket of knitting at her feet I asked her about. She casually mentioned she likes to knit. Her granddaughter was there and I got the story of Norma Jean's knitting skills from her. Norma Jean at age 84, knits layettes for St. Joseph's hospital – hats, booties, mitts and a blanket for newborns at the hospital. She knits all year and then delivers them once a year. She also knit 24 pairs of slippers for the Ronald McDonald House last year. And she knit for a local women's shelter too! She was so thrilled with the handwritten thank you card from the shelter. "It makes it all worthwhile" she said.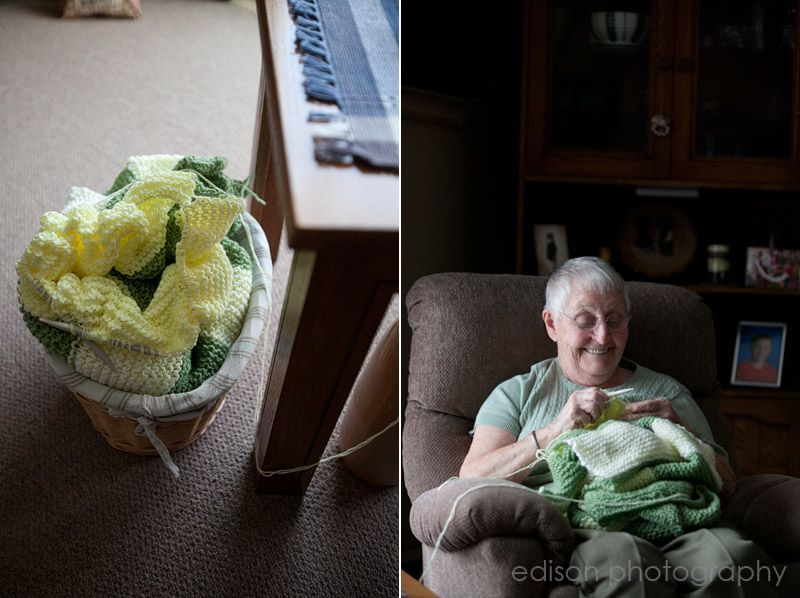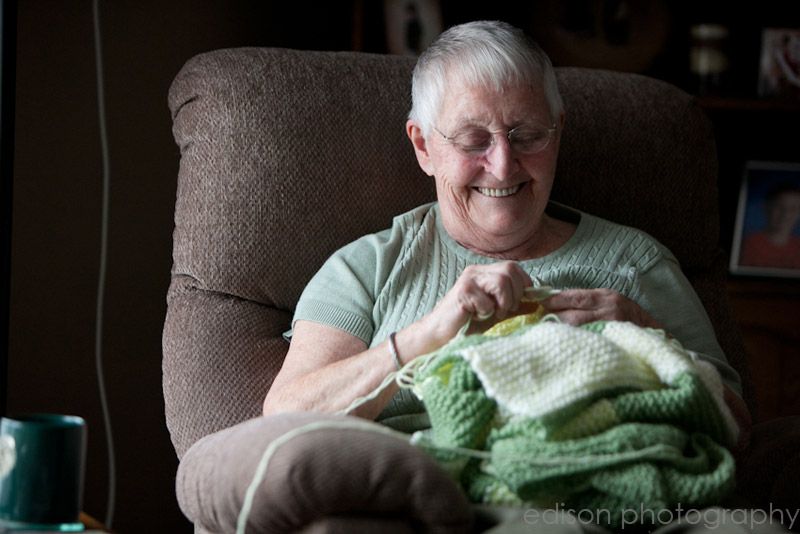 Lee and Norma Jean shared how they do everything together. They work as a team and enjoy each others company.
As we finished our visit Lee said "Do the best you can as long as you can." And they said they have lived with "no regrets. I could die tomorrow and I'd be happy." Definitely lives well lived!
Celebrating life and love,
Krista