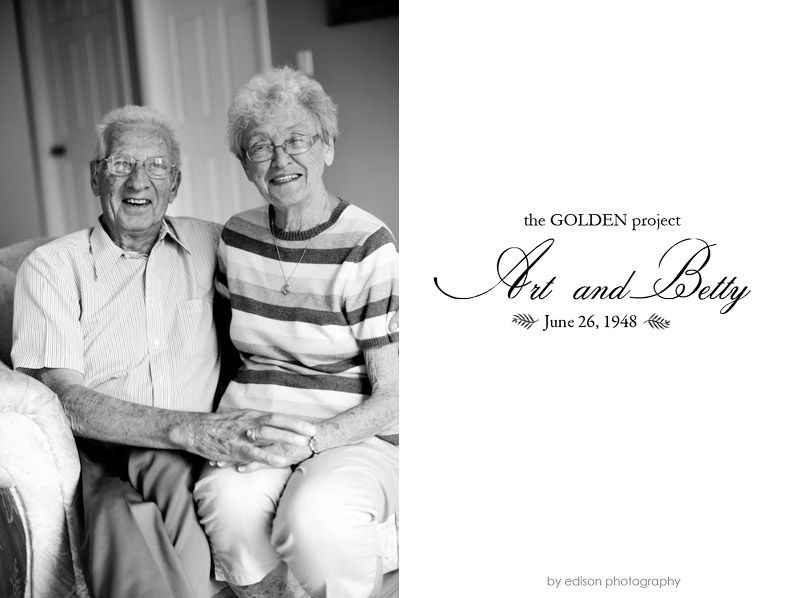 [The GOLDEN project can be read about HERE. I will be photographing couples married 50+ years, hearing their stories and sharing their wisdom. Have someone you think I should document for this? Drop me a line at: info@edisonphotography.com with the subject "GOLDEN"]
Art and Betty I call Grandma and Grandpa Daniels. They're not my grandparents but they are my sister-in-law's grandparents. I remember when my brother and sister-in-law got engaged they said "we're family now!" and that's how it seems.
I don't see them often – usually once or twice a year at family birthday parties. In 2011 at a birthday party I explained to them I wanted to photograph them. They laughed. Fast forward a year. In 2012, I saw them at my nephew's birthday and told them I still wanted to photograph them. They laughed. Then I thought why wait? And pulled out my camera. They stopped laughing and realized I was serious!
Meet Art and Betty.
When I posted on Facebook a sneak peek stating that their pictures were coming up on the blog – I started getting comments from grandkids, friends of their kids, friends of their grandkids and people who've ever met them. The comments went something like this… "Love these two" "They're the best" "I love them." "Greatest couple! Just love them!" "A very special couple!"" They are pretty awesome." and so on.
So what better couple to start my GOLDEN project with?
I first photographed them back in August of 2012 – very unplanned at a chaotic kid birthday party. Conversation was limited as kids were running around and noise levels were loud. So, I went back to them this week and asked if we could continue our conversation. I thought we'd have a quick chat today – two hours later I had to pull myself away. I could sit and listen to their stories all day!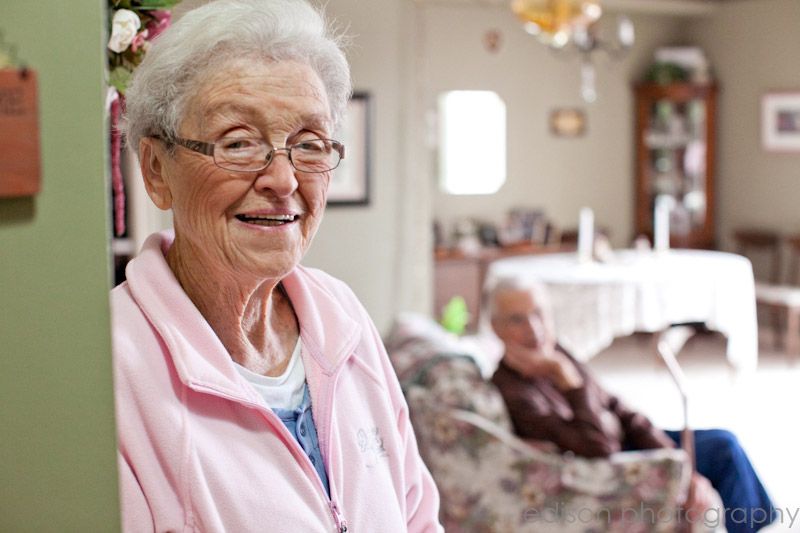 Art and Betty had photos everywhere in their home of their kids, grandkids and great grandkids. Betty loves to talk about her family and can fill you in on what every single one of them is up to and doing in their lives.
Art has these incredible cross stitch pictures he has created – real works of art! He took up cross stitching after he retired – and they have three beautiful pictures in their living room framed. He explained that there is one for each of his three children and they can fight over who gets which picture themselves.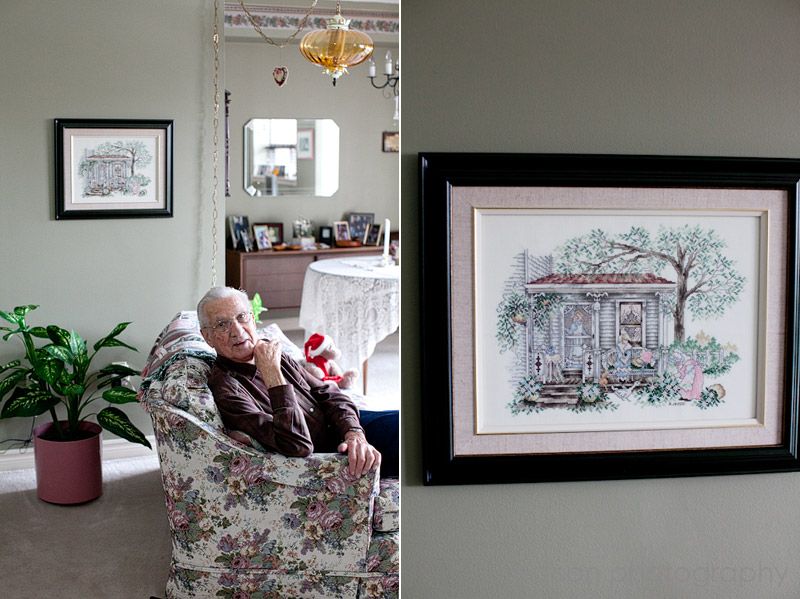 When we sat down, Betty said in her cheeky way "well we better sit on the same couch and be all romantic."
Their story goes back over several decades. Art and Betty are now 86 and 88 and met when they were in grade school. When we talk about their days at school Betty exclaims "Oh! I did not like him at all! He lived on the other side of the tracks you know!"
In 1941, at the age of 15, Art started to work for Betty's dad in the used furniture business. Betty explained that during World War II people couldn't buy new furniture. This lead to reminiscing about the war… and the day they announced it was over and how exciting that was!
We talked about how they started dating. Once a week they use to all pile in the back of a truck and go to the show. It cost 22cents to get in at the time. They all went and payed their own way. One day one of the guys who could tell Art and Betty were starting to be interested in each other said "Betty – make Art pay your way!" And after that he did – paying her way to the show every week and spending his whole wages to do so.
When Betty was 14 they went on their first date. It was "firecracker day" (the Victoria day holiday) and Art took her to see the fireworks. But – Betty's parents didn't trust them to go alone so their friend had to go with them also!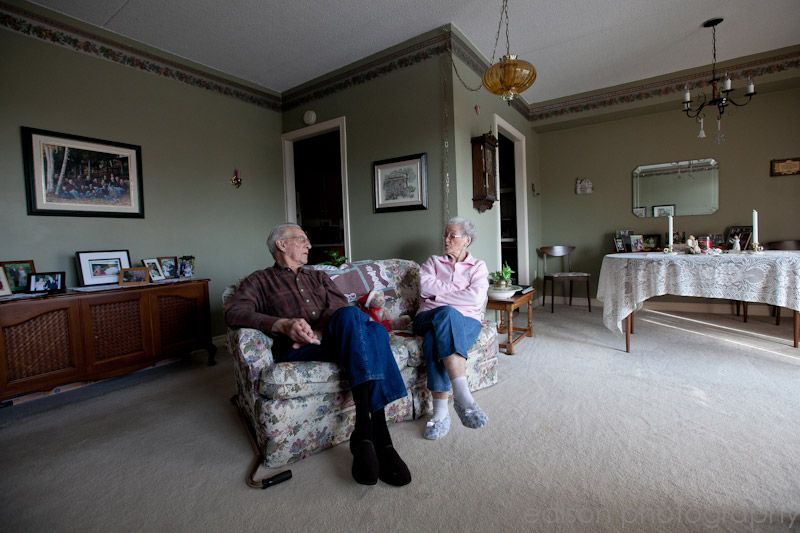 On June 26, 1948 they were married. If you're doing the math… that's 66years this June! It was a beautiful wedding with the reception in the family's backyard. Betty's mom and her friends set up tables in the backyard and made sandwiches for people to eat. I asked what their wedding budget would have been – they said $50 would have been more than enough! At that time Art was making $19 a week with a $25 bonus at the end of the month.
They reminisced about their early days… about how poor they were. As they shared about the early, hard days they laughed. It's interesting to see how fondly they remembered the days when they went without. After the war it was hard to get a place to live and necessities like a fridge. Art and Betty's first year of marriage was in an apartment where they shared a fridge and a washroom with the other tenant – Art's brother Fred who married Betty's sister Doris! It cost $40 a month for rent.
Art and Betty lived on a very strict budget. They have never gone into debt or paid interest on a credit card. They would make a grocery list – with the items they needed on the top, and then a separate list on the bottom of the items they wanted if they had money left over.
As Betty talked about how tight things were financially in the early days she said, "We never regretted it."
I asked if they had any advice for a newlywed couple. What they wish they could tell themselves back in 1948 or someone else just starting out on the journey of marriage. They offered some GOLDEN nuggets of wisdom.
"The biggest thing is communication… but it took me a long time to learn it."
I asked them what exactly should be communicated.
"Talk things over." "Admit you're wrong." "We even have fights now at our age but we talk about it." "Always make up."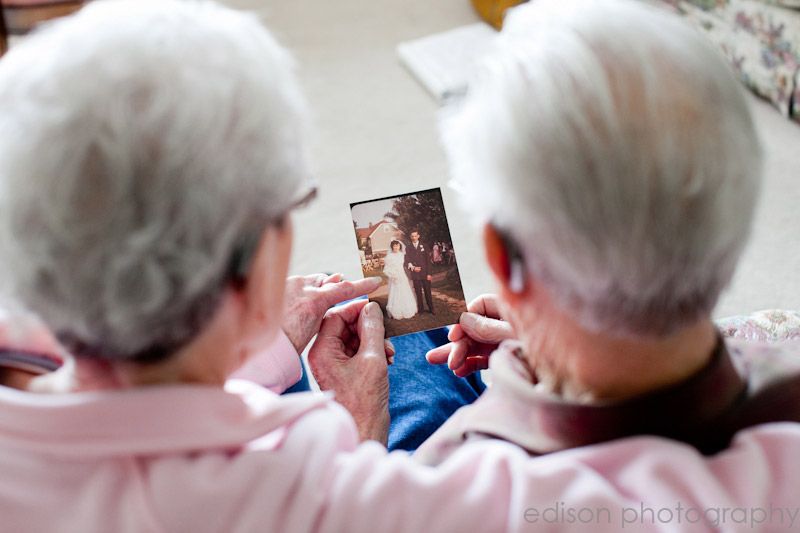 And as well as communicating – is learning when NOT to communicate.
"Learn to keep your mouth shut. Walk away. Count to ten."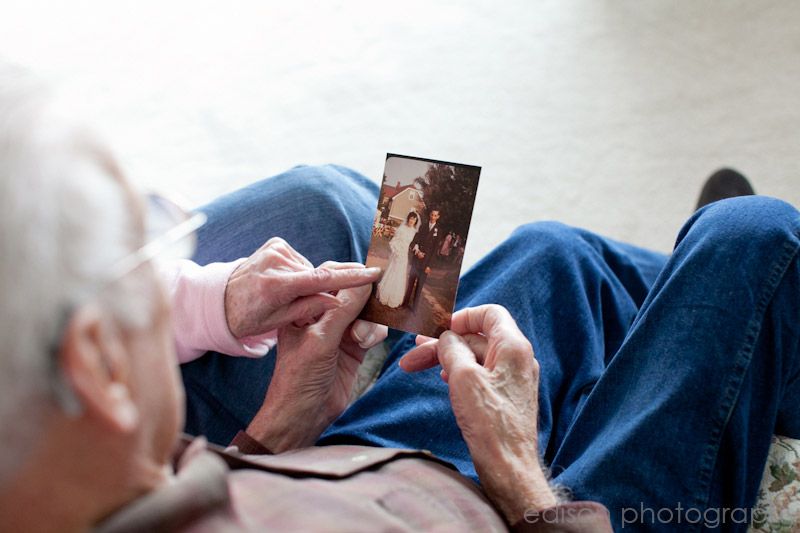 "There was rough years for sure. But we couldn't afford to break up!"
"It's not easy. We are learning all the time how important all this is."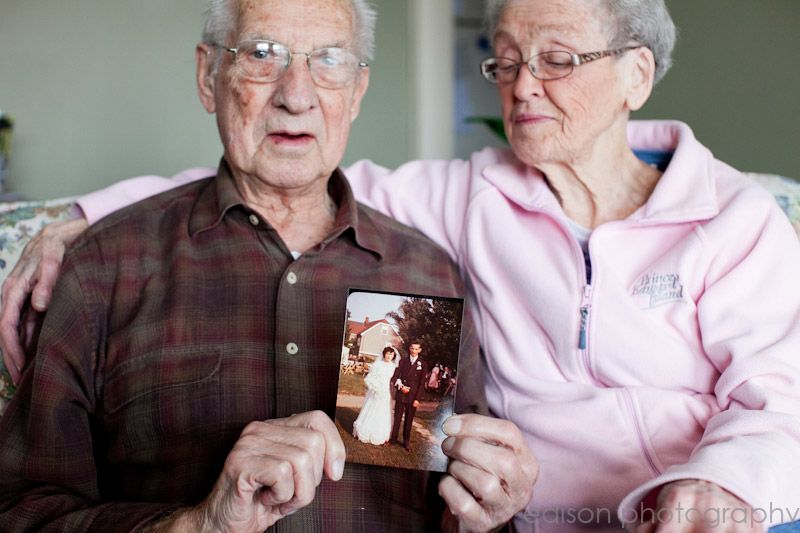 Art added that learning to "give and take" is so important.
"You can't do what you want all the time. It has to be give and take." "How long did it take us to learn that?" [Laughter] "Oh… about 60 years."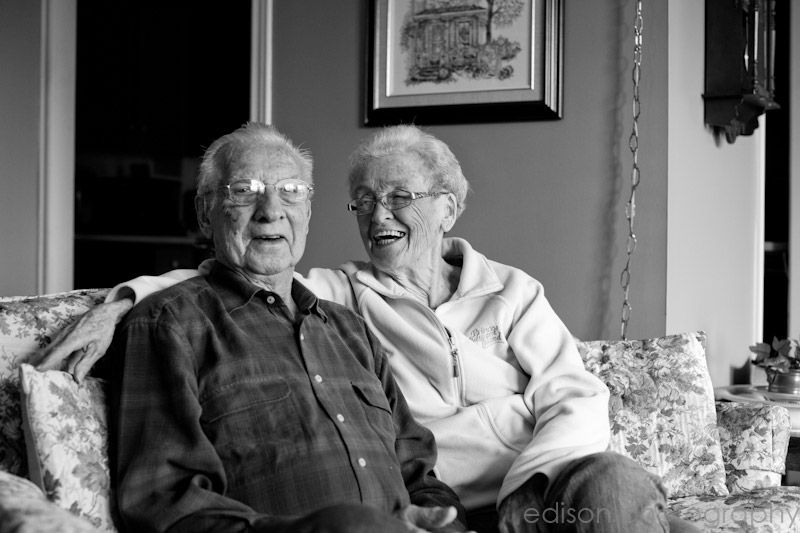 Art and Betty – thanks for sharing your story!
Celebrating life and love,
Krista