Our family loves road trips – and this summer we decided to head out on an adventure. Since we are in the process of adopting (see more about that HERE) we never know when our family might expand to include little people who might not enjoy a long road trip so decided we better do this!
I know. I know. It's November. Everyone is thinking of Christmas… and I'm blogging about a summer vacation? I finally have the time to sit down and go through images though – and I like to blog about it as it's a personal record for me also. So bundle up on this chilly winter night and enjoy some pics of summer!
We finally settled on a place I've wanted to go for a long time. Iles de la Madeleine – also known as the Maggies. My dad had spent some time there with work and his descriptions of it had long intrigued me. We couldn't find very much info on the Maggies – but thought we'd give it a try! The Maggies are actually part of the province of Quebec – but to get there it's a 5 hour ferry ride from PEI. So this meant we drove to PEI, and then took a boat to the Maggies. We weren't entirely sure what to expect – but I will simply say it was magical. If you like to see a place that is entirely authentic – virtually no tourism – then this is the place. We were on the island a week and in that time we saw one other license plate that was not from Quebec (from NY state). The island is french – not french like Montreal or Quebec City where it seems just about anyone can easily switch to English – this is french where they often don't speak a lick of English. There are no signs directing you to tourist attractions, hotels, restaurants – maybe because the restaurants and hotels are scarce and the tourist attractions are everywhere. Amazing beauty – at any point you are within reach of the water and amazing beaches – and usually you're the only people on the beach!
But let's see some pictures!
We love road tripping – lots of books to read and audio books to listen to! This summer our girls were on a Percy Jackson (Madison) and Warrior Cats (Eden) kick so they were whipping through those as the miles went along.
We love random tourist stops – like the world's biggest axe – and this one was the world's longest covered bridge.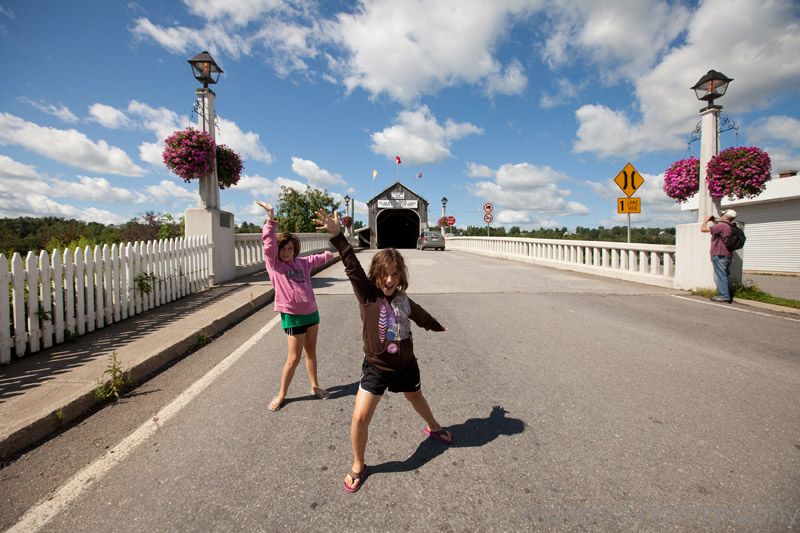 There goes Mark and the bikes through the bridge while we girls jogged the footpath for a stretch!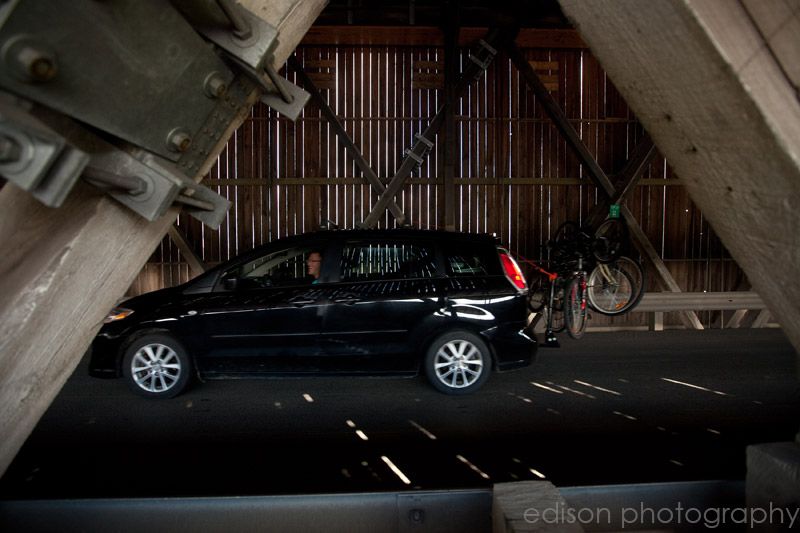 Finally we got to Prince Edward Island. We love PEI and have enjoyed a few family vacations there – but this time it was just a stopping point. We stayed with a good friend of mine – and fellow photographer – Rachel. We had one night and then it was off to catch the ferry! Rachel took us to a "kitchen party" where we danced and laughed!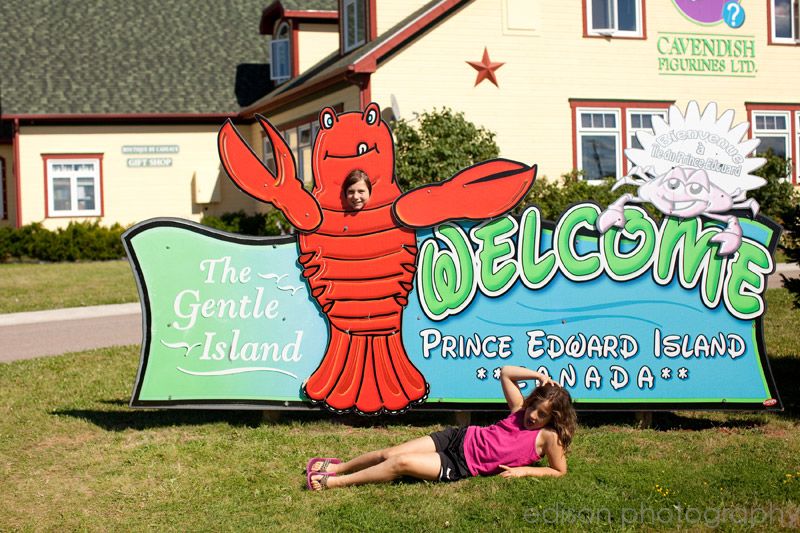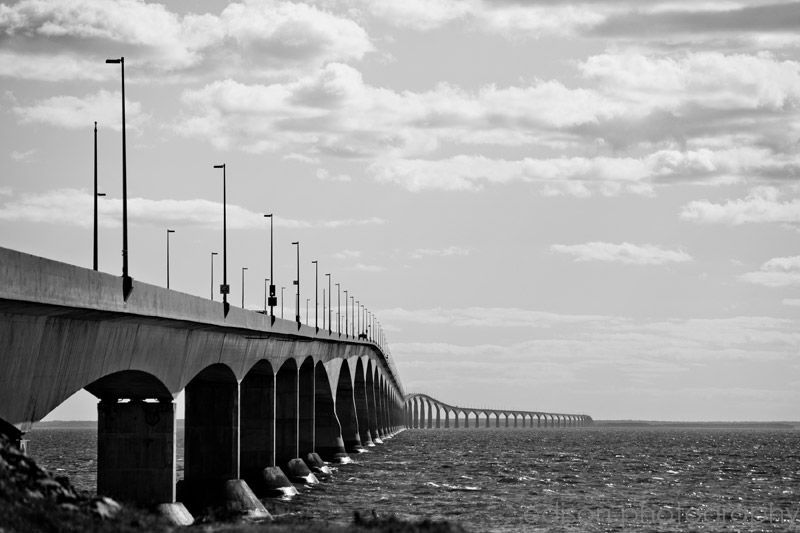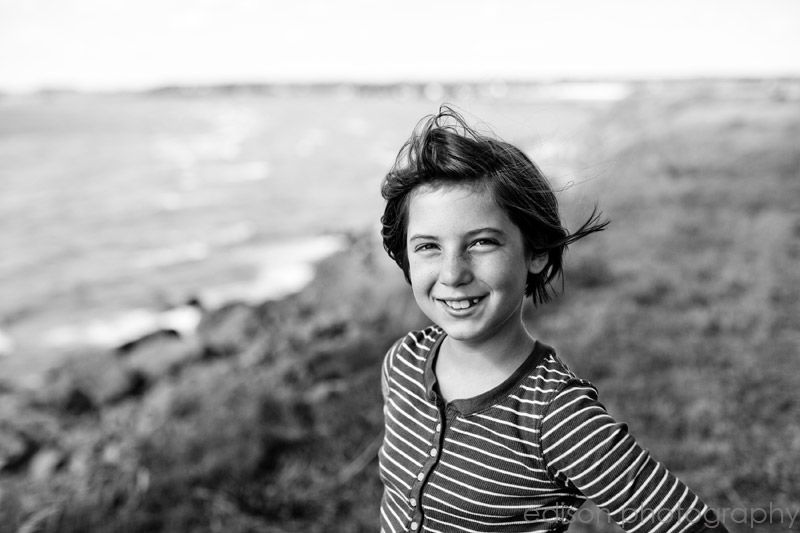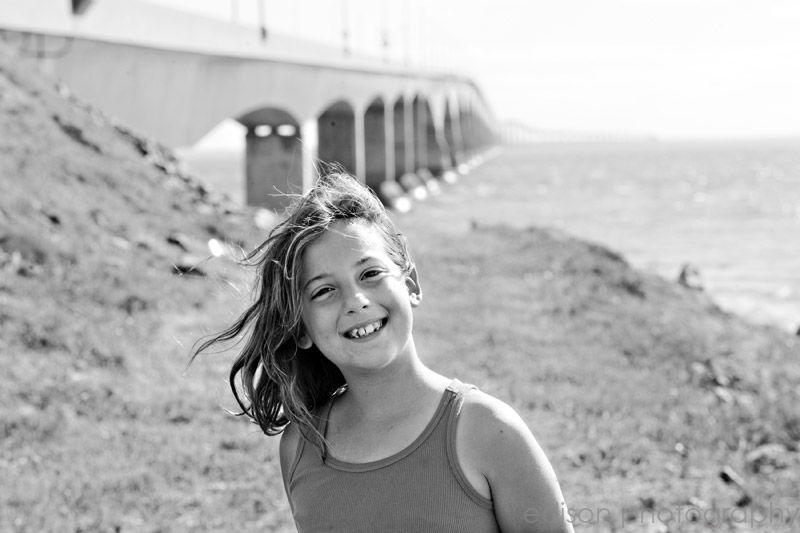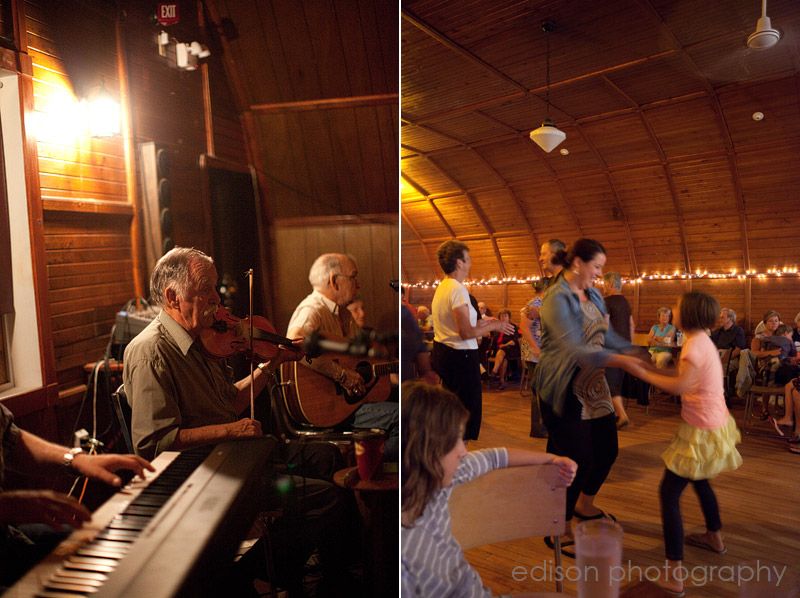 The next day we loaded the ferry and headed off on our adventure!
Bye bye PEI!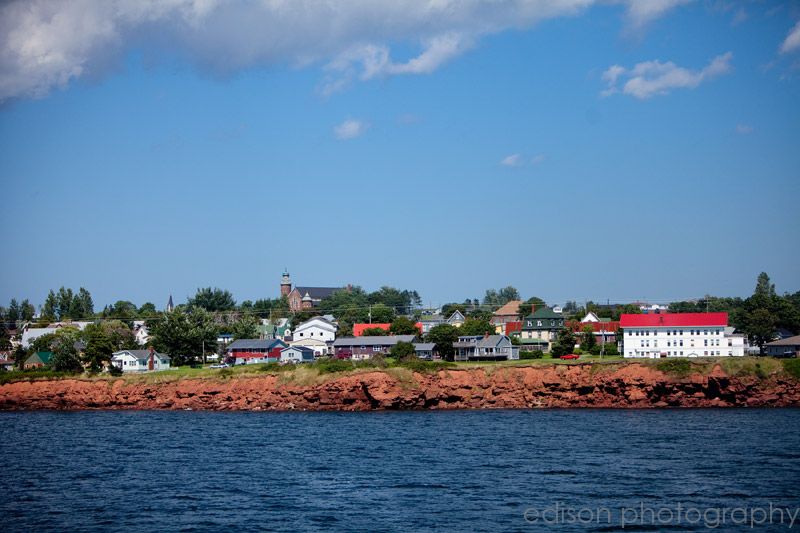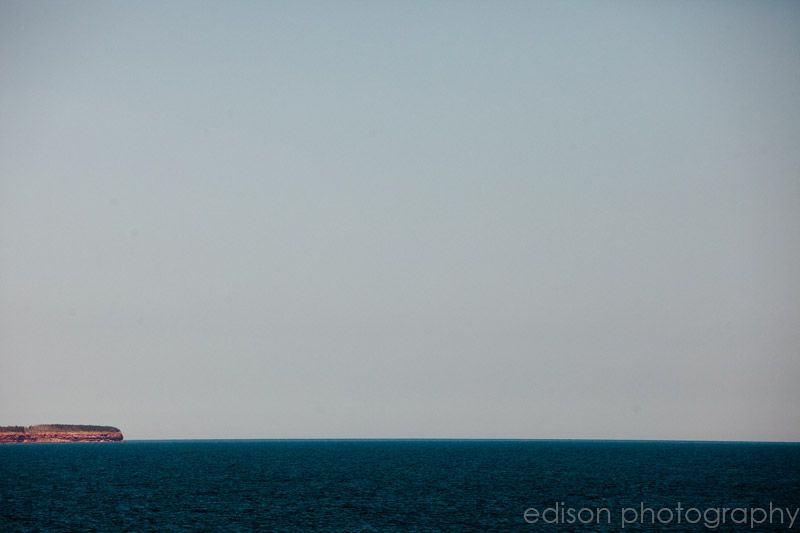 5 hours on a ferry… fortunately they had lots of different areas to hang out in and board games and such. It was fun!
Our first glimpse of the Maggie's – in that gorgeous evening light – took my breath away. The coloured homes along the islands started to pop up. The Maggies are actually an archipelago – a cluster of islands and you can drive from island to island.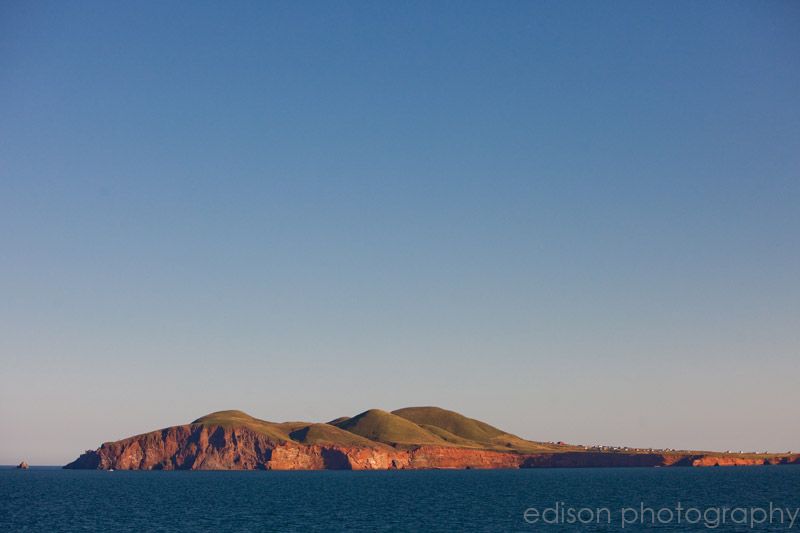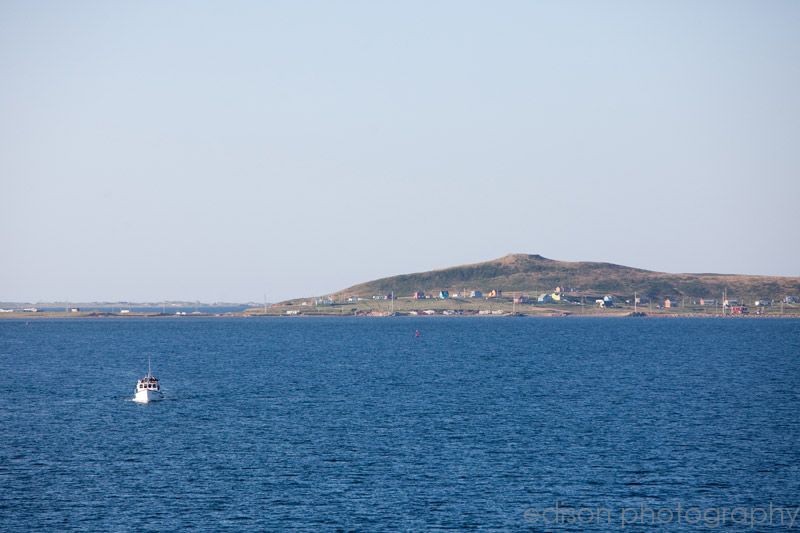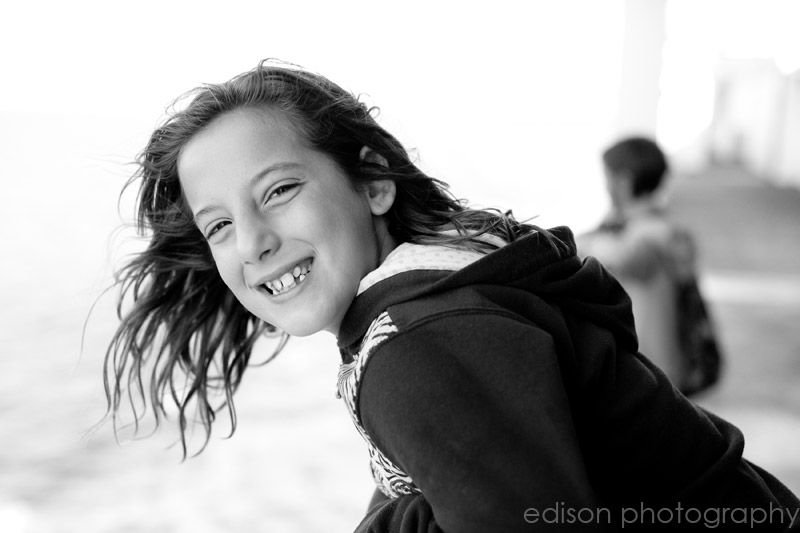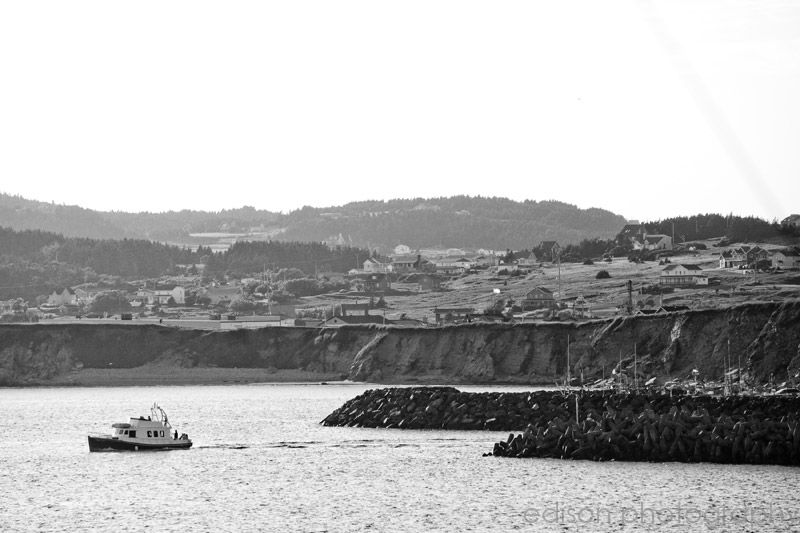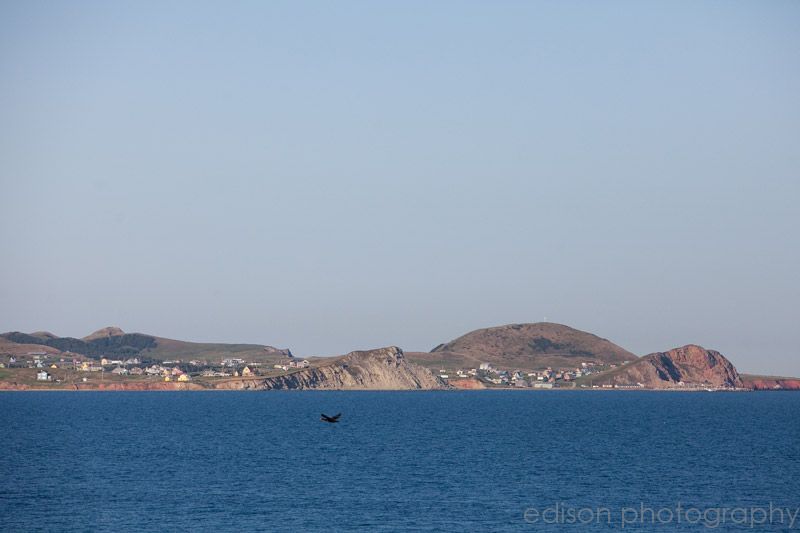 The first night we stayed in a hostel as we arrived at 8pm and wanted to start on a good night sleep! The rest of the time we camped in our tent. There are barely any trees and so it is always windy!! We went inland a bit (you know – a whole 5minutes from the water rather than on the water) and found a treed camping ground and camped for the week! Once we arrived at the hostel we dropped our bags and set out on foot to explore. We were already in love at this point.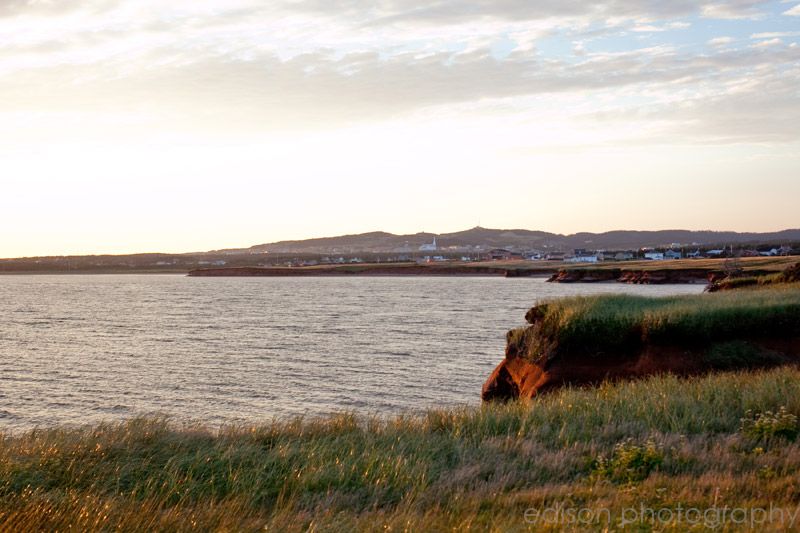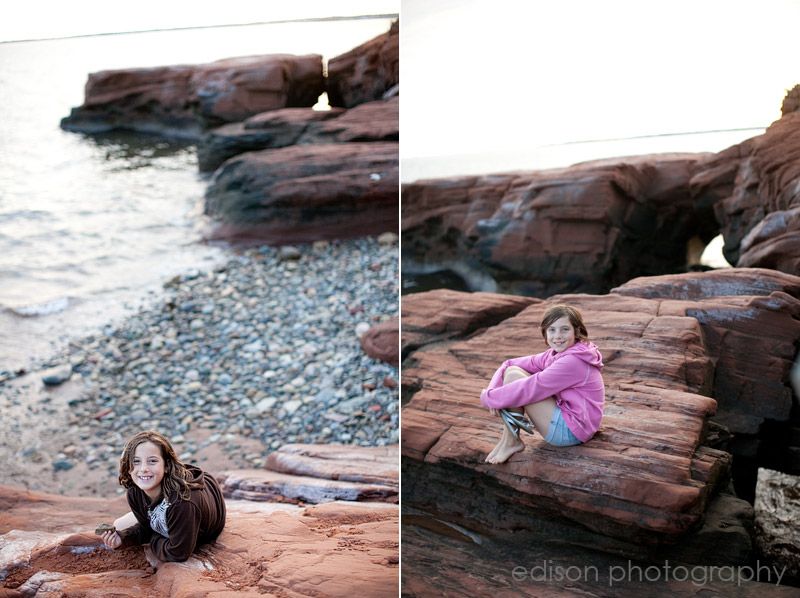 The next day we picked an island and a beach and headed out to explore. This beach listed in the one tourism booklet we found – was a bumpy dirt road that seemed to go on without end. The directions were by landmark and not road name. We started to wonder if we made a wrong turn – but eventually came upon a great beach where we were the only ones. Beautiful sand dunes that we ran up and down and white soft sand!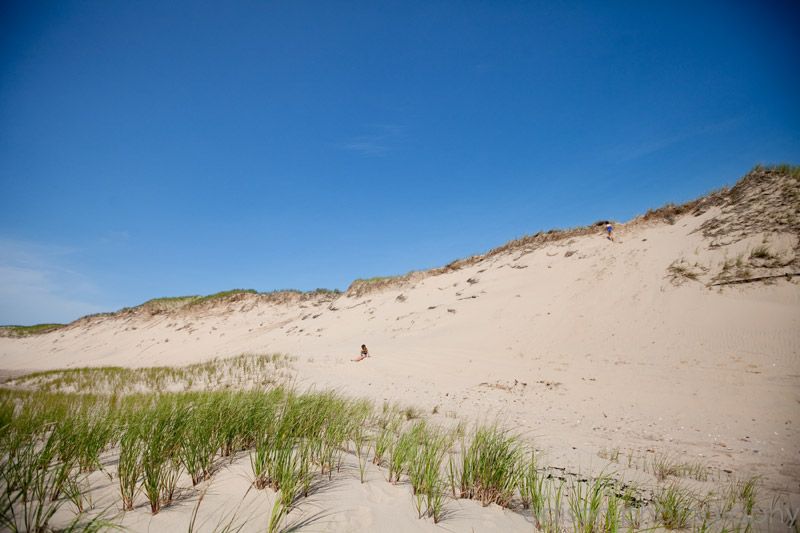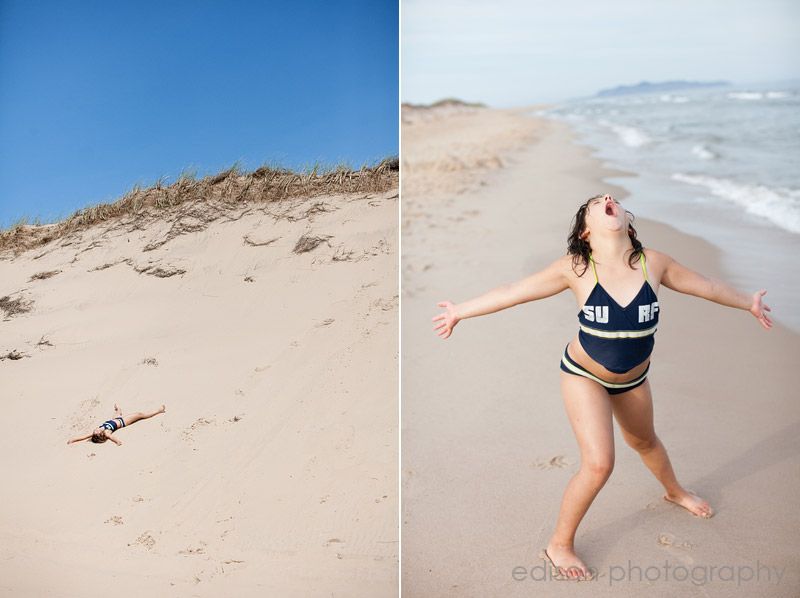 We then found another beach – red cliffs on one side and white cliffs on the other, white sand, a lighthouse and… no one in sight. I was loving this.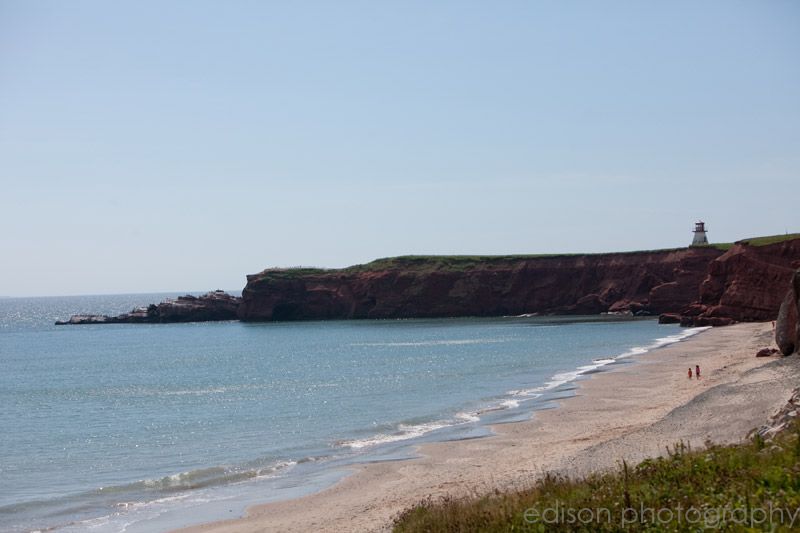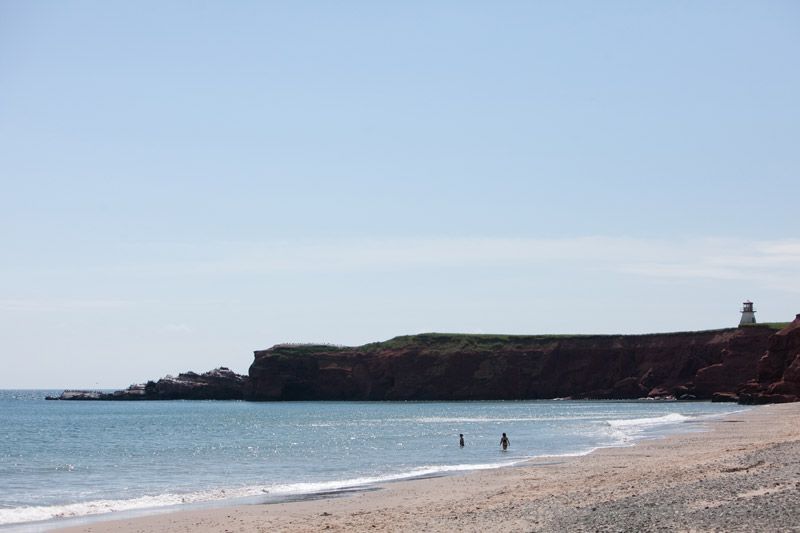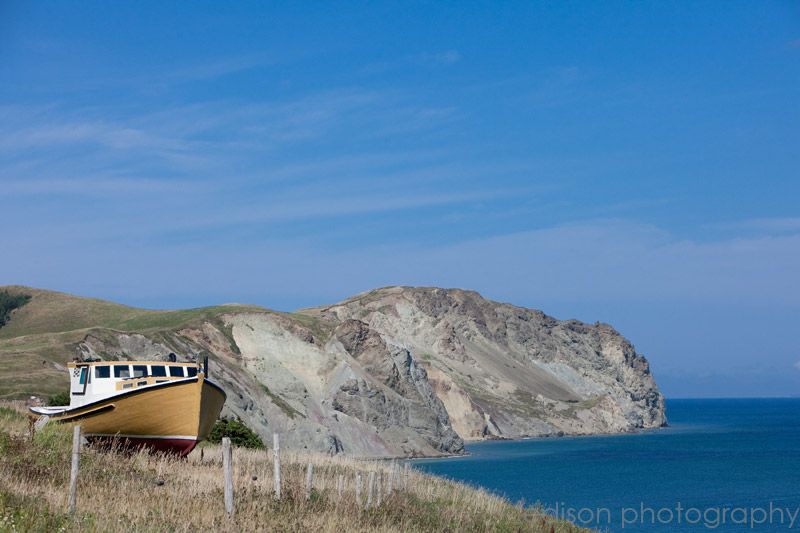 The colourful houses are everywhere – and you saw so many interesting combinations of colours (and people outside painting and repainting their houses – must be tough to keep up those vibrant colours on such a windy island!)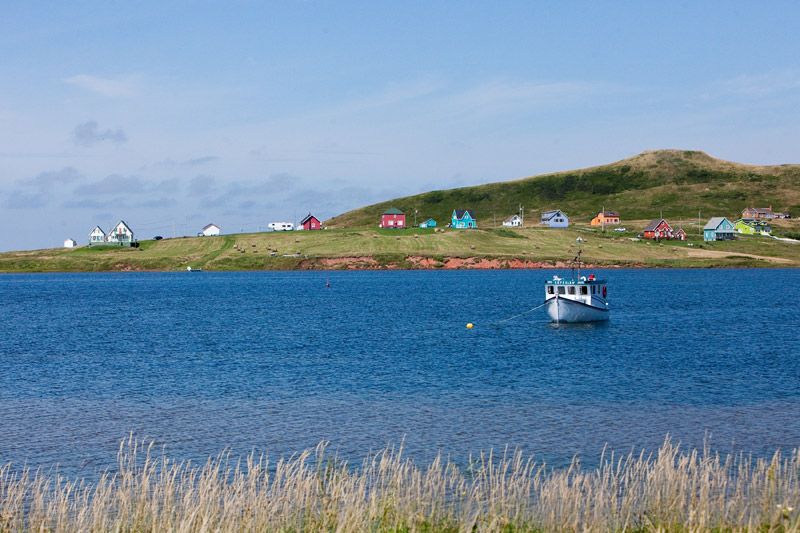 Another beach we went to that week was I think my favourite. 12km long – gorgeous, pristine white sand… and again – no one in sight. We walked and walked and walked – and saw no one. A few days earlier they had had tehir annual sandcastle contest and somehow miraculously they still stood (with a few dings from the wind).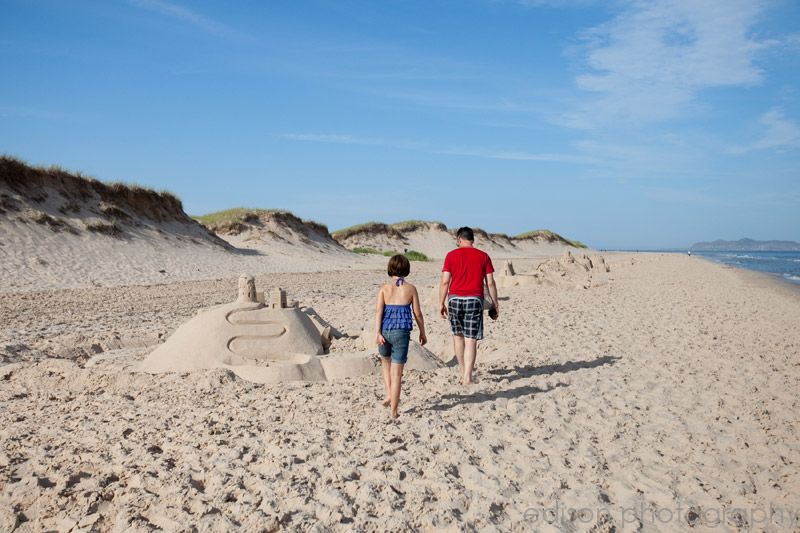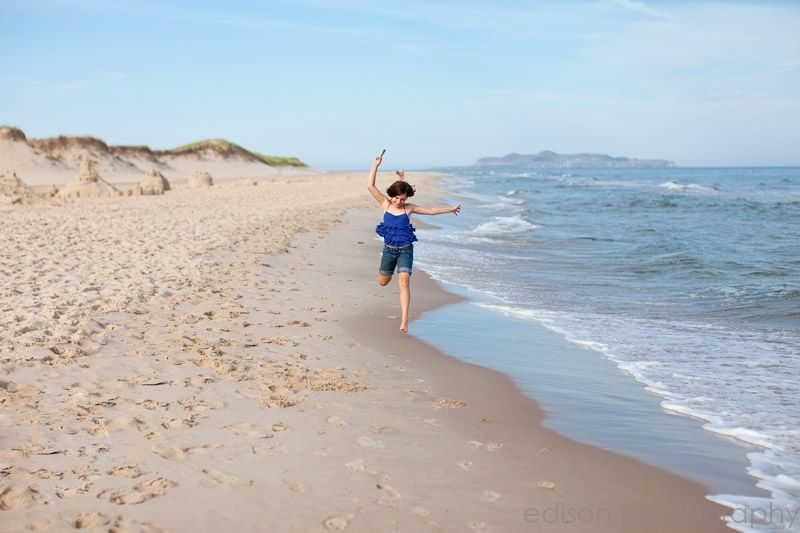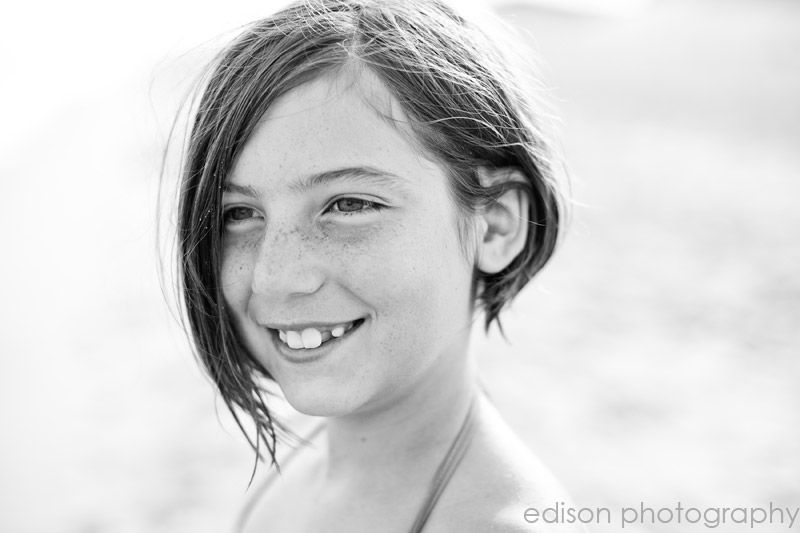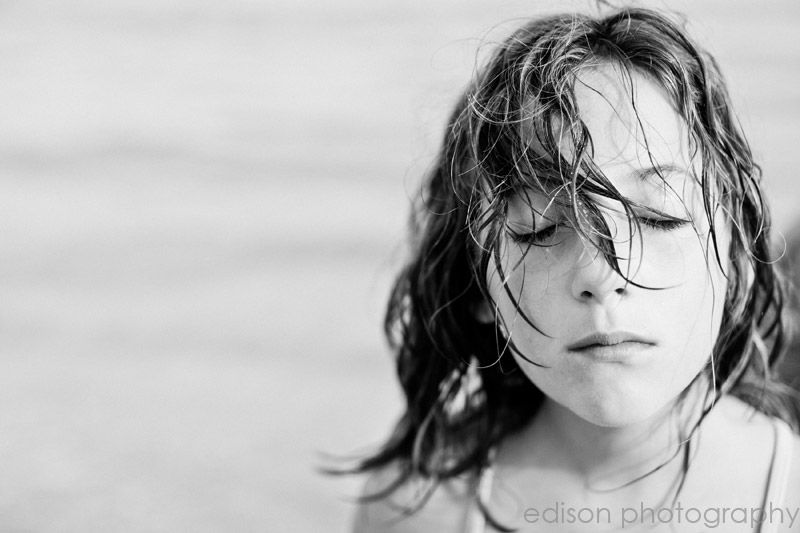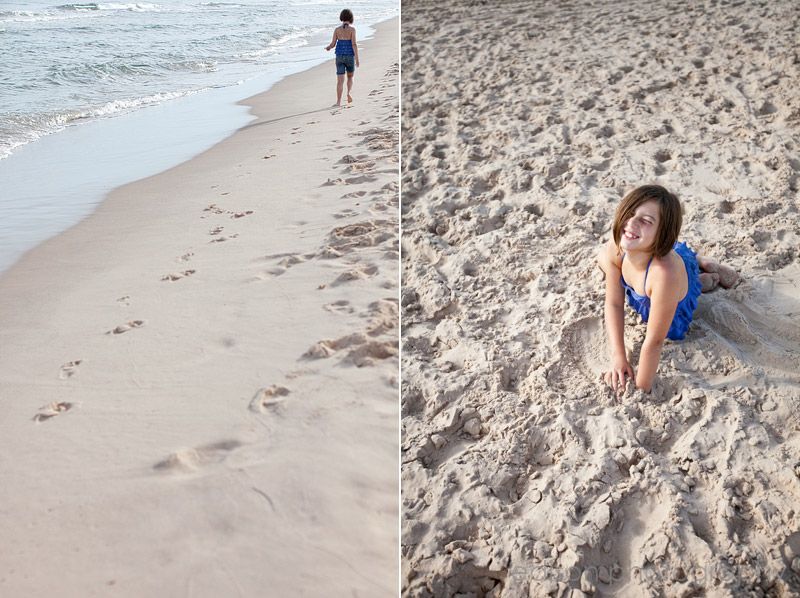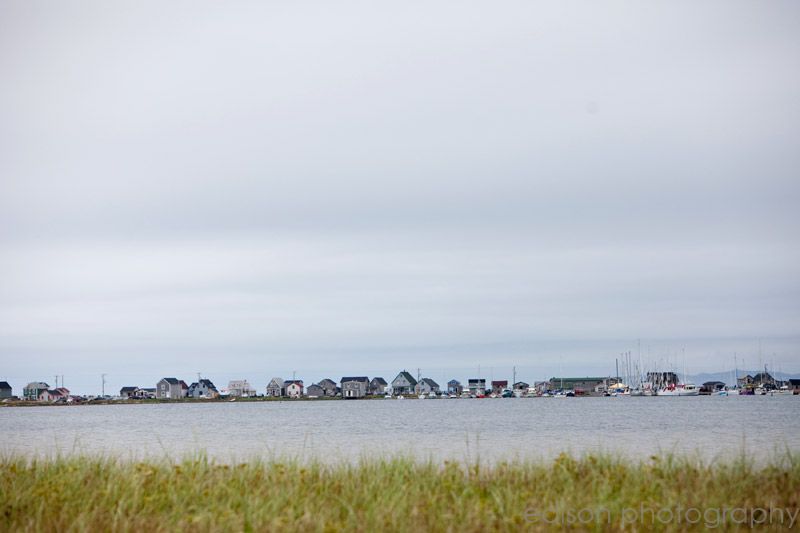 My little book worm took lots of notes on the Maggies.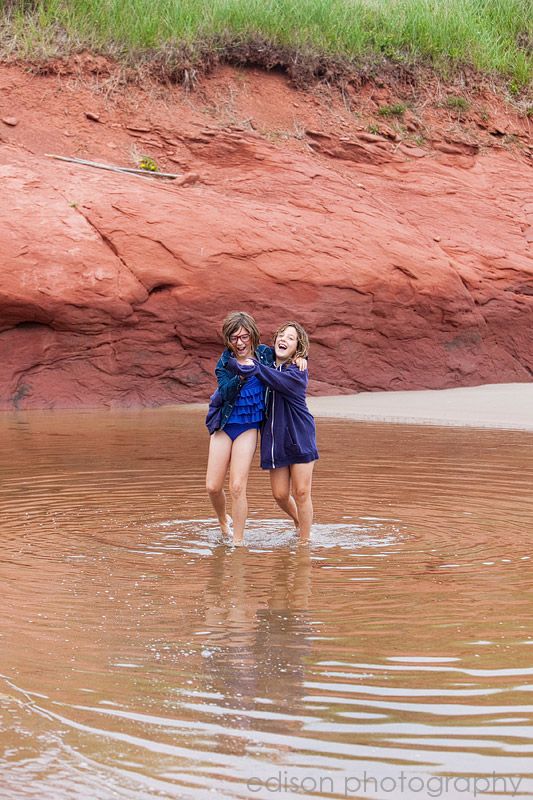 Another day we took a hike and enjoyed amazing views!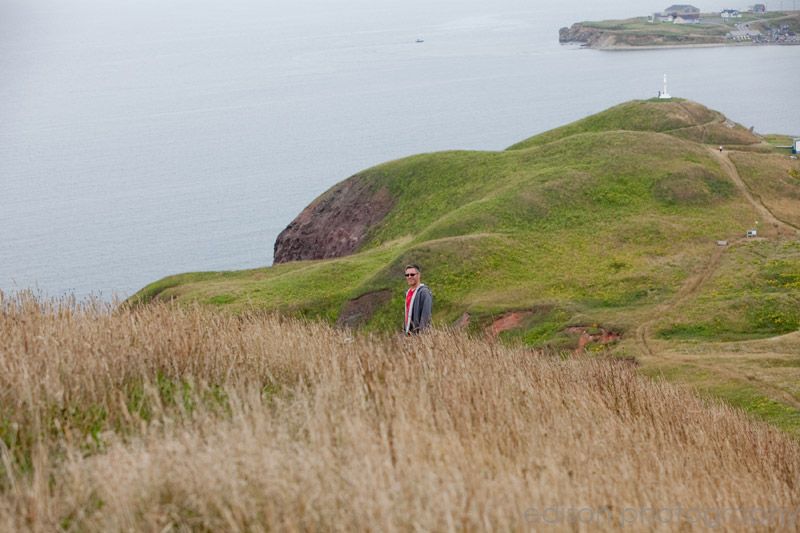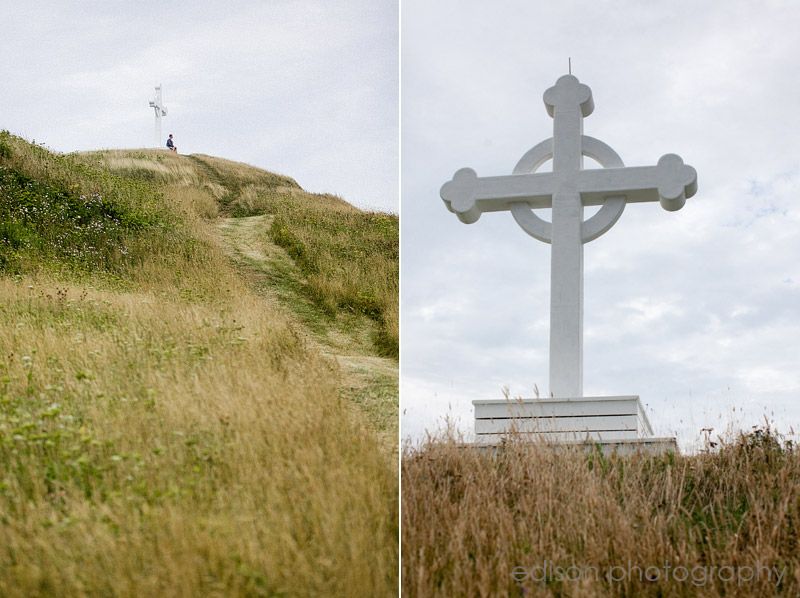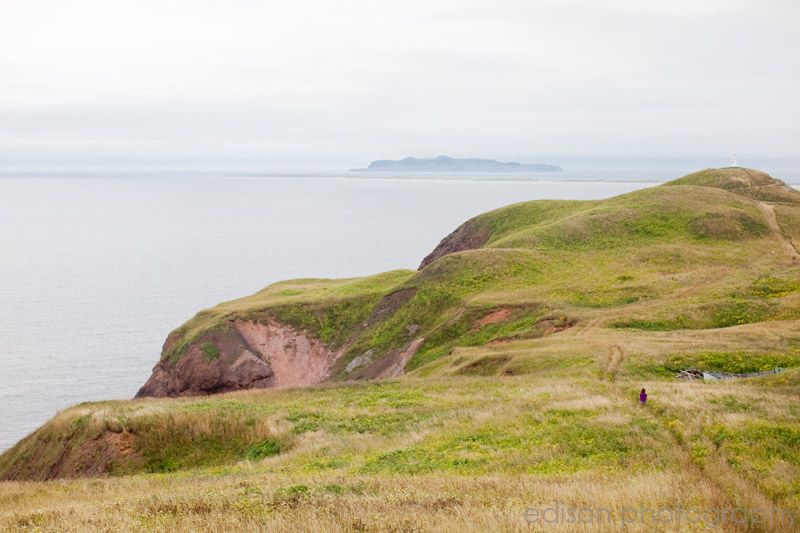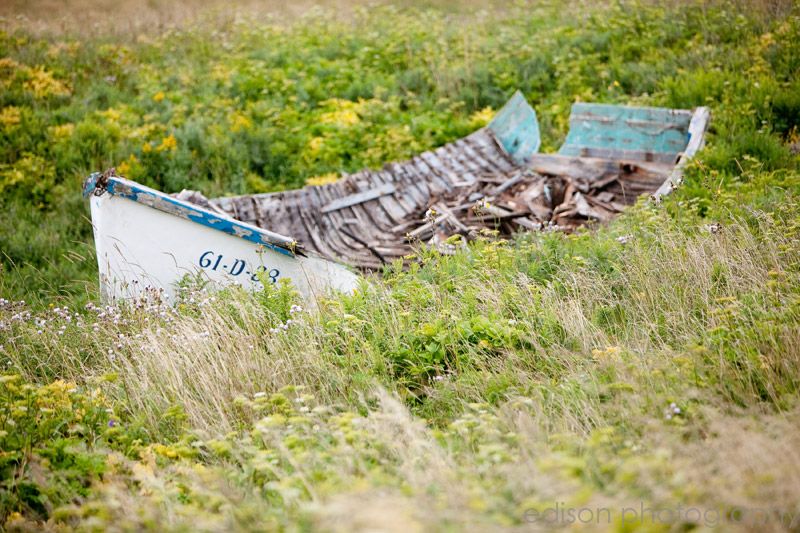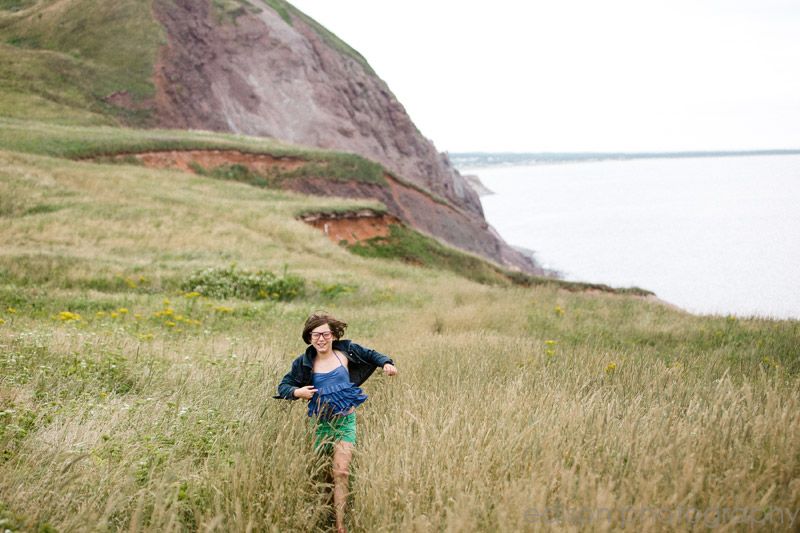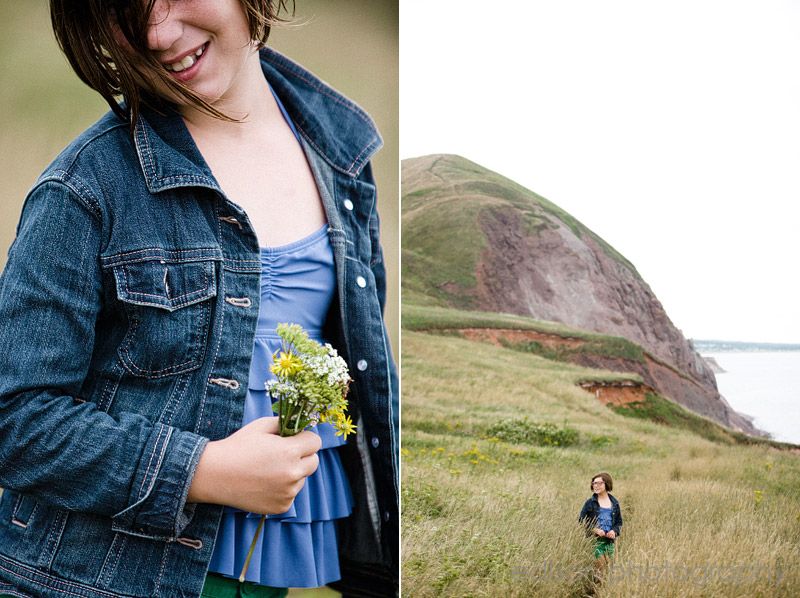 This next series of three crack me up. So typical.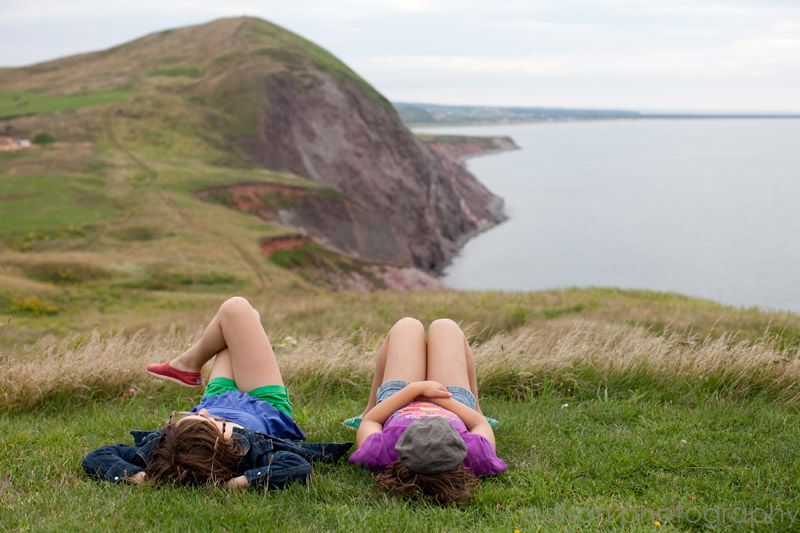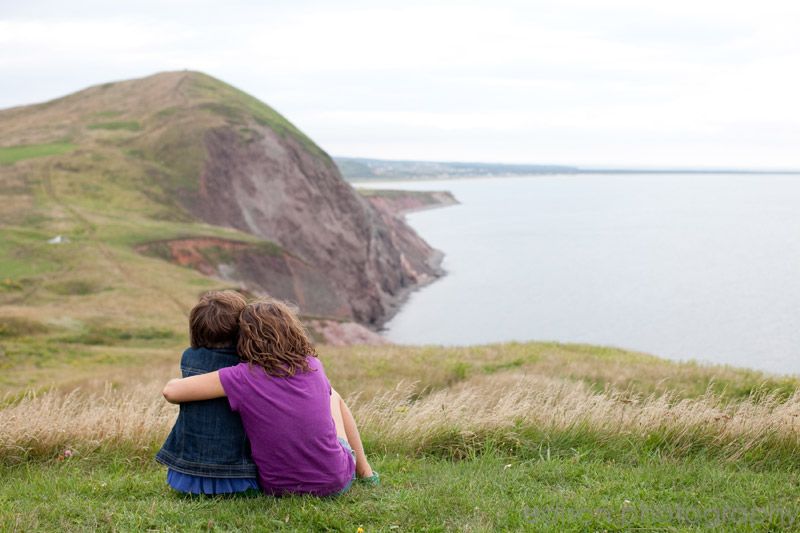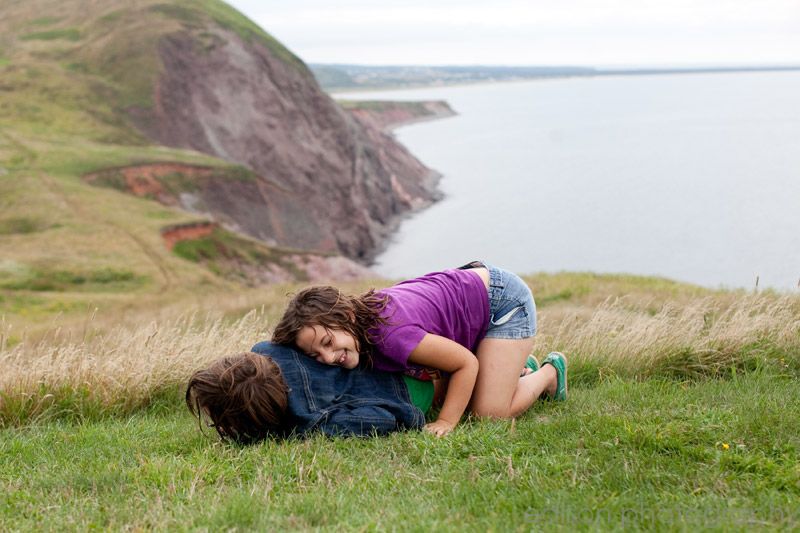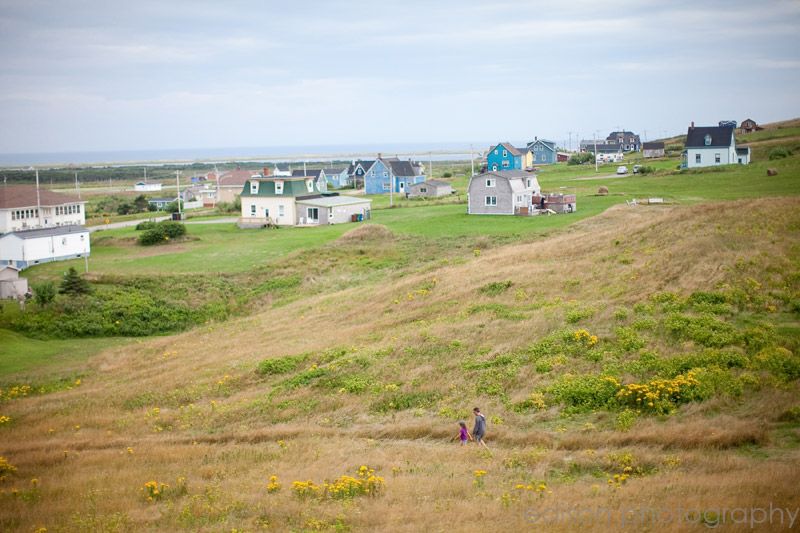 Another day we explored the red rocks at low tide – such fun!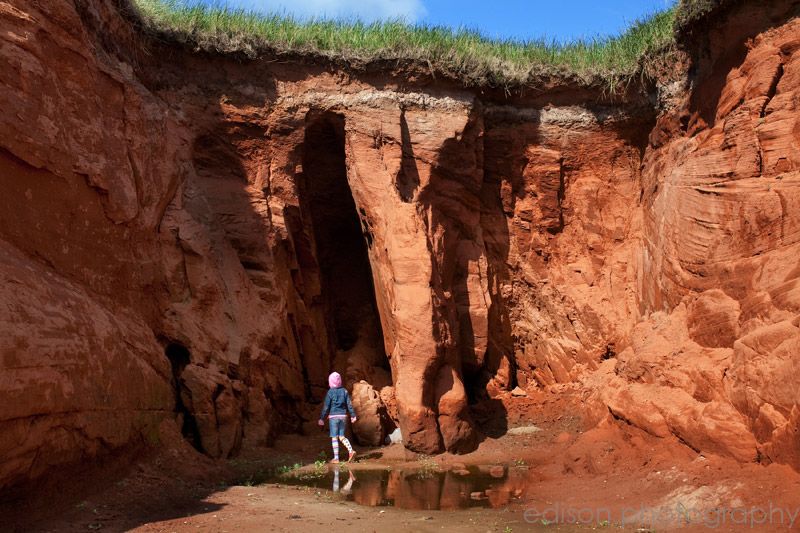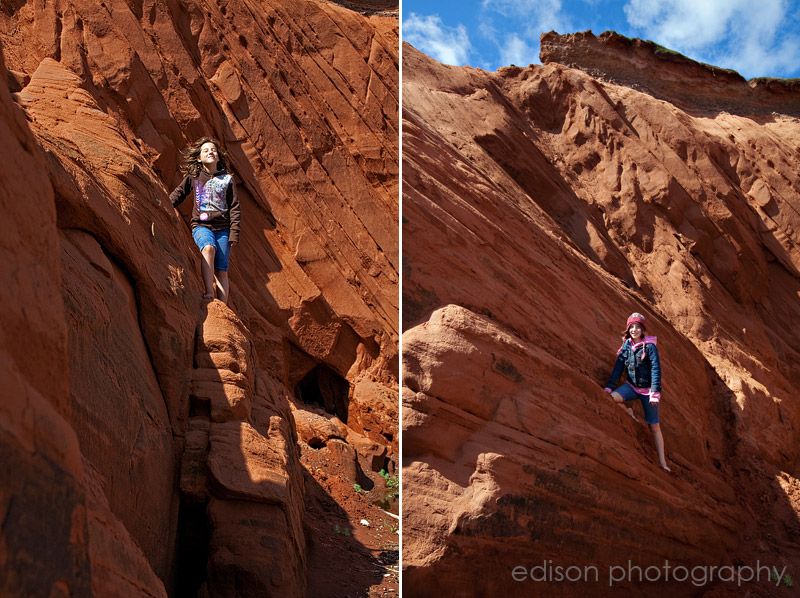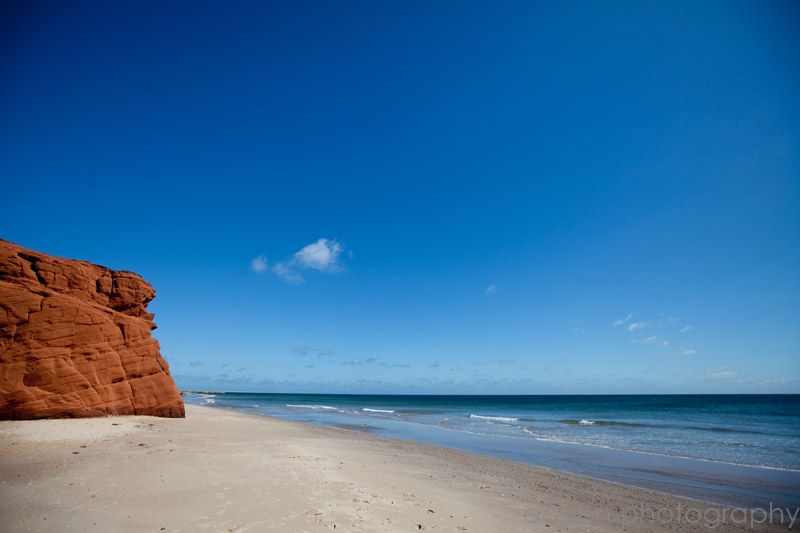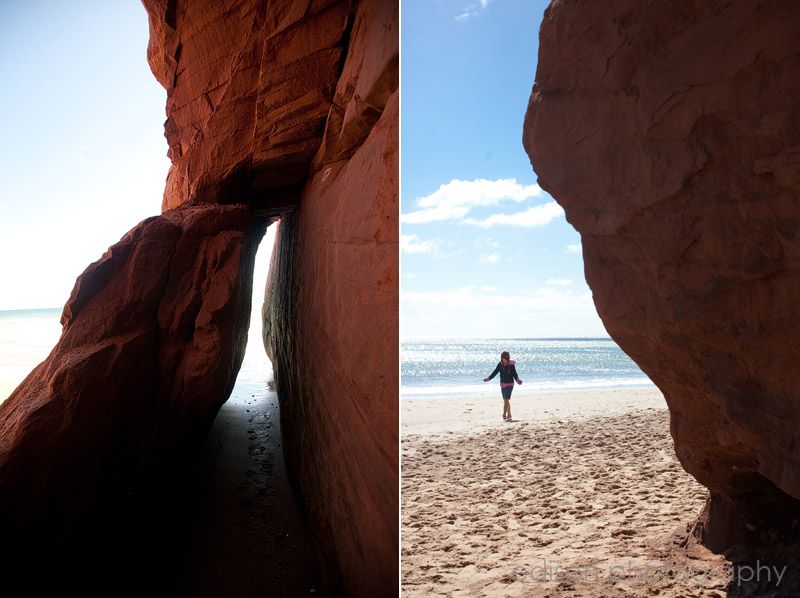 We took another hike – had to hike down a beach to get to these cliffs and rocks and incredible views!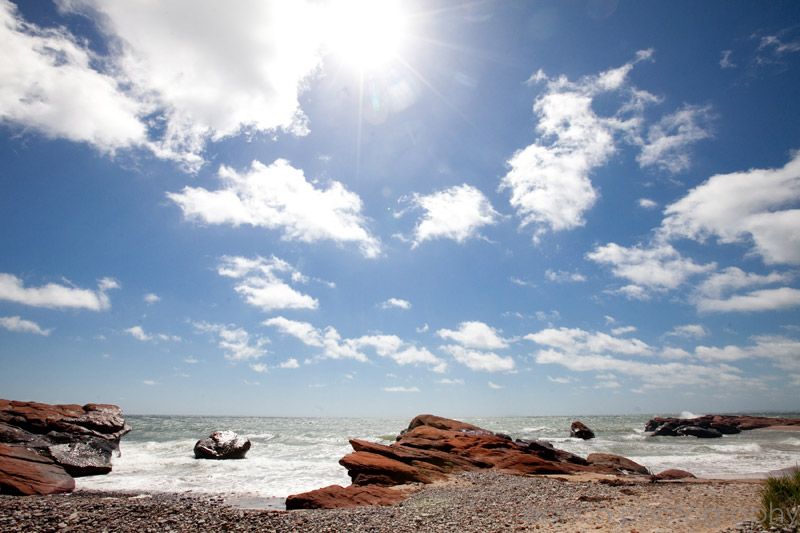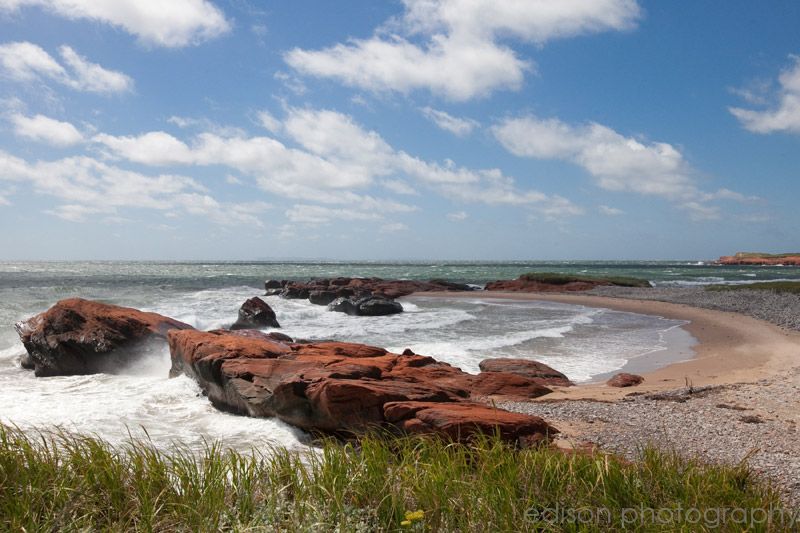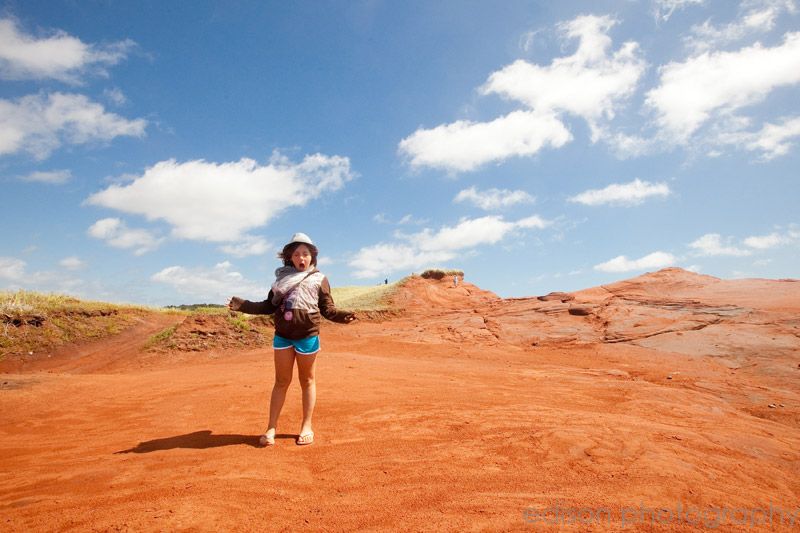 One thing the one tourism booklet we had mentioned was the Acadian festival. If there's anything I love it's a festival. We asked everywhere and no one knew anything about it. Then we were in a shop (where we had just asked if they knew anything about the festival) and heard this racket. The festival had arrived. Cars and vans and trucks all decked out in the Acadian flag and colours did a "parade" (drove in a line honking and honking and honking). It was so fun! ANd loud.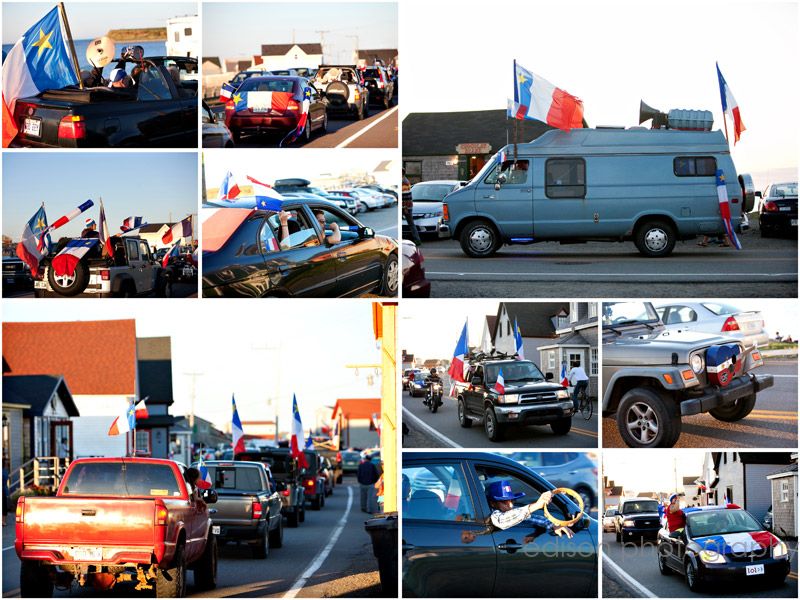 A beautiful night down at the docks!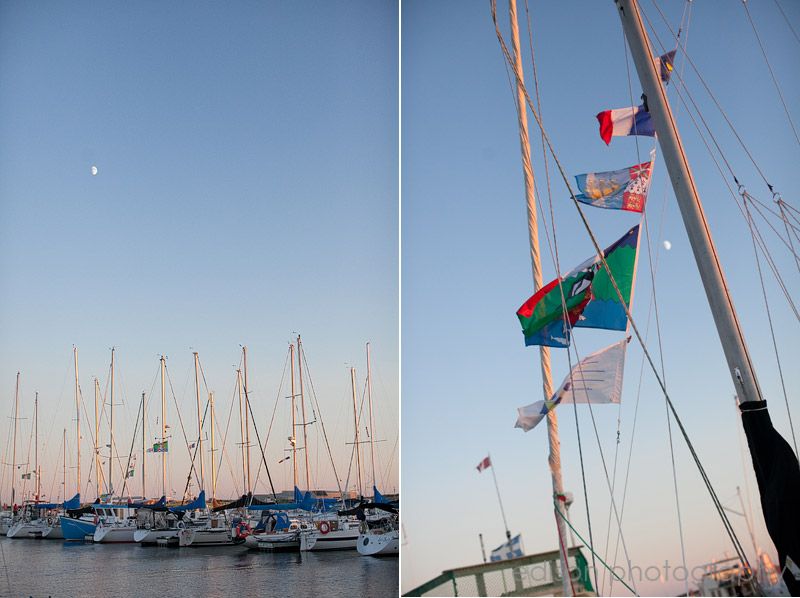 Our last day we rented e-bikes and explored the island right until we had to load for the ferry. We went out to some new beaches we hadn't tried yet and had an amazing last day!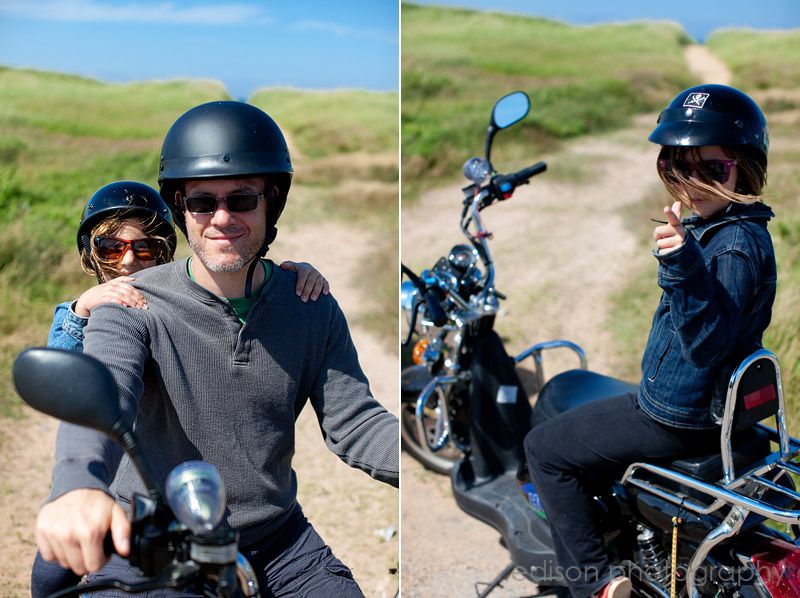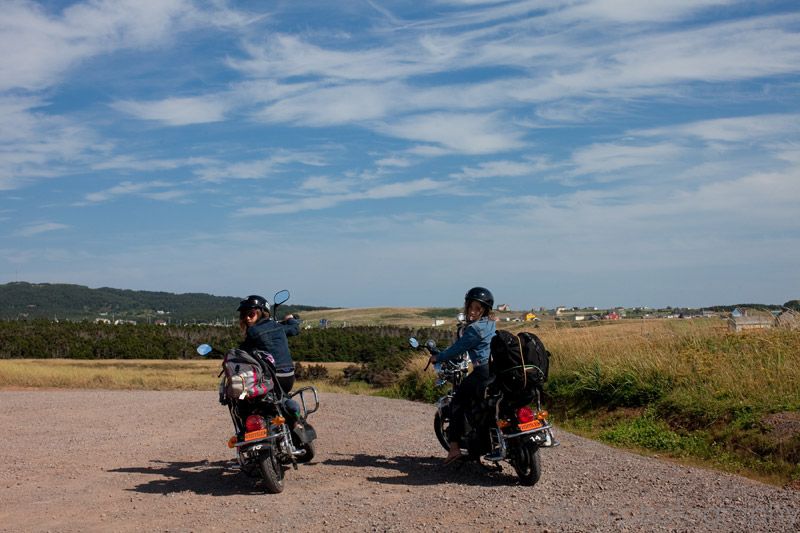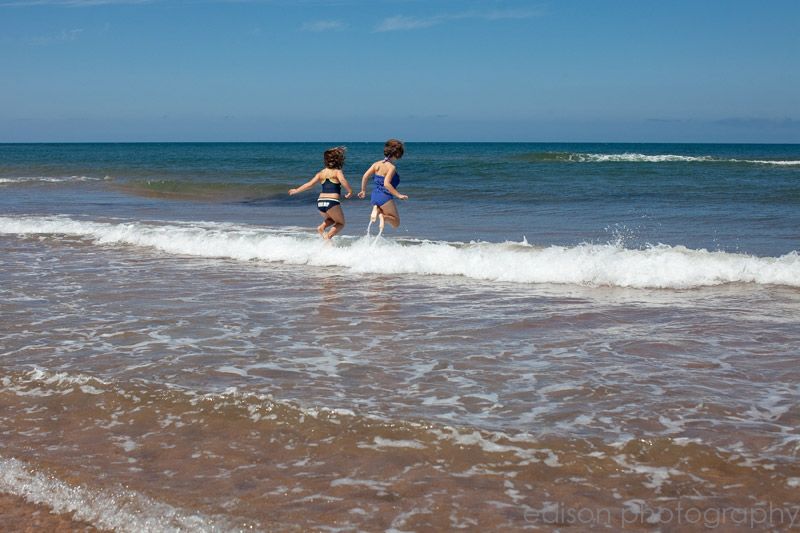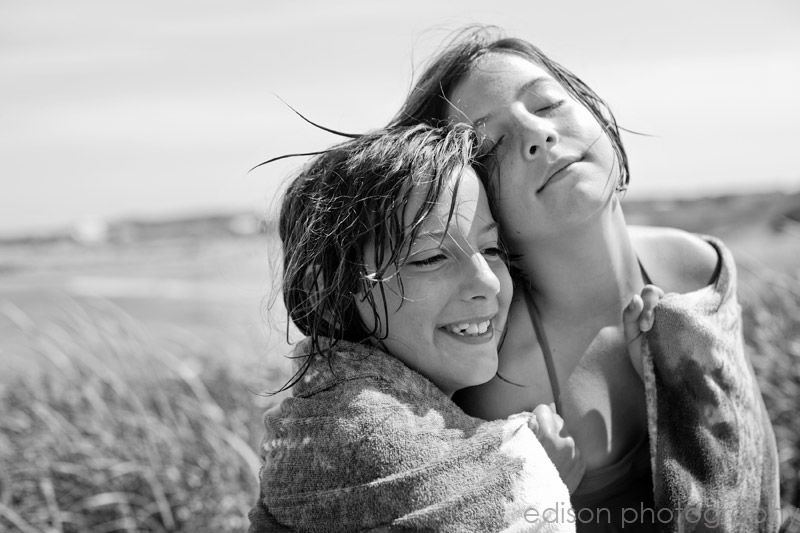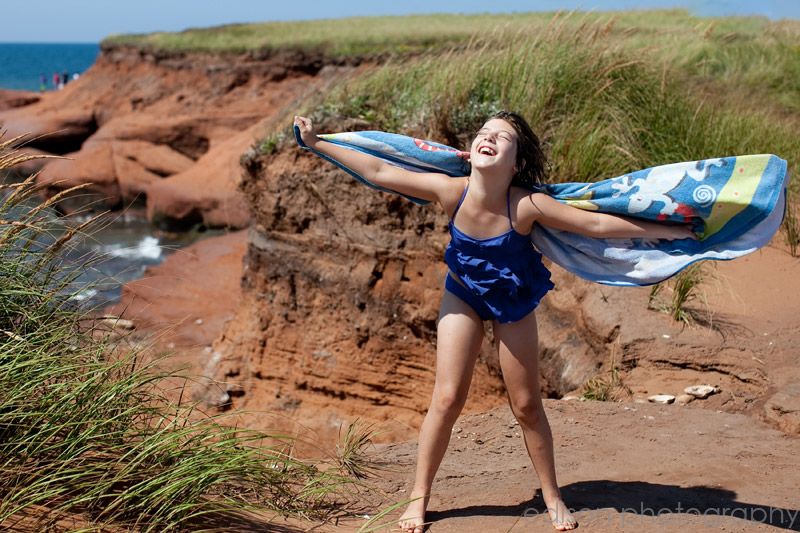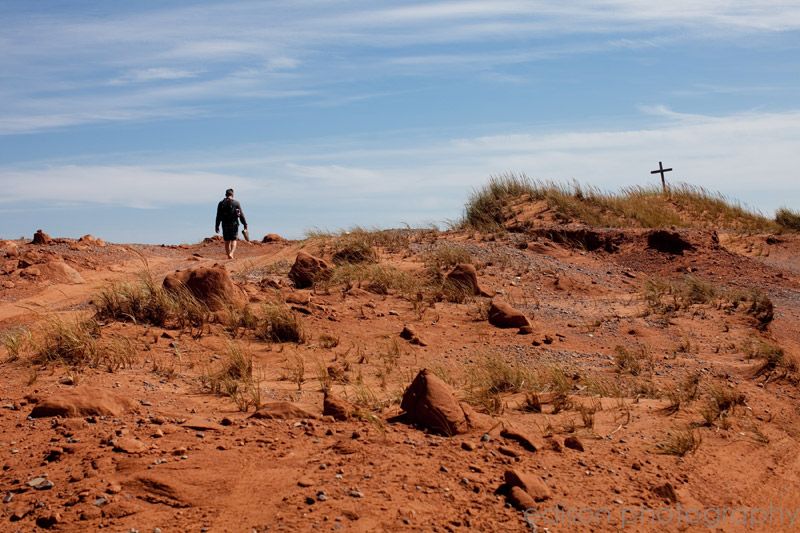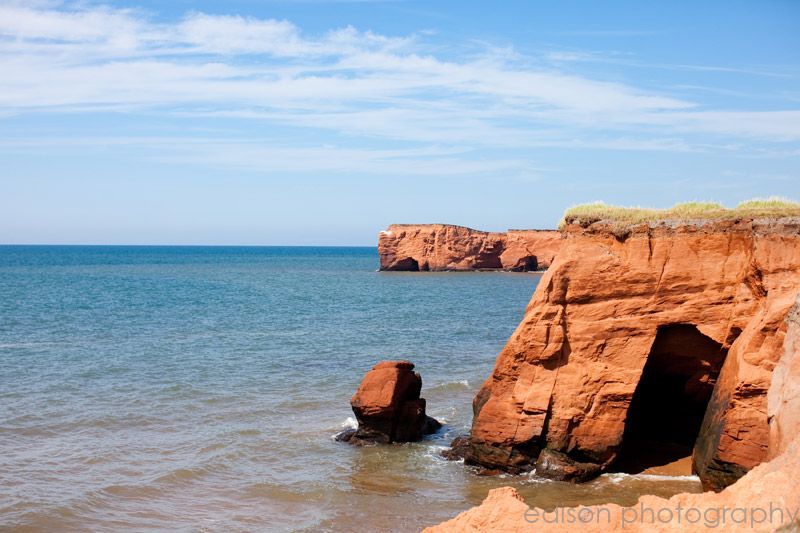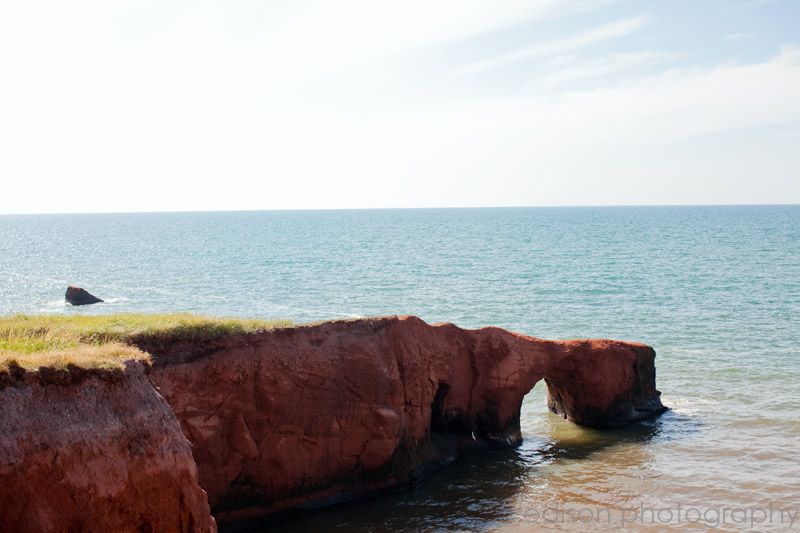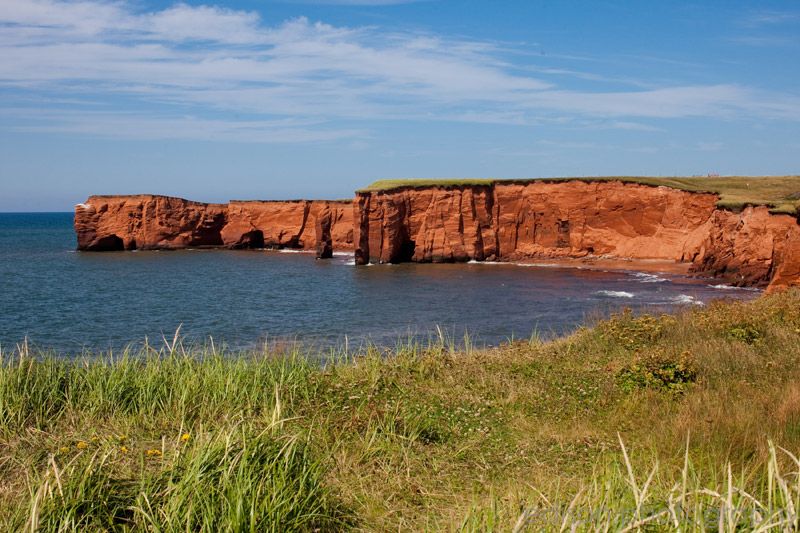 Farewell Maggies!
And just to prove I was there – one image of my favourite guy and myself.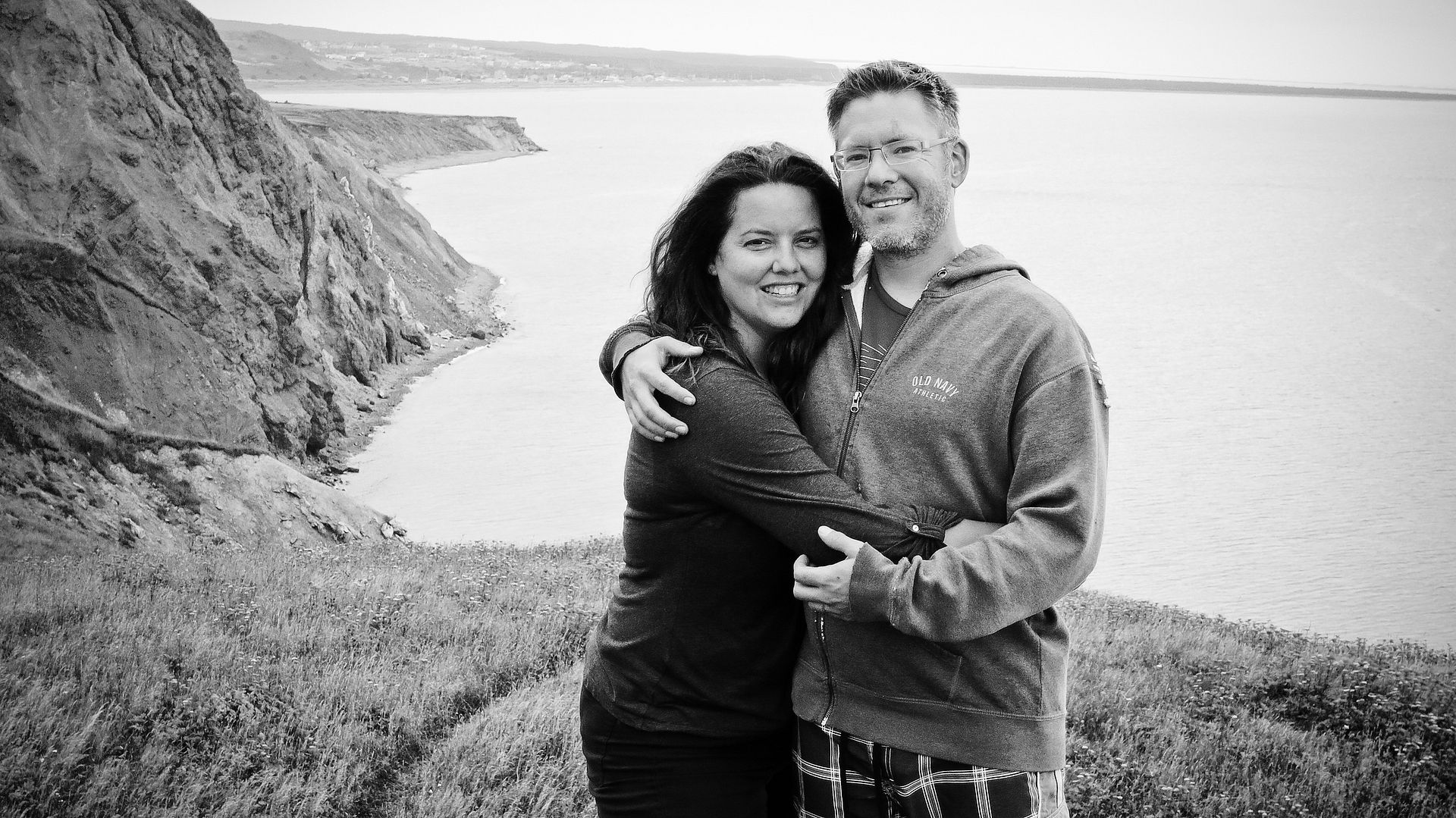 We loved the trip – it was so much fun and a really beautiful place. In ways it reminded me of Iceland (you can see a few pics from that trip HERE if you scroll down) – totally untouched, not commercialized, authentic and pure. We would totally recommend the Maggies!!
There may be a part two to my vacation pictures – Mark and the girls drove home after our time in the Maggies, and I stayed behind to photograph a special wedding with Rachel in PEI. That turned into sometime that I explored PEI and Nova Scotia – a treat to end the trip!
Celebrating life and love,
Krista