(Meera is a beautiful 2year old with cancer that I am photographing once a month for a year. You can see more about her here: December, January, February, March, April, May, June and her story in her mom's words.)
July 28.
What a special day. It was the day of Meera's "Chemo's done" party. If ever there was a reason to celebrate, it was that this tiny warrior princess had finished her aggressive chemo treatments. Her hair is starting to grow back in. Her appetite is returning. She's running and playing with friends instead of dancing with IV poles.
As soon as I heard of the party – I knew I had to go and celebrate too! When I got there I found Meera with a new friend. Cinderella.
There have been a few online auctions to help Meera's family with the costs they've had to face due to this journey thru cancer… at one online auction someone had donated a princess who comes to your party. The recipient of this prize, turned around and donated it back to Meera. So generous – and the perfect gift for this princess.
Meera's family did such a great job with the party – so much for the kids to do. Everyone had so much fun!
It was really fun for me to meet in person so many people who I have "met" online who are such a part of Meera's life. Always nice to meet face to face!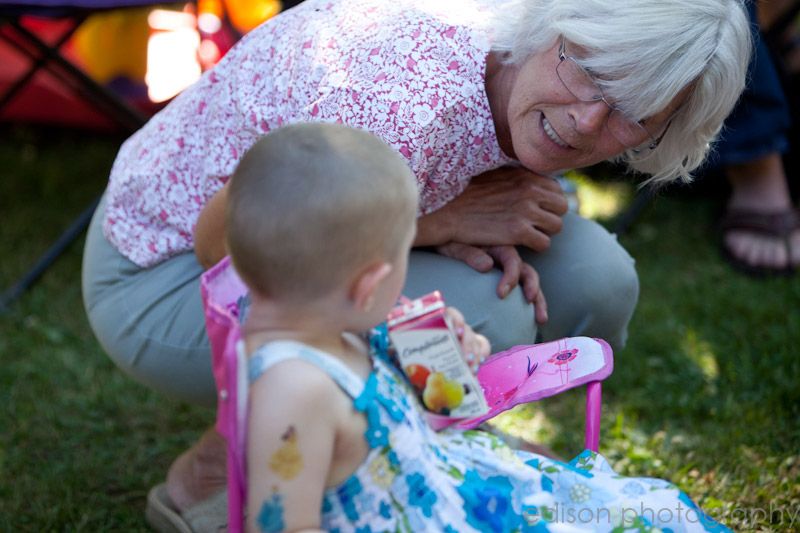 I had posted this image on my Facebook page (link) earlier as it's such a special image for me. I met these two girls back in December at the Ronald McDonald House. Meera was in the midst of her chemo treatments, and Rebekah was waiting for a new heart. These two – a teenager from the east coast and a toddler from the GTA – would normally have nothing in common. But they both knew what it meant to fight for their lives. Literally. I'm so happy that now Meera has finished her chemo, and Rebekah has received her new heart and after almost a year she is heading back home. I love this two girls strength. I may just print this for my desk for when I need inspiration.
And a few more of the girls together.
And of course – what is a party without CAKE?!
And I'll sign off with these two images – one of Meera's Grandpa's new tattoo, and one of her Grandma's vehicle. "I believe in MEERAcles!"
Celebrating life and love,
Krista