(Meera is a beautiful 2year old with cancer that I am photographing once a month for a year. You can see more about her here: December, January, February, March, and her story in her mom's words.)
There are times I can forget Meera has the big "c" word. I know that seems silly as I visit her monthly in the hospitals and see her unwell. But, I also see her laugh and play and be a typical two year old. For some reason this week it hit me how this wee little munchkin is fighting this battle for her life. Meera's last MRI came back great, her chemo finishes in just over a month – and things are looking great… but the fact that this little Miss has had to fight this war can make my heart ache. Yesterday her mom shared how a 16year old friend with the same cancer as Meera passed away this week. 16years old. I hope and pray that in my lifetime we see a cure to cancer. Today I'm wearing my "cancer sucks" shirt we had made up when my dad went through his cancer scare. I am also stepping out to enjoy and savour this day – and every day – because I can. I'm sure that 16 year old, and countless others, would have given anything to enjoy one more day. May I not take this day, this breath, this moment for granted.
Sigh. Big breath.
Okay – so on Monday I went to join Meera for her last small chemo treatment. In June Meera has her last big chemo treatment. In July we party.
When I got there Meera didn't look overly thrilled to be there.
I have loved getting to know Meera – I love kids so much. She is getting more and more comfortable with me, and I was able to take her down to the Teddy Bear Sanctuary on her ward and spend some time one on one hanging out with her.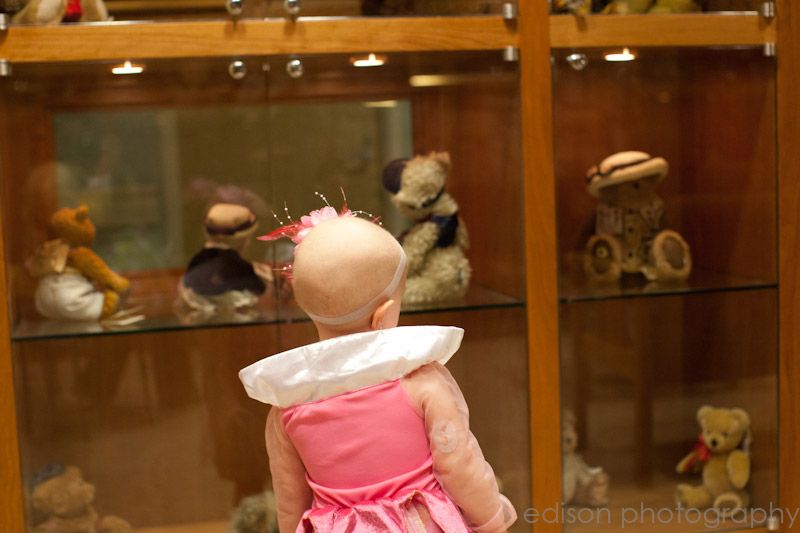 There are so many great volunteers – one elderly lady volunteer, brought Meera in a stuffed bear and some colouring. She told me that they buy the bears, and then make the little sweaters and outfits for them. So sweet! I LOVE seeing how people use whatever gifts they have to bring cheer and hope.
We headed back to the oncology room – such a fun place for kids! – to wait. So much to do and play with!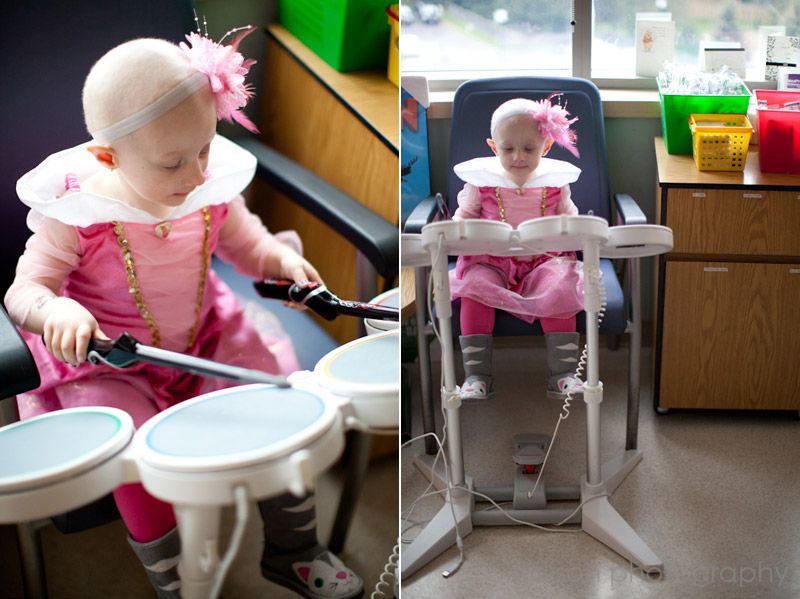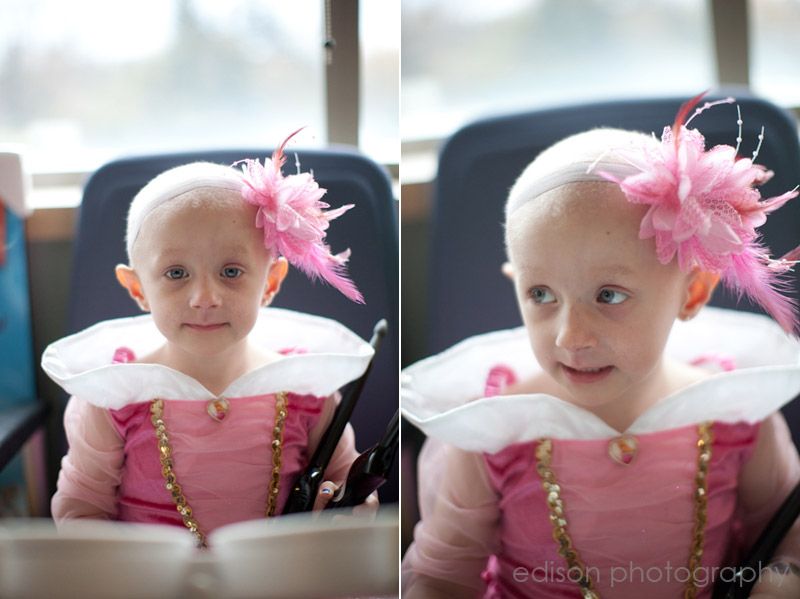 And let's not forget sleeping beauty… Meera's wee sister slept most of the time. But I did manage to get some snuggles in first.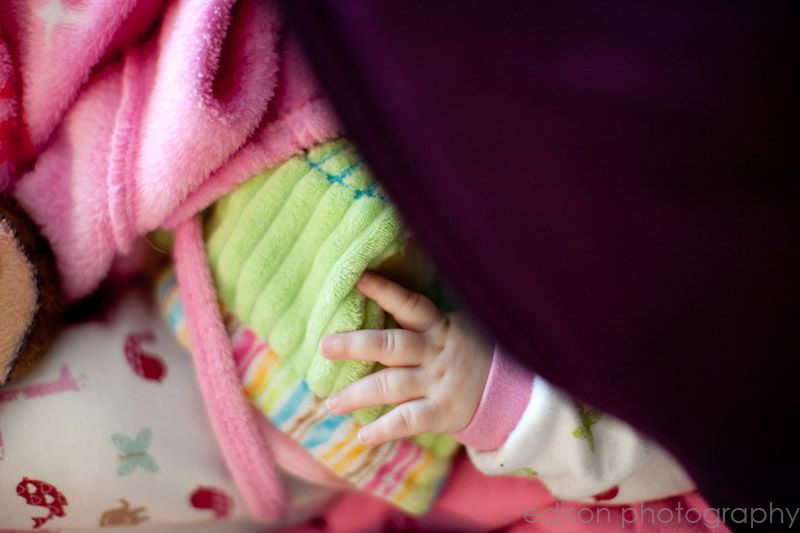 And then it was show time. First they had to access her port, take some bood samples, etc. Poor Meera. What kid wants to lay down and let people poke and prod at them? I can't even get my kids to let me brush their hair! She looked so sad… and when she started to reach for me and yell "hold hand" for me to hold her hand, I wished I could have. I am always amazed at how strong and loving Roy and Laura are with her.
And then within seconds of having it done, she sits up, wipes her tears and in her cheery little voice starts playing again. Love. This. Kid.
I love how hospitals and nurses make things fun for kids. Meera walked with the nurse to send her blood "to the moon" (aka – the vacuum system that sends it to the lab!).
Then once the blood report came back, we could proceed with the chemo.
And more waiting….
The nurse brought in a whoopee cushion – hilarious! Meera's face whenever someone sat on it was priceless!
Meera has all the staff charmed as she wanders the halls and explores.
Laura has an ability to make everything fun for Meera.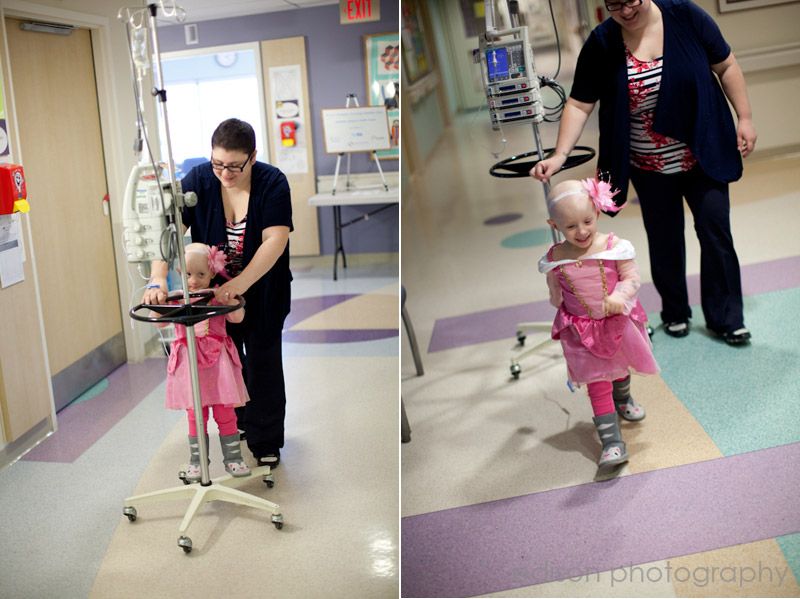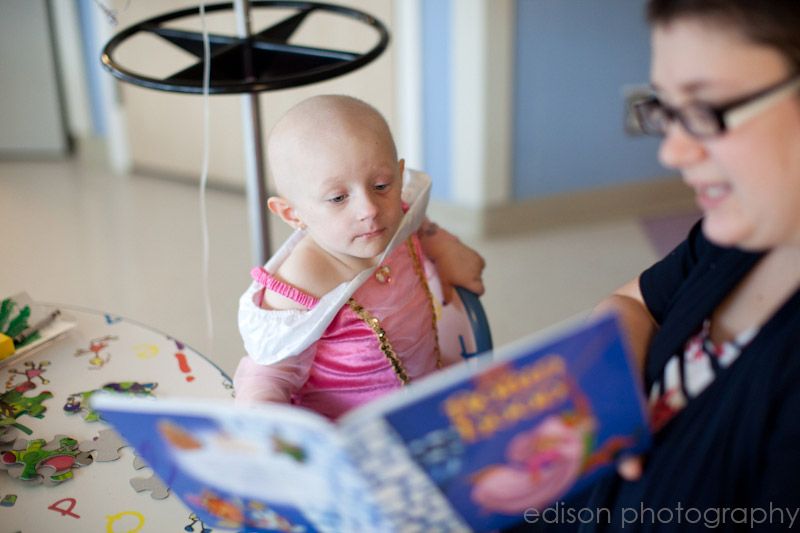 When I left Meera was doing okay…
Shortly afterwards though her fever spiked, her hemoglobin dropped and she needed red blood, her nose started ripping blood again, her blood platelets dropped too… and so back to the hospital goes the family. Such an exhausting, emotional roller coaster.
Please keep this family of four in your thoughts and prayers. And above all remember to….
celebrate life and love!
Krista