I am loving my time with Miss Meera each month and her family. They are such an amazing team! If you've been following the blog you will have met Meera back in December (http://edisonphotography.com/2011/12/miss-meera/), in January we visited her at her local hospital (link) and in February at her home (link). You can read her story through her mom's words HERE.
This month, I met up with them at Sick Kids hospital in Toronto as she was to have her "big chemo" that day. She has chemo treatments regularly and then a "big" one about once a month. Now – I have to stop for a minute and talk about Sick Kids. Every time I go, I am amazed by this place, the staff, volunteers, kindness, love… and so thankful we live so close! I have met kids from China, England, the Caribbean, Nunuvat, Nova Scotia, and more as they come from all over the world to this top notch hospital. I too often take it for granted. Melissa – an awesome child life specialist – shared with me this story about Sick Kids (I apologize if I get some facts a bit off… going from memory!). They had a special board of directors at the hospital made up of kids, and asked them what they wanted the hospital to look like. They answered "a shopping mall!". So, the man who designed the Eaton's Centre designed Sick Kids. And it is beautiful! But it's not just the beauty of the building – it's the people. As you will see below – you bump into awesome people around every corner. Volunteers there just to play with kids. Nurses who are beyond amazing (and I'm fortunate to know a few and they are incredible people). It's really amazing.
But back to Miss Meera.
When I met up with them we first had some good news! They just had the results from the previous week's MRI that everything is looking good! Yay!
Then we began the wait for her to get hooked up for hydration and her chemo. As we waited, Meera spotted a new friend…. a clown! I believe the woman is a child life specialist, but what I know for certain – is she was amazing with the kids. She entertained them with bubbles, danced with them, gave them stickers, and had them laughing and forgetting – even for a few minutes – where they were and why.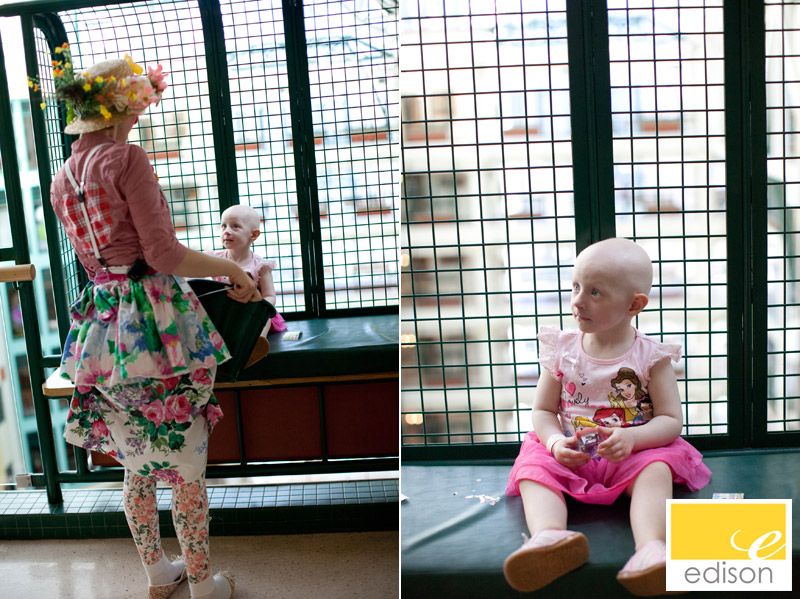 Okay – I have to stop and mention the shoes! They were those sweet ones that have squeakers in them and make a noise when you walk. Let's just say Meera was bringing a smile to everyone's face as she squeaked along.
We then wandered over to one of the play room's to wait. So much fun for her!
And let's not forget little Ameena. This girl gets cuter each month. And seriously could not ask for a better baby to spend hours and days up at the hospital, and simply smile and coo and charm everyone within a mile radius.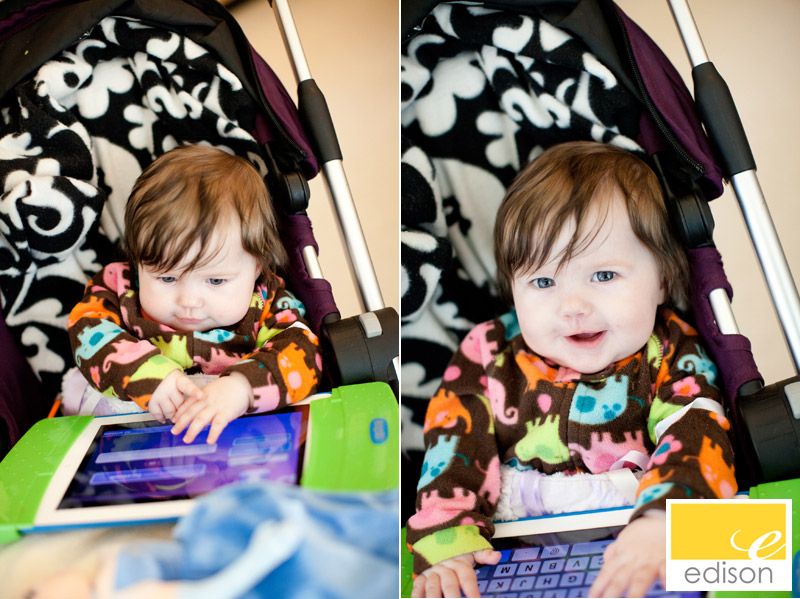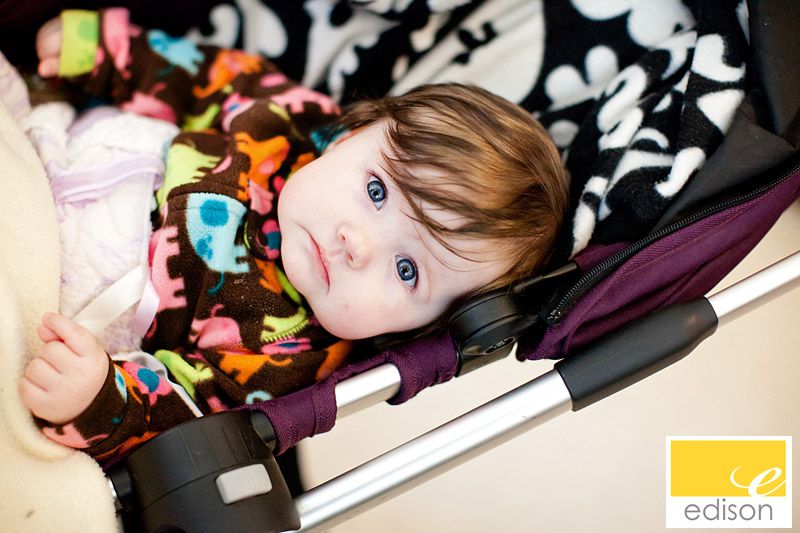 Finally it's time! They have a room for Meera!
First, more tests. You know… I can not even imagine being poked and prodded so much. I think I'd react the same. Meera was just sick of it all.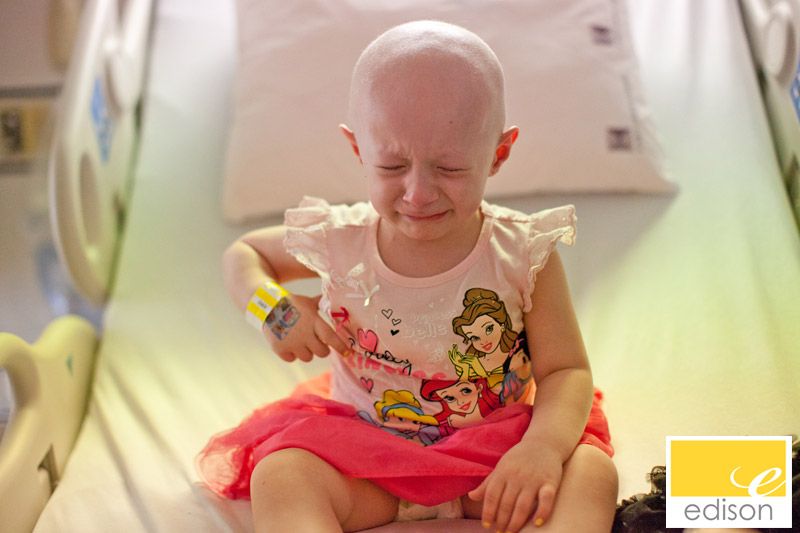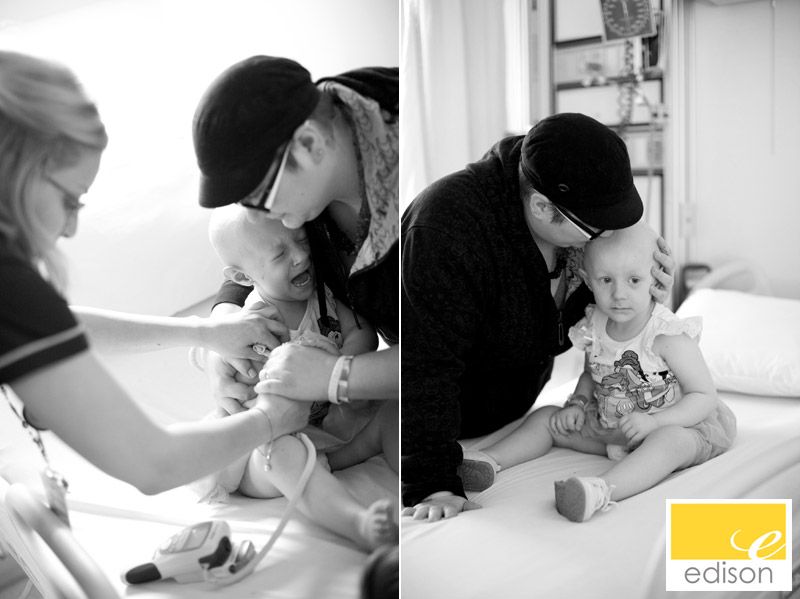 Fortunately moms and dads are awesome comforters.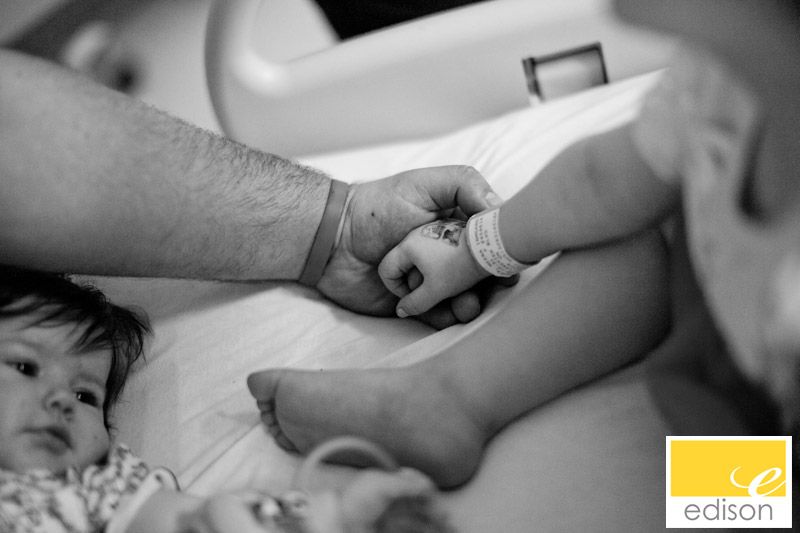 But then, in a blink of an eye, a nurse asks if they can take her weight and all is forgotten and she cheerfully says "yep!" and all goes honky dory from there. She's an amazing trooper.
Meera has been through this so much – she likes to help out too. SHe knows just what to do – either for herself, or for checking out her favourite toy… her baby sister.
Love how Meera is checking out Ameena, and Ameena is checking out the nurse's badge.
Oh Ameena… let's just stop and love on her for a minute. These two sisters are awesome!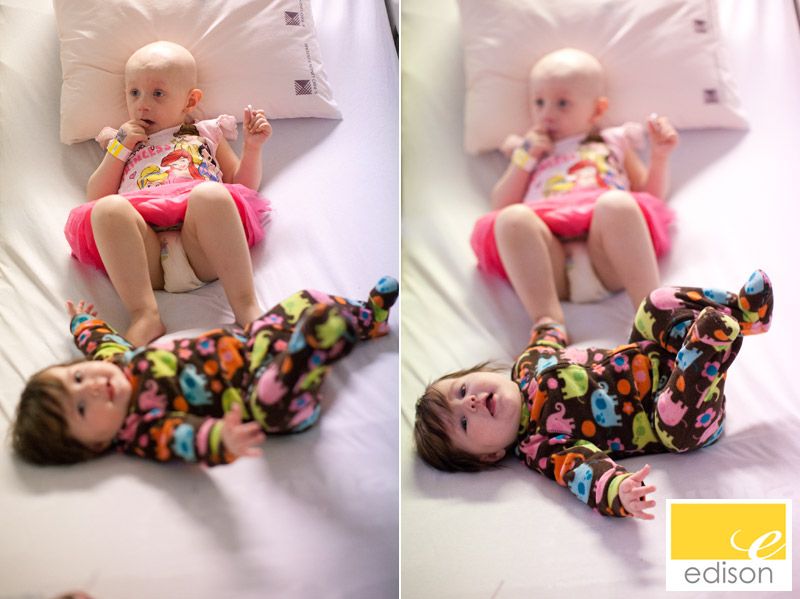 Such an amazing family – and such an honour to document them all. I'll leave you with a family snapshot – can't believe how much Roy & LAura's hair has grown since they shaved it last month!
Celebrating life and love,
Krista