I just had an email from Laura (Meera's mom)… she had wanted to share Meera's story in the comments and answer some of your questions, but it got too long so I said I would blog it instead. HEre is a bit about Meera from Laura. And if you have missed our Meera posts – you can view them here and here.

Hello, and thank you. Thank you so much Krista for choosing us to document for your personal project, I am honored that we stuck out to you, in an unfortunate amount of children and families that are sadly experiencing a very similar new and different lifestyle. And thank you to those who are sending prayers and positive energy our way. It means the world to us.
I'll try my best to have a condensed version of Miss Meeras journey so far to bring everyone up to speed on Meera and her condition. I can simply start with, in July, life was normal. And in August everything changed forever.
We noticed a lump that grew rapidly under her nose, which made her look like little Cindy Lou who from whoville and through a slew of tests from non to very invasive (xrays, ultrasounds, MRI, CATscan, biopsies, bone marrow aspirates, Bone and PET scan, and and ECHO test) we received the devastating news she in fact had a rare aggressive malignant tumor called Alveolar Rhabdomyosarcoma. She had to have a 'port' inserted immediately in order to administer her Chemotherapy and sedatives for her radiations. She also had to have a gtube (an internal feeding tube) as they strongly believed she would receive mouth sores from the chemo and radiation and might not eat which means healing would be more difficult. (proper nutrition is an important factor in healing-and they were very right about the loss of appetite) Meera has already completed her 28 days of radiation, one of those days was her second birthday, on Halloween. It's an awful feeling knowing you are doing your best to be a good parent and trying to fix something she doesnt even know is a problem and part of her fixing includes putting her through procedures that cause her such a great deal of pain and sickness.
'Rads' were brutal. Her face was so badly burned from it she looked more like a burn victim then a cancer patient towards the end. And the after effects lasted much longer after they were completed as that's how they worked. So many nights, and mornings were spent cleaning up after she was sick.
The chemo protocol is a 43 week treatment plan that started Sept 7th. The Dr's decided that it was far too invasive for surgery to remove the tumor and to see how things went with chemo and radiation. They also didn't want to give us any percentages in terms of prognosis as there's always that chance of something happening. But they do seem quite content with how quickly the tumor had taken to the treatment even in the first few weeks. The problem with this specific type of cancer is it has a nasty tendency to spread to other places (metastasize) and fast, but fortunately it was only where we saw it, which means we really did the set we could in terms of getting her taken care if right away.
We had to stay at the Ronald McDonald house (which we are eternally grateful for) as Meeras radiations were to be everyday, as well as the post radiation evaluations. Her chemo was also modified while undergoing 'rads' as one of the drugs were not compatible, which means her hair already started to grow back. Her hair began falling out exactly one week after her baby sister was born, Sat Sept 24th, and by Tuesday the 27th, she was bald. And now the 'rads' are over she is back on the heavy duty drugs and will be loosing her sweet peach fuzz, and I again will shave my head so she does not have to endure the looks alone. She is not in this fight alone.
My apologies if I jump all over the place, and for a lengthy post, but it certainly is quite a fair bit of information to try and squeeze in. Again I do want to thank everyone on following us on our journey through Meeras battle, and Krista for being there with her amazing photography skills and perception. As difficult as some images can look, I feel as if there are far more emotions involved such as strength and beauty. Meera has given me a gift I could never imagined I had, and cherish every single moment we have together, to be honest I always have embraced every moment, good or bad. And I always will. I look forward to sharing more each month, sometimes we do have a chance to be a normal family and have fun with the simpler things in life.
And because you always need a photo… I love this one of Meera with her pink nails, princess dolls… and IV tubes.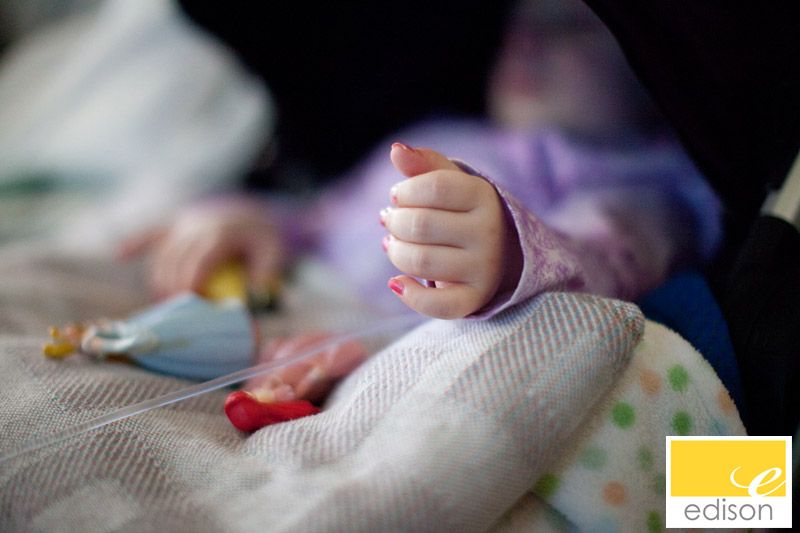 Celebrating life and love,
Krista