Mark and I fell in love because of the game of cribbage. Well… maybe not "because" of cribbage – but crib gave us an excuse to hang out. We would play in our student lounge into the wee hours. I love playing board games because it gives you a chance to gab and connect – while still doing something if things get awkward or you run out of conversation!
On our wedding registry we put "board games". When we were first married (pre-kids) we kept a Scrabble board or Yahtzee on the kitchen table. Supper would take forever as we would play board games as we ate. In the car we kept the boxes of Trivial Pursuit cards to ask each other questions as we drove. When we travel we always take a deck of cards – but you're just as likely to find us with "Pass the Pigs" or a travel version of Scrabble.
Basically – I'm admitting here to you my blog readers (aka my mom) I'm a nerd. I love board games. And Scrabble trumps all in my books.
When I meet with clients and we're thinking about their engagement shoot – I often ask them if they have a special interest or hobby they would like to work into their photo session. For us it would definitely have to be board games.
So when I was planning this week's "Imagine" posting – it definitely had to be about board games. And my beloved Scrabble in particular.
Let's start with this awesome save the date video. In an eco-friendly world this doubles not only as something us geeky board game lovers will drool over – but saves paper. Love it!
There are lots of great Scrabble wedding invitation ideas – but I loved this one as it wasn't too blatant. Sweet!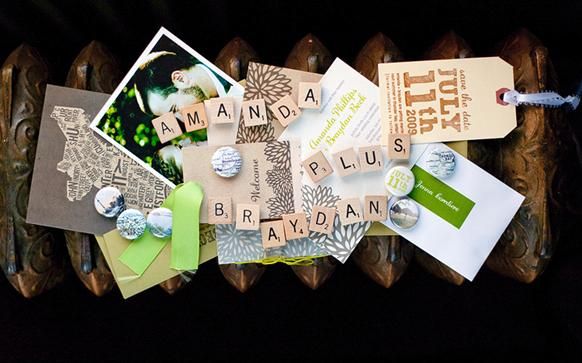 Not to say the blatantly "Scrabble" invitation doesn't look absolutely freaking adorable as well!
It's often easy to tie in fun attire ideas for the bride – but let's not forget the groom! I think these are adorable for a groom's cufflinks!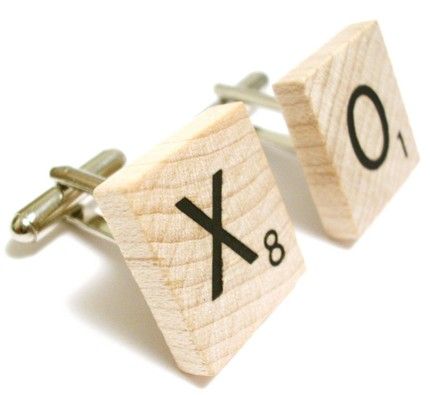 Cufflinks also make a cute idea for the groomsmen gifts… but not all men wear cufflinks on a day to day basis. Never fear! There is something for both men and women in the wedding party… cute pendants, keychains, earring and more!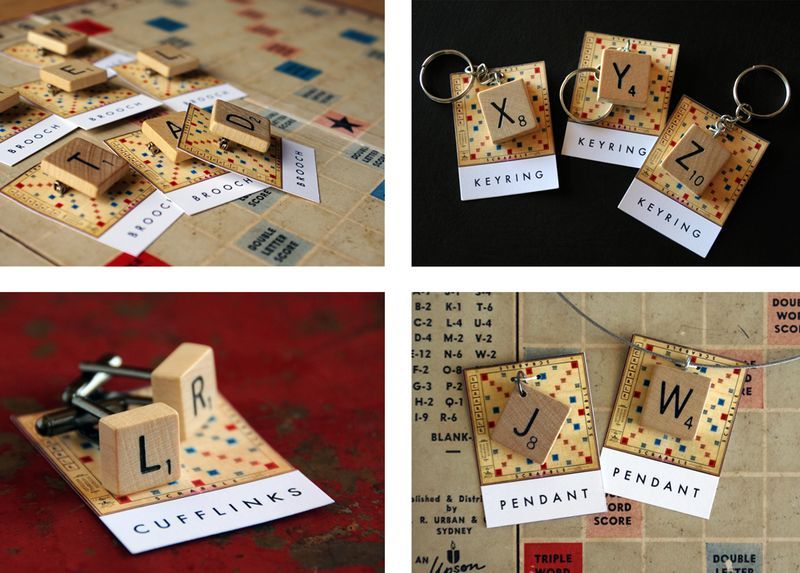 For decor… I love this to hang at the reception. The ceremony. For photos. For the couple to hold. To hang on the car. To bind and gag annoying kids at the reception. I kid. I kid.

Centrepieces there's a few ideas floating around. Scrabble boards for the centre of the table with the lovely floral arrangements on them.
Or…. this fun couple had their engagement photos taken to match board game boxes – and then had the fake boxes made up for the tables in place of table numbers. Hilarious!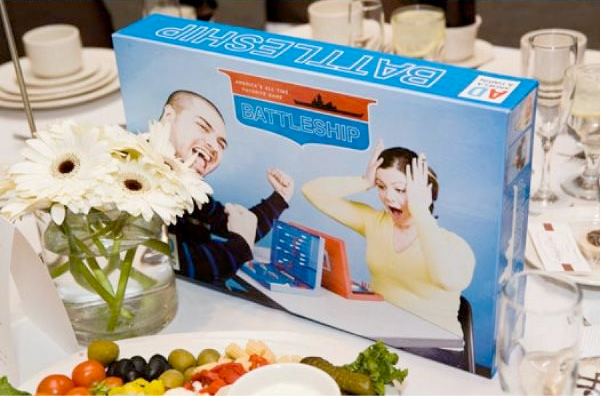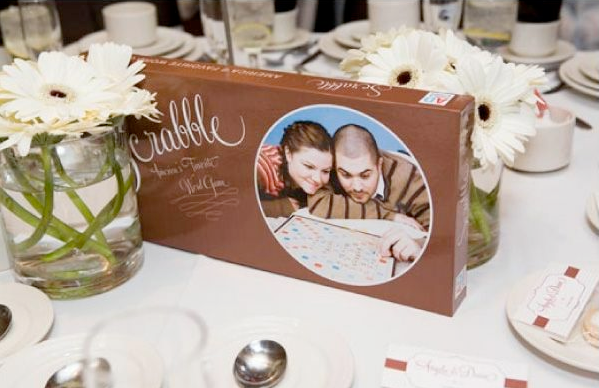 Scrabble letters used throughout the day to "label" things.
Framed "bride" and "groom" Scrabble letters.
And throughout the reception to carry the theme.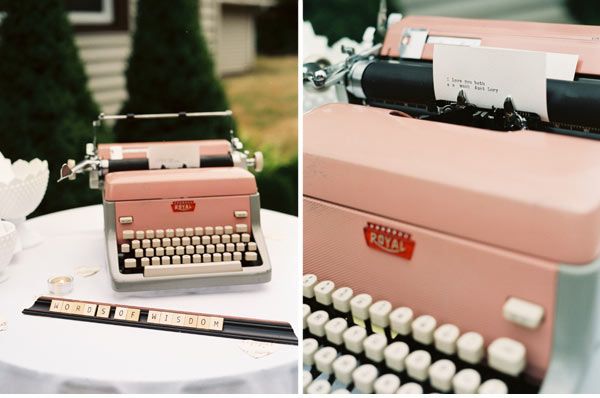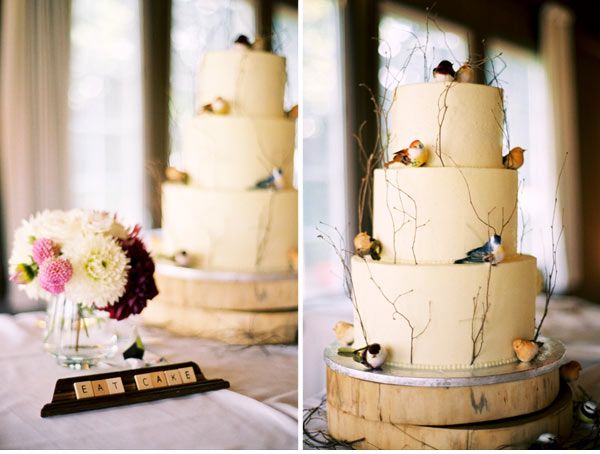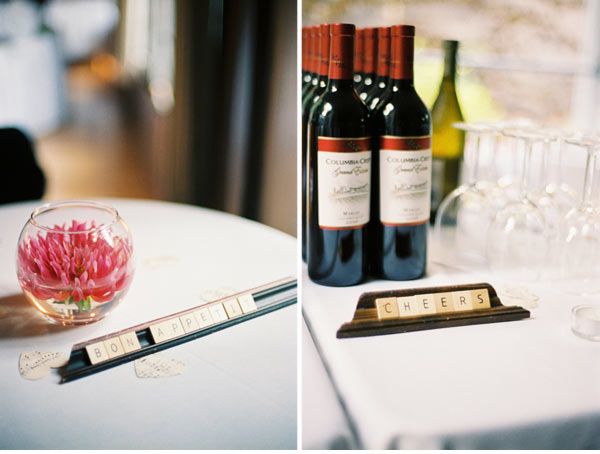 And I love the idea of place cards with Scrabble letters. If there's too many guests to do the full name… you can just do the first letter of their name on some great cardstock. I should mention… I've started collecting Scrabble letters – and picked up two Scrabble sets last week for 99cents each at the Salvation Army. Score! If someone was doing a Scrabble theme – just put friends and family on alert to watch for Scrabble sets at second hand stores, flea markets and garage sales. Since it doesn't matter if all the letters are there – you can get them cheap!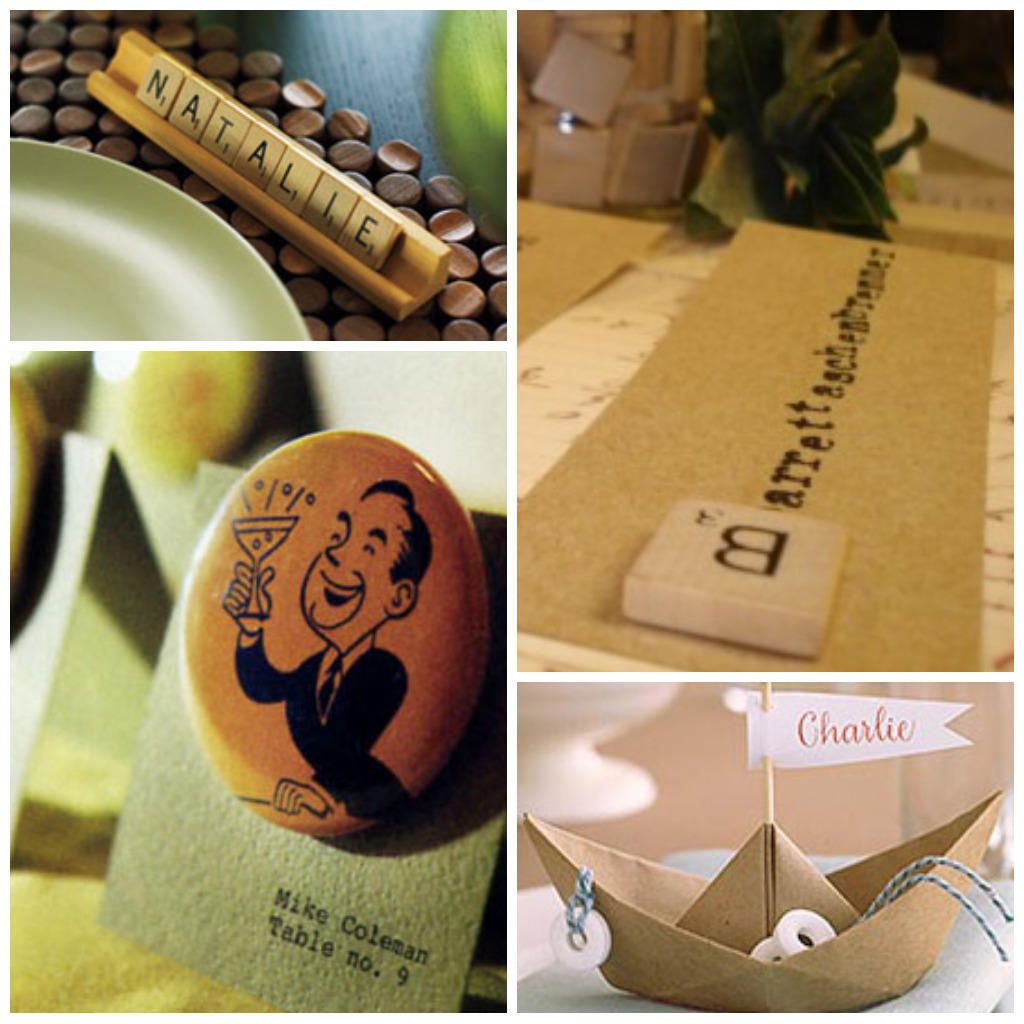 And this is just the cutest idea ever… for home, office – or a reception. Imagine a nook with these beauties!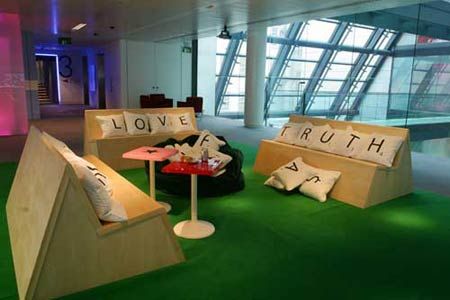 These DIY Scrabble magnets for favors – yes please!!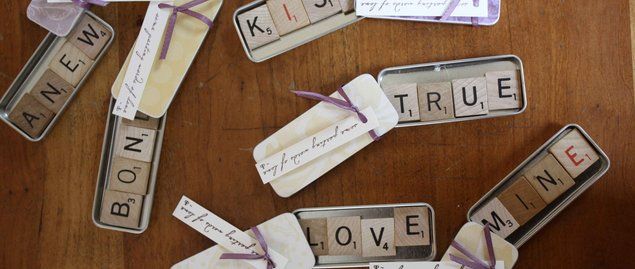 And cake…. Wonderful cake.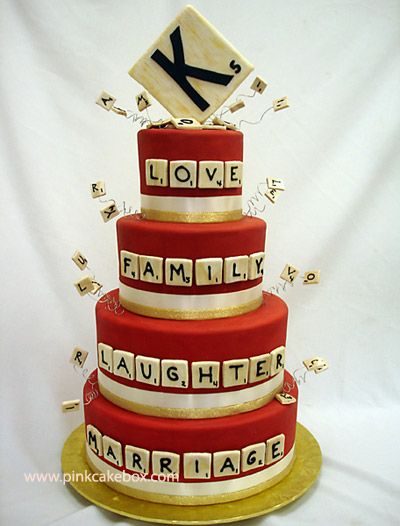 Although might need some cookies to go with that cake!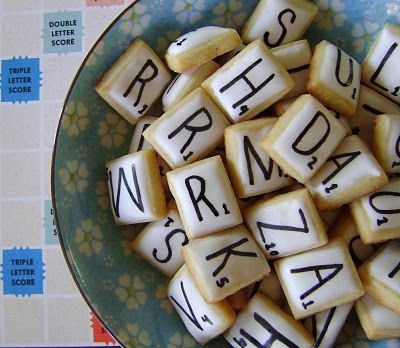 I read about the idea of instead of throwing your bouquet… who's ever name comes to the most points in Scrabble gets it! Love that.
And the last thing I would add would be… GAMES! I would definitely have games tables with Scrabble, Boggle, Pass the Pigs, Yahtzee, decks of cards, and more. Not everyone wants to dance – now those of us with zero coordination and rhythm can do something during the dance portion of the wedding.
Any other ways to incorporate the love of board games into a wedding?
I feel a need to play some Scrabble…..
Celebrating life and love,
Krista