Photography is something I adore. But I also love pizza…. People Magazine….. Jane Austen….. Alf….. (yes, I said Alf)…. and I have not made any of these loves into a career.
For me it's the reason why something is done that matters.
I think back to our wedding (almost 14 years ago) and as we planned, we looked at the flow of the ceremony and asked "why?" for each step. Why do the best man and maid of honour sign the registry? Is there a reason? No. Okay – scrap that and we'll have our dads sign it instead. (Come to think of it – we never had a best man and maid of honour). Why does there have to be the same number of attendants on each side? Why do we have to say "I do" (we changed it to "with joy I do promise")… and on and on.
I'm a bit like a two year old. I ask "why" a lot.
In case you are also like me… let me tell you one big answer to "why" there is an Edison Photography.
My goal is to capture that person, that relationship, that story…. to capture it today so that when the baby has grown and changed completely we can remember the moment when their whole being fit into our arms. When that loved one has passed away we can remember that love we shared.
I've gone to two funerals this past week, and was reminded I love taking photos for people to cherish after a loved one has passed away.
In the past I've had couples email me to tell me of the importance of a photo I took of their grandparent and them at their wedding since their grandparent has now passed on. I've had families where a loved one has passed away, and they're extra grateful for an image to remind them of better days.
As I dug through the images of Poppy, I had to share these few with you from Mark's sister Aidan's wedding a few years ago. This is why I create images…..
———————————————
During the signing of the registry Aidan had a clear view of Poppy. As soon as they got up from the registry table instead of going back to the front of the church as they were suppose to, she snuck over to the other side of the room and stole this moment with Poppy. Then she went back to the front for the announcement of man and wife. Loved this moment.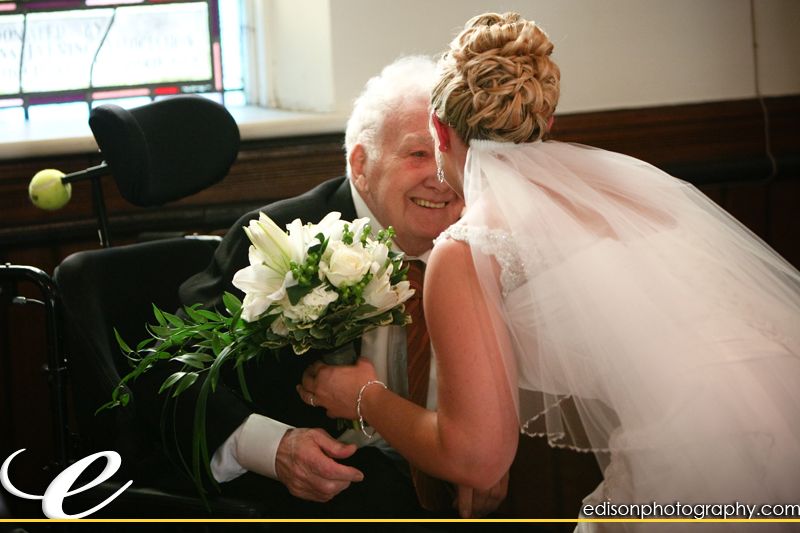 And after the ceremony in the receiving line, Poppy and Aidan had another moment.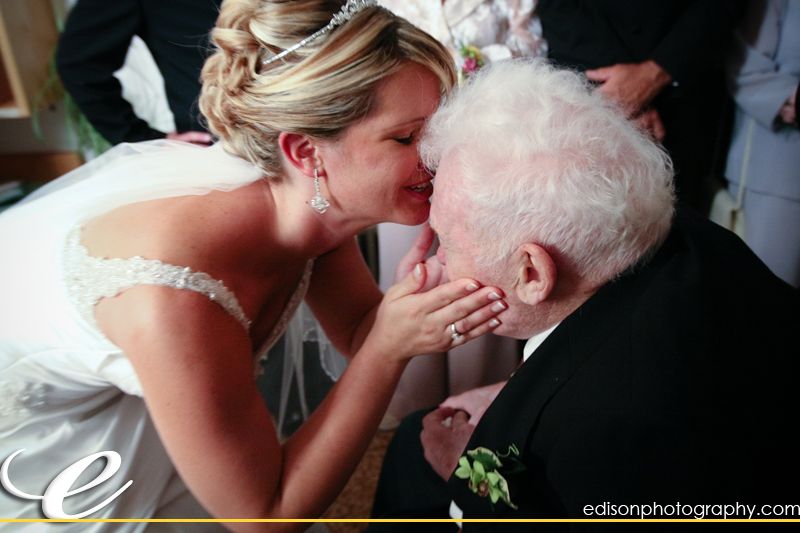 And I'd love to know what Eden is telling Poppy here…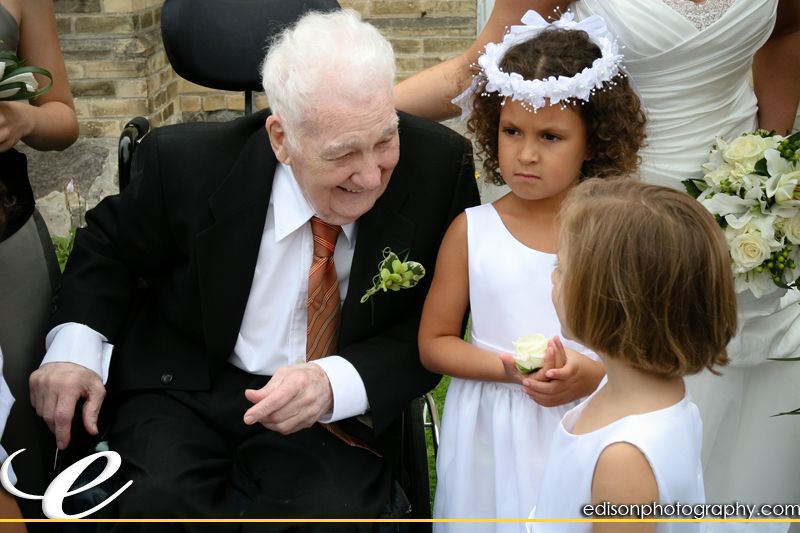 Look at the chaos happening all around. But at this moment there's only Eden and Poppy.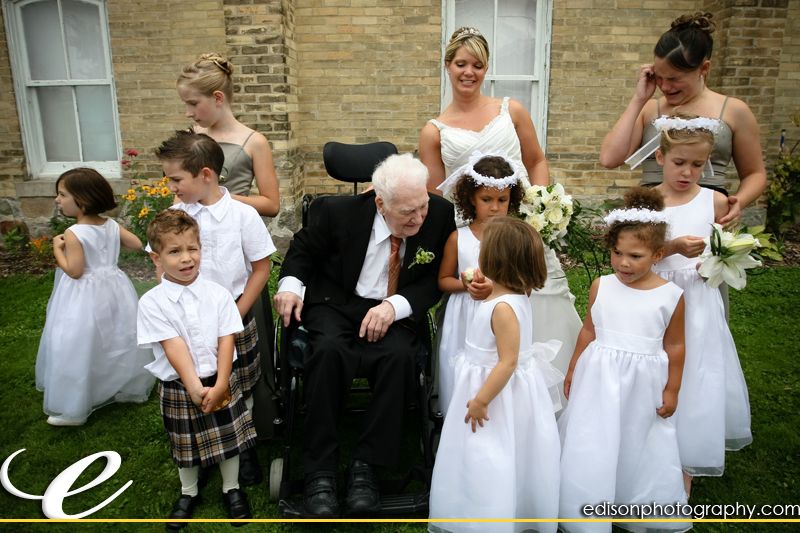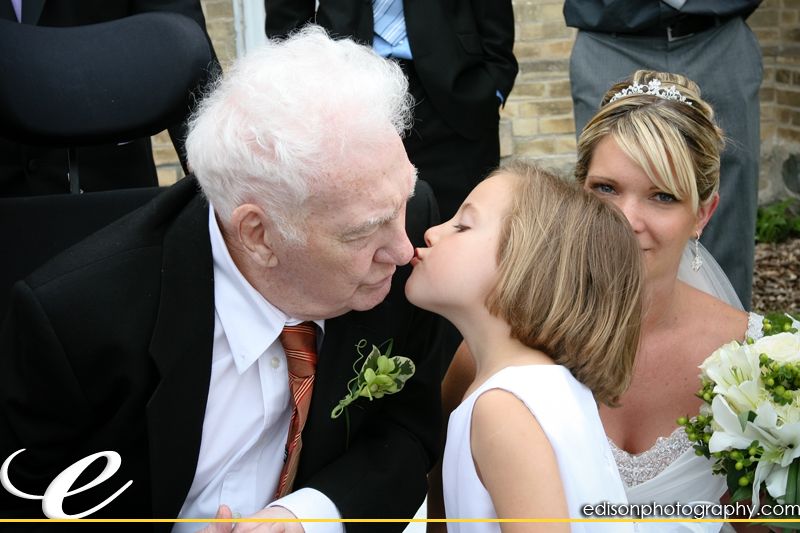 And after the photos of Chris and Aidan, on the way to the reception we swung by Poppy's nursing home so Aidan could have a dance with him as he couldn't attend the reception.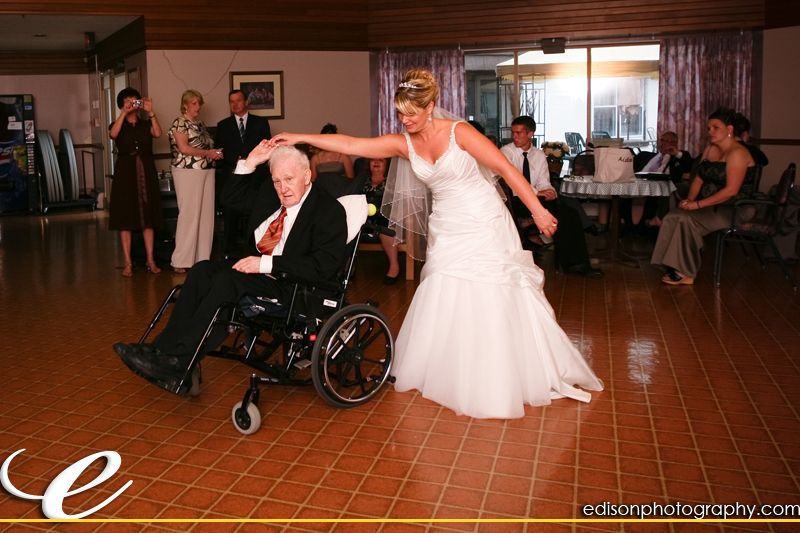 This is the "why". Why there's an Edison Photography.
And I just have to sign off by sharing one personal story from today.
My girls knew three of their great grandparents – Poppy, GG and Great Grandpa. Tonight after the funeral while Mark was making supper Madi wanted to surprise him. She set the dining room table with her best sense of kid style. Paper napkins opened up as placemats. Wine glasses. For the centrepiece she used flowers from the funeral today and placed photos of her three great grandparents she knew and loved. One each of our plates she put a Bible opened to Psalm 23 which she later read to us. As we sat down to eat, Eden raised her glass and yelled "Cheers for Poppy! And GG! And Great Grandpa!" My girls memories of their great grandparents may fade – and I'm so glad they have images with each one of them to cherish. And I'm so glad I have images of this special gift of a supper setting madison gave us tonight.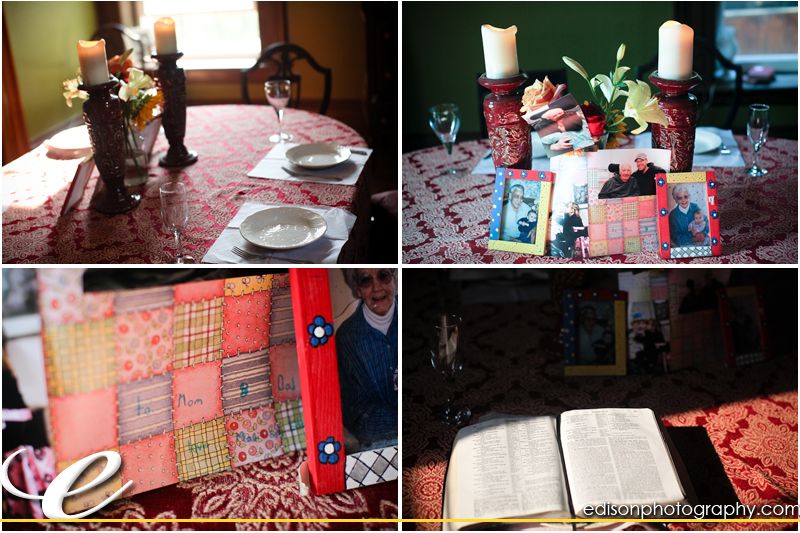 Celebrating life and love,
Krista