When I got to the hotel where Becca was getting married, she got nervous. As she said "Having you here, makes it seem more real!" She mentioned how she had seen all the weddings on my blog, and now it was sinking it that it was going to be her wedding this time. This was really happening.
Becca had no question in her mind about marrying Paul – nor would anyone who sees these two together – but she was nervous about having everyone's eyes on her. Not liking to be the center of attention, Becca wondered how she'd be able to do it. I knew she was nervous when we headed out of the hotel and she asked "Has anyone seen my bouquet?" To which I replied "You're holding it."
Fast forward to the ceremony starting and Becca is still nervous. As she walks down the aisle with her dad… something changes. She sees Paul. And you can see the change. She locks eyes with him… and suddenly there are no crowds of on-lookers. There's a crowd of one waiting for his bride, and she's ready.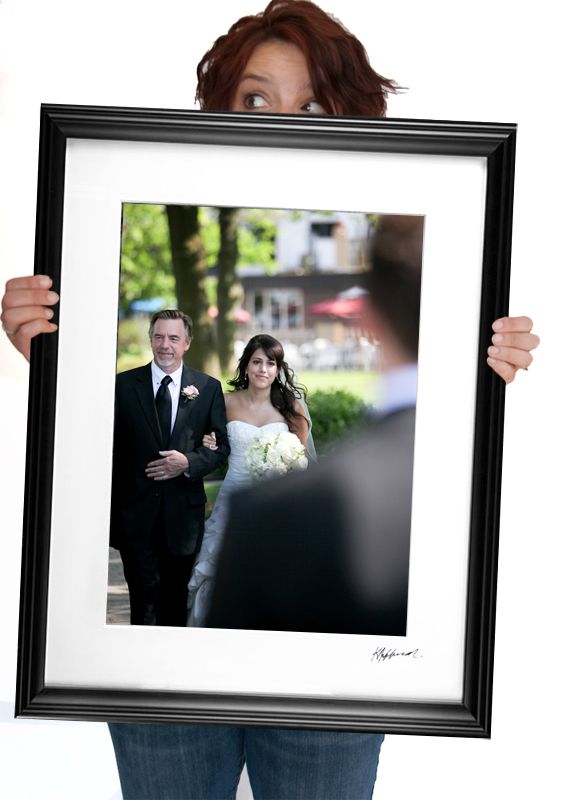 Let me share a few photos of Paul & Becca's Big Day….
Becca's "something borrowed" – beautiful antique (a few hundred years old!) earrings lent to her by a bridesmaid's mother.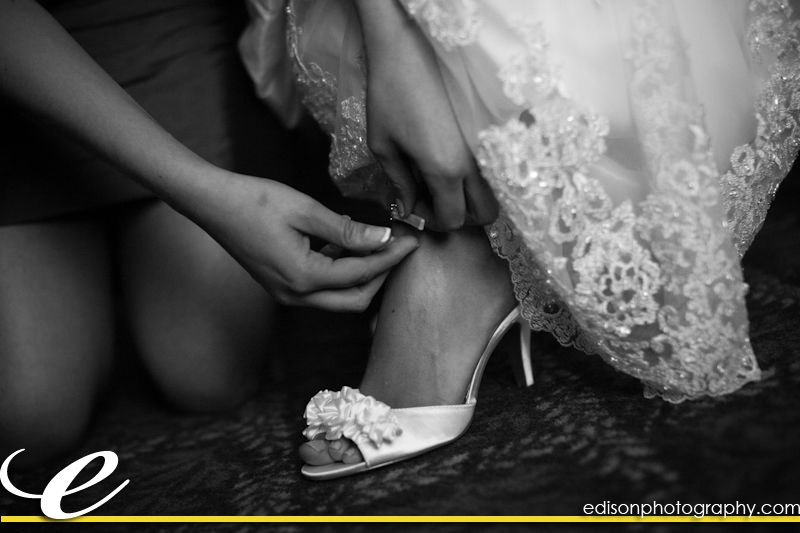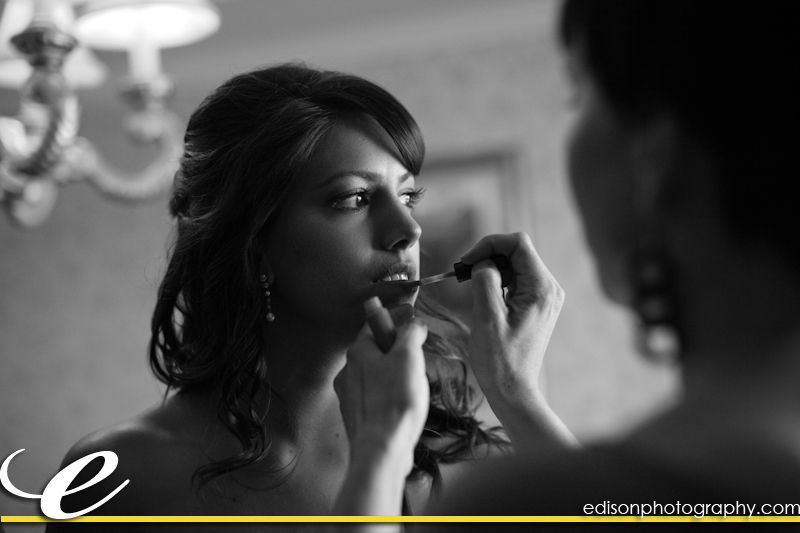 I love this image Carolynn captured….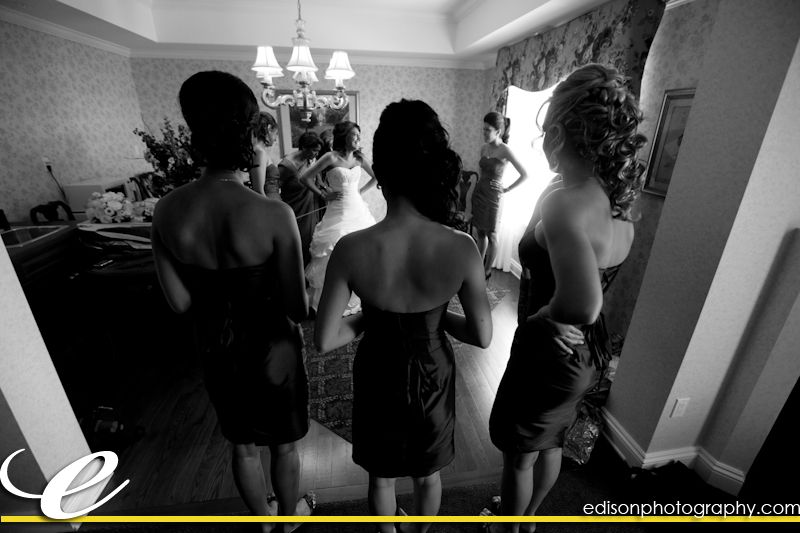 One thing I loved, was how the two families had bonded. Paul and Becca told me about a family cottage weekend they had enjoyed with the two families. And I have to admit, when I heard that Paul's mom was wearing a sari out of respect for Becca's family… I got a bit choked up. Just beautiful.
Let's not forget… Paul was looking quite dapper himself!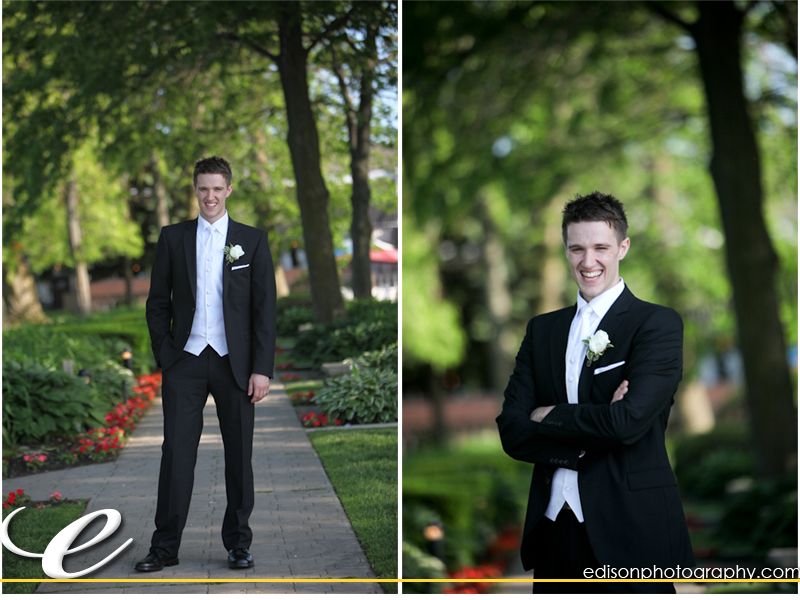 While Becca got ready, the ring bearer and flower girls popped in for a visit. The ring bearer shared his disgust again about his newly acquired knowledge from the rehearsal… Paul & Becca would have to KISS in front of their parents. ewwwww…… These next two images are him anticipating the big moment, and then the reactions of him and the flower girl….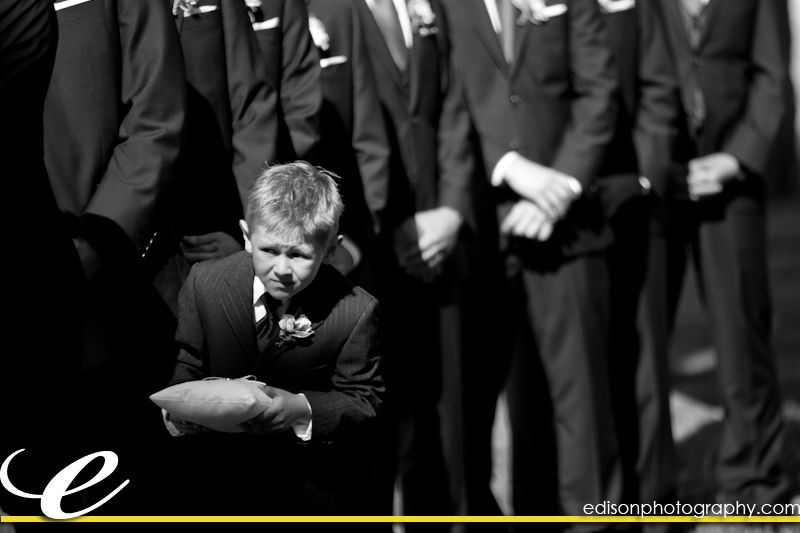 I love this feeling of calm in this image. Paul & Becca not only had the usual craziness of planning a wedding… they did so while finishing up medical school. Two weeks ago Paul & Becca graduated… and are both now doctors. I can not imagine planning a wedding and studying so hard for school. When I met with them prior to the wedding to go over details.. they had graduated two days before. They explained they weren't use to this calm and lack of deadlines. And being able to sleep and not study all night. Another thing they've been busy with? Planning their month long honeymoon of Southeast Asia. A well deserved break before beginning their new roles of doctor this summer.
Such a gorgeous wedding party!
And on to the reception… Liuna Gardens is such a gorgeous location for ceremony and reception!
The reception was full of fun games, music and lots of hilarious stories and photos. The highlight was definitely when Paul surprised Becca by singing to her right before their first dance. Afterwards, Paul and Becca told me that Paul had first sung to her on a school camping trip a few weeks after meeting and they both agreed that was the turning point in their relationship. And Becca said that's when she fell for him. The songs Paul sang to her at the wedding was the same song. SIgh. Love it. As soon as the song was over, they went right into their first dance.
And before we left we stepped outside for a couple last minute night photos on a gorgeous evening!
This wedding was so full of joy… as I came home I couldn't hep but tweet… " Tonight all I feel is love and happiness."
Watch back this week for the slideshow to this beautiful day!
Celebrating life and love,
Krista